After 33 Years of Failure to Produce Any Vaccine Novavax Targets Children for COVID-19 Vaccine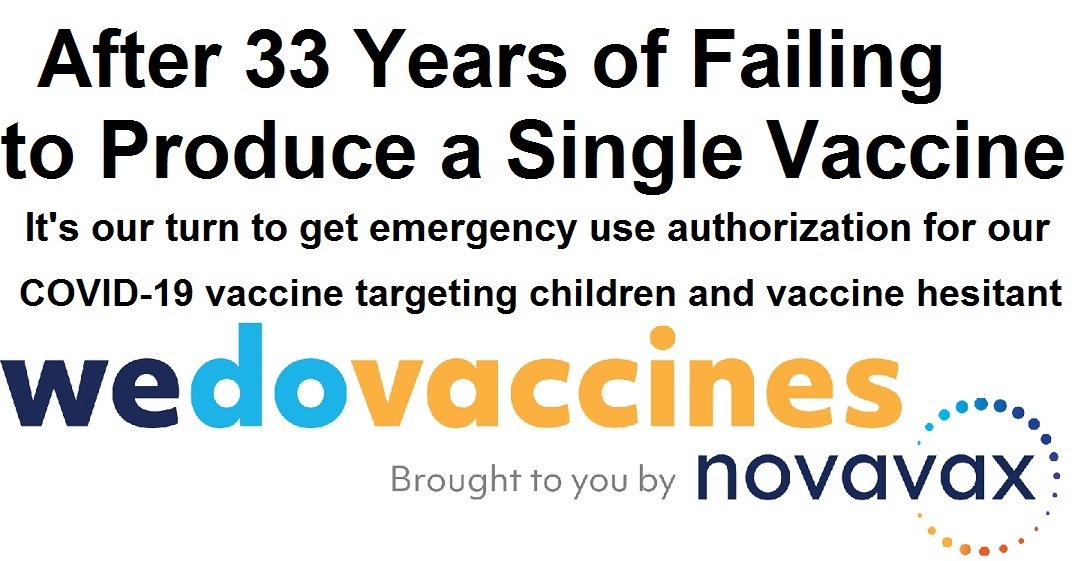 Original image source.
by
Brian ShilhavyEditor, Health Impact News
Ben Adams of FiercePharma, the marketing trade publication for the pharmaceutical industry, just published an article today announcing that Novavax has unveiled a new "education campaign" for its COVID-19 vaccine that is expected to get an EUA (emergency use authorization) from the FDA soon.
This "education campaign," which I would not choose to use the word "education" but instead "marketing" or "propaganda," targets the "vaccine hesitant" and children, the targeted market for their COVID-19 vaccine.
In reading this press release at FiercePharma today, I found it rather remarkable that they are admitting that the mRNA COVID-19 vaccines are actually dangerous for children, something the FDA and CDC refuse to acknowledge, as they position Novavax as a better alternative for children.
Pfizer, Moderna and Johnson & Johnson were quickest off the mark in getting COVID vaccines into American arms, but Novavax is hoping to add another pandemic vaccine to the U.S. mix soon—and it's pushing new campaigns to get the word out.
The biopharma, which has approvals and authorizations in Europe and around the world, is now on the cusp of a potential green light in the U.S. And with a market comes the need for marketing.
But because it still has no U.S. approval—and it cannot under law advertise to consumers in Europe—Novavax is launching two new global, unbranded vaccine education programs: "We Do Vaccines" and "Know Our Vax." They're designed to offer up vaccine information and "explain Novavax' commitment to vaccine development and innovation," the company told Fierce Pharma Marketing.
The main message of the campaign is that "people have options when it comes to their vaccine," Silvia Taylor, senior vice president of global corporate affairs at Novavax, said in an interview. "We want people to understand that we have this vaccine, and that this vaccine is different."
Novavax knows it has some tough competition—Pfizer and Moderna's vaccines dominate the U.S. market—but the small biotech is eyeing certain market niches: The "vaccine hesitant" who might be leery of the brand-new mRNA tech in Pfizer and Moderna's shots, and children.
The vaccine contains a version of the SARS-CoV-2 spike protein made in the lab as well as an adjuvant, which is a booster ingredient designed to strengthen immune responses to the vaccine.
Novavax is also targeting the pediatric population. There are questions about how well mRNA vaccines work in younger children. There are also safety concerns, notably the rates of myocarditis in young and adolescent boys, who appear to be more at risk from this condition, which can cause dangerous inflammation of the heart.
Taylor believes Nuvaxovid can be a safe and efficacious second choice for children and adolescents outside of mRNA. (Full article.)
I had been led to believe in the past that Novavax was a new company that had never produced a single vaccine, but I dug a bit deeper today and learned that they have actually been around for over 33 years, and have had multiple failures in trying to produce any vaccine at all in the past.
I found an article that was published in some UK publications earlier this month, and here is one that is not behind a paywall:
Novavax closes in on Covid triumph after 33 years of failure


Less than a year before the Covid-19 pandemic ravaged the world, Novavax was facing delisting from the Nasdaq. The pharmaceutical company had poured hundreds of millions of dollars into research and development for vaccines — and yet, at 33 years old, was approaching middle age without a single approved shot.
Investors were scorning, rather than rewarding, foresight. In January 2020 short interest hit 30 per cent, according to S3 Analytics. Even after the company began work on its Covid-19 vaccine, shortseller Citron Research reportedly dismissed it as a "serial promise and non-deliver [er]". (Full article.)
Here is their Wikipedia listing that reports all their efforts to produce a vaccine since 2013:
In June 2013, Novavax acquired the Matrix-M adjuvant platform with the purchase of Swedish company Isconova AB and renamed its new subsidiary Novavax AB.



ResVax


In March 2015, the company completed a Phase I trial for its Ebola vaccine candidate, as well as a phase II study in adults for its RSV vaccine, which would become ResVax.
The ResVax trial was encouraging as it showed significant efficacy against RSV infection, using a nanoparticle-based treatment using a recombinant F lipoprotein or saponin, "extracted from the Quillaja saponaria [or?] Molina bark together with cholesterol and phospholipid." It is aimed at stimulating resistance to respiratory syncytial virus infection, targeting both adult and infant populations.
2016 saw the company's first phase III trial, the 12,000 adult Resolve trial, for its respiratory syncytial virus vaccine, which would come to be known as ResVax, fail in September.
This triggered an eighty-five percent dive in the company's stock price. Phase II adult trial results also released in 2016 showed a stimulation of antigenicity, but failure in efficacy.
Evaluation of these results suggested that an alternative dosing strategy might lead to success, leading to plans to run new phase II trials.
The company's difficulties in 2016 led to a three part strategy for 2017: cost reduction through restructuring and the termination of 30% of their workforce; pouring more effort into getting ResVax to market; and beginning clinical trials on a Zika virus vaccine.
Alongside the adult studies of ResVax, the vaccine was also in 2016 being tested against infant RSV infection through the route of maternal immunization.
In 2019, late-stage clinical testing of ResVax, failed for a second time, which resulted in a major downturn in investor confidence and a seventy percent reduction in capital value for the firm.
As a secondary result, the company was forced to conduct a reverse stock split in order to maintain a minimum qualification, meaning it was in risk of being delisted.



NanoFlu


NanoFlu is a quadrivalent influenza vaccine, which completed Phase II clinical trials successfully in 2019. In January 2020, it was granted fast track designation by the U.S. Food and Drug Administration (FDA) to move into Phase III trials, which completed in March 2020. (Full article.)
So how does a company with a 33-year track record of failure, even after receiving an $89 million research grant from the Bill and Melinda Gates Foundation in 2015, and then another $384 million from the
Coalition for Epidemic Preparedness Innovations
in 2020, which is also funded by Bill Gates, get to the point where it introduces its first vaccine for the COVID-19 "virus"?
The same way that Pfizer and Moderna were able to introduce an mRNA vaccine into the market after decades of failing to get an mRNA vaccine approved for HIV/AIDS:
Have President Trump's administration declare a "pandemic" so that the FDA can start handing out EUAs to Big Pharma to resurrect these old vaccines that could never pass FDA approval without an EUA, and then give them a boatload of money to make it happen.
And that's what happened in July of 2020 when Trump's
Operation Warp Speed
gave Novavax $1.6 BILLION, even though they had failed to produce a single vaccine for over 30 years.
Donald Trump was simply the puppet politician that rubber stamped all this, of course, as the real people who made all this happen were the Wall Street Mega Banks, led by Jamie Dimon and JPMorgan Chase, who bailed themselves out at the end of 2019 to create the cash that was going to be needed to do all this.
They then told Trump what to do and even supplied the leaders of
Operation Warp Speed
that they told him to appoint, all of whom had a previous history of working together in the past trying to get mRNA vaccines into the market for AIDS/HIV.
I have no doubt these Wall Street Bankers and Billionaires foresaw all this and chose fellow Wall Street Billionaire Donald Trump in 2016 to be president, probably because they have leverage over him, and could count on him to carry out their plans.
Dr. Moncef Slaoui, Bill Gates, Dr. Anthony Fauci, Dr. Deborah Birx, and CDC Director Robert Redfield under Trump, all have a long history of working together on trying to develop an HIV/AIDS mRNA vaccine.
So once the banks created the money out of thin air to give themselves in 2019, and with Trump giving Big Pharma $TRILLIONS to develop the COVID-19 vaccines, the investment firms scoop up all that money and then start purchasing these companies' stocks.
That's exactly what is happening with Novavax, and now we know the probable reason why they are allowing bad press for Pfizer's COVID-19 vaccine for children, where they recently admitted it did not work for children 5 to 11.
These investment firms, led by Vanguard and Blackrock, will now probably just sell most of their stocks in Pfizer, if they haven't already, and simply move over to Novavax.
Here's who owns Novavax according to the Wall Street Journal: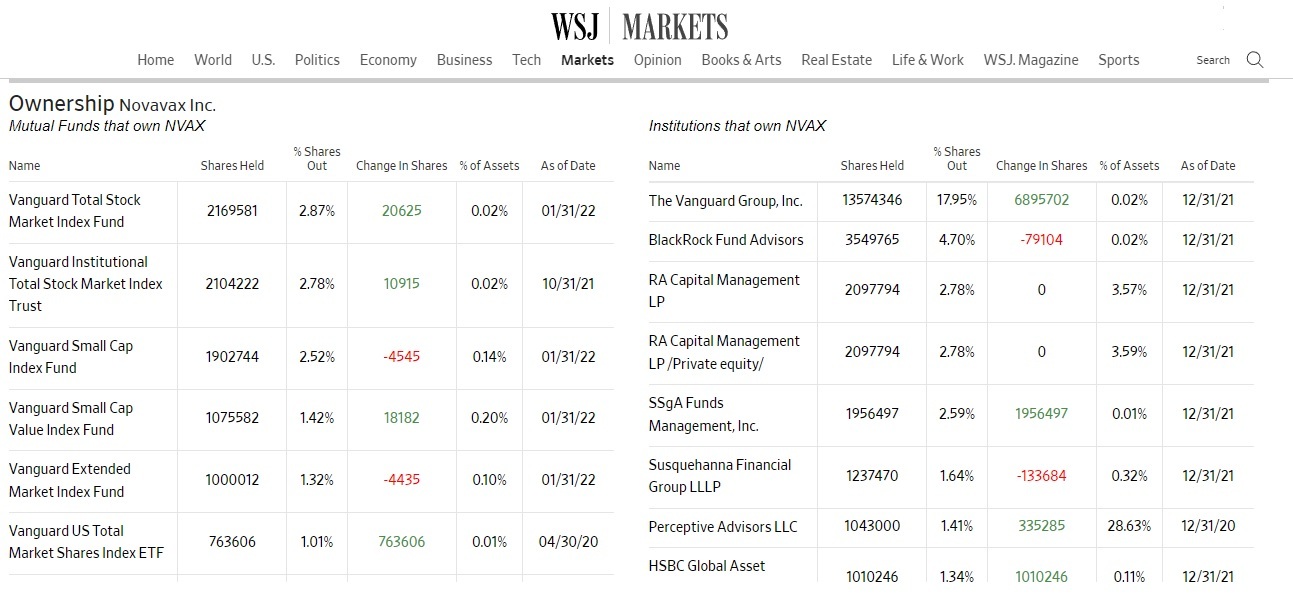 And why not? This playbook worked so well for Pfizer, raking in record profits, why not do it again for another company that cannot produce a vaccine that would pass FDA standards, by issuing an EUA and then targeting the population that has yet to get a COVID-19 vaccine, the "vaccine hesitant" and children.
Apparently, Novavax has a wide appeal for the ignorant masses who are being targeted by this new "educational program" who are eagerly awaiting Novavax to be given an EUA by the FDA so they can rush out and get it.
And some of the superstar Alt doctors are promoting it, so they have a very strong appeal to authority as well from the medical doctors who oppose the mRNA vaccines, but themselves are still pro-vaccine and profiting from Big Pharma.
As we have previously reported, some pro-life groups are now claiming that fetal tissue was used in the development of this vaccine, as Novavax tries to win over the Christian Pro-life population.
Sorry Pro-Life Pro-Vaccine Christians – Novavax Allegedly Based on Aborted Fetal Cell Lines After All
The Novavax vaccine was just recently given authorization to be used in Canada, and Tamara Ugolini of Rebel News recently reported on efforts to find out what this authorization was based on through an
Access to Information
request, but the 8,000-page document they received was mostly redacted and useless.
Health Canada announced authorization for the Novavax vaccine on February 17, 2022. Novavax filed their  submission under the "amended Food and Drug Regulations on August 27, 2021, to support a permanent authorization" and is expected to roll their product out to the Canadian public in the coming weeks.
Originally, the interim order came into effect on September 16, 2020 and "is one of the fastest mechanisms available to the federal government for putting in place temporary regulations to help make health products available to address large-scale public health emergencies." It "allows for the issuance of an expedited authorization for the importation, sale and advertising of drugs used in relation to COVID-19."
Since it's now been a year and a half since the order was originally signed by the now-reshuffled minister of health, Patty Hajdu, and it expired after one year, the government got around this by introducing amendments under the Food and Drug Regulations to make these authorizations permanent.
The Novavax vaccine is partly plant based.
According to Dr. Bonnie Henry, it's "an interesting one, as it uses no human-derived materials in its development and instead uses a moth cell put into this matrix made out of the soap bark tree extract," and is "similar to a flu shot," where you get injected with inactivated fragments of the virus combined with an adjuvant that basically aggravates your immune system to respond and start to produce antibodies.
Concerned citizens filed an Access to Information request about this regulatory authorization and forwarded me the findings. Health Canada responded by throwing [url=https://www.dropbox.com/s/stb7vz8i1qsleov/HC-A-2021000118 release]8, 313 pages[/url]at the requester. Being mostly redacted, the documents are virtually useless.
Page 305 is a largely redacted invoice, but it appears that the vaccines were procured in January of 2021.
What was the hold up?
Well, in the fall of 2021 Novavax stocks plunged after Politico reported that the company faced significant hurdles while seeking regulatory approval apparently due to issues over purity. Low purity levels mean that contaminates or other substances are found in the final product, which can mean decreased efficacy or increased chances for adverse reactions.
It's hard to know what the regulatory hurdles were and how they were remedied because everything of relevance on the Drug Submission Forms beginning on page 1,915 is blacked out.
Poking around on the Health Canada website, they claim to keep up with the department's commitment to openness and transparency. Cue: largely redacted ATIP. (Source.)
However, what she did find was the Novavax product monograph.
Here are some highlights:
"WARNINGS AND PRECAUTIONS" (pg. 6), under Fertility: researchers say it's unknown if this injection will have an impact on fertility. Animal models did not indicate direct or indirect harmful effects on female fertility or reproductive toxicity. Did they even bother to test males?
Further down in 7.1 Special Populations, 7.1.1 Pregnant Women: the safety hasn't been established.
Under Breast-feeding: It is unknown if the injection is excreted in human milk. A risk to newborns/infants cannot be excluded.
In NON-CLINICAL TOXICOLOGY (pg. 19), under Carcinogenicity (meaning, does the injection have the ability to cause cancer): it looks like it has not been evaluated for carcinogenicity in animals, as carcinogenicity studies were not considered relevant to this vaccine. Seriously???
Page 21 outlines everyone who shouldn't take the vaccine, other instances that you should consult your doctor about, and that this injection has never been studied in conjunction with other vaccines.
Yet the "experts" touted that mixing and matching manufacturers is safe and effective. (Source.)
Novavax has already been authorized for use in some places in Europe, including Germany, and my contact in Europe who prepares the report we publish every two weeks from EudraVigilance, the European (EEA and non-EEA countries) database of suspected drug reaction reports, told me last week that reports of adverse events from Novavax are starting to come through and we should be able to start publishing those soon.
Earlier this week The COVID Blog published some of the first adverse reactions from Novavax in Australia.
Tremors, chest pains, and heart palpitations
We tried reaching out to this 42-year-old mother and wife from Adelaide to get more information about her. But she has not responded as of publishing. This woman, who we'll refer to as Tasha based on her Instagram handle, received her first Novavax injection on February 21.
She received the shot due to the jab or job decision. Tasha described a "hot gushing feeling down [her] throat which tasted metallic" as she sat in the post-injection waiting room. They sent her home after 30 minutes.
Four hours later, she reported a "deep throbbing headache." She woke up the next day with a fever. But Tasha could not miss work due to some sort of recognition event.
The next day, February 23, she experienced "the worst chest pain, it felt like a tens machine zapping my chest." She went to the hospital later that day, and received a familiar diagnosis.
Doctor chalked it up to "anxiety." The electric zap feeling spread to her head later that night. She was also sweating profusely at this point. The next day, she was "white as a ghost" and went to a pop-up urgent care facility. That's when the full-body tremors, a la Shawn Skelton Syndrome, started.
Tasha decided to go home that night instead of the hospital because she did not "want to deal with them" again. The next day, she went to a different hospital. Doctors asked her if she had an injection. They told her they know what to do with Pfizer and Moderna adverse reactions (which is a lie), but don't know anything about Novavax adverse reactions. Doctors, again, insinuated that it was all in her head. By March 1, Tasha was completely bedridden. And once again, doctors simply told her to "wait 5 or 6 weeks" before receiving the second injection.
Tasha has itchy gums and eyes, declining cognitive abilities, and noise and light sensitivity, in addition to the tremors and chest pain. She's trying a bunch of naturopathic treatments in hopes of "detoxifying" her body.
"I'm not touching [anymore vaccines]," she said while crying in a 13-minute Instagram video on Monday. "It sucks, it really sucks. I thought I was doing the right thing. I'm definitely not anti-v."
Lee-Anne Barnett: Itchy rash, paralysis and cognitive issues
Mrs. Barnett is a 45-year-old Adelaide mother and wife with pre-existing heart problems. The injection was required for her teaching job. She also wasn't allowed to see her doctor without the injections. Mrs. Barnett waited until Novavax became available because her research concluded that Pfizer, Moderna and AstraZeneca cause heart problems and blood clots.
She received her first Novavax injection on February 18. She immediately experienced the same "metallic taste down the throat" reaction that Tasha experienced. Other than a sore arm, she was fine for the next seven days. But on February 26, she woke up with a rash on both of her thighs. Early the next morning, the rash had spread to her entire legs and was very itchy. The next day, the itching felt like a "radiating" pain; and she was sweating profusely. Mrs. Barnett called her doctor. But he told her the rash was not a Novavax adverse reaction. He prescribed steroids for the rash.
Mrs. Barnett went straight to a pharmacist the next day, desperate for any help. Now she was reporting "yellow liquid" coming from her eyes. She again got the runaround at another hospital, and was sent home with steroids. Her only relief has been filling her bathtub with ice water, and sitting in it. By March 2, she reported diminishing cognitive abilities and partial paralysis on the right side of her body. Mrs. Barnett said she couldn't remember her son's name and that "I feel like I'm getting dementia."
Doctors told her to take AstraZeneca for the second shot.
Chiara Clowes: ovarian cyst
Mrs. Chiara Clowes just turned 30 in 2021 and has lived a healthy lifestyle. She's from Italy, but has worked in Perth for the last nine years. She was not mandated by her employer to receive the injection. Mrs. Clowes wanted to travel to see her family.
She received her first Novavax injection on February 17. It immediately felt like "someone punched [my] arm." The next day, she experienced breathing difficulty, chest pain and extreme fatigue. Brain fog and cognitive issues came later that night. That evening she woke up with extreme chest pain. Doctors ran a battery of tests. But everything came back clear. They did, however, acknowledge that Mr. Clowes was experiencing "chest pain post-Novavax." She went to her regular the next day, only to be told a Novavax reaction was "impossible."
Doctors found an ovarian cyst on February 24. She now has appointments with gynecologists in the near future.
Drops in the bucket
These stories are only going to increase as the year elapses. We're already seeing a lot of reports that sound very similar to the three ladies above, except these people are in pro-Novavax forums and do not want to be overly-negative about the Holy Sacrament.
Read the full article at The COVID Blog.
How many more lives will now be destroyed as the Globalists now back the experimental Novavax vaccine from a company that has a 33-year failure rate, and for a "virus" that was brought into power through fear and faulty PCR tests?
Comment on this article at HealthImpactNews.com.https://vaccineimpact.com/2022/after-33-years-of-failure-to-produce-any-vaccine-novavax-targets-children-for-covid-19-vaccine-where-pfizer-failed/Thanks to: https://vaccineimpact.com