NASA set to roll world's largest rocket out to the launch pad
March 17, 2022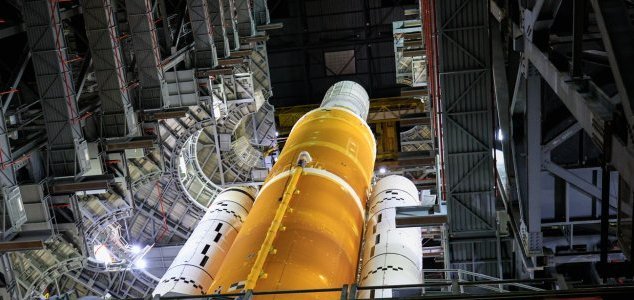 The rocket is even larger than the Saturn V. Image Credit: NASA
The first mission of NASA's Artemis moon program will be launching within the next few months.
It has been a very long time - more than 50 years in fact - since Neil Armstrong and Buzz Aldrin set foot on the lunar surface as part of NASA's historic Apollo 11 mission in 1969.
Within just three years, however, the incentive to keep sending humans to the Moon was gone (as was the budget necessary to do so), resulting in a hiatus lasting several decades.
Now at last, it looks like this hiatus may finally be coming to an end, with the first mission of NASA's brand new lunar program - Artemis 1 - set to launch in just a few months' time.
Because this is the first mission there won't actually be astronauts on board. Instead, it will serve as a demonstration of the technology - traveling out to lunar orbit and then back over a period of 3 weeks. 
Today the fully stacked rocket - which consists of the Space Launch System (SLS) and Orion spacecraft - will be heading out to the launch pad to begin preliminary launch rehearsals.
It is the largest rocket that has ever existed - even larger than the Apollo program's Saturn V.
Watching it roll out will certainly be a sight to behold.
You'll be able to see it on the live feed below from 5pm EDT (9pm GMT) tonight.
https://youtu.be/RxzC2S8Z2Ng
https://www.unexplained-mysteries.com/news/356281/nasa-set-to-roll-worlds-largest-rocket-out-to-the-launch-pad
Thanks to: https://www.unexplained-mysteries.com