SpaceX Is Launching a Bunch of NASA Astronauts to Space on 4/20
Nice!
High Altitude
Lots of people will be blasting off on April 20, but if all goes according to plan, four NASA astronauts will be getting particularly high — off the surface of the Earth, that is, on the long journey to the International Space Station.
That's because SpaceX's long-awaited Crew-4 mission, previously scheduled for April 19, is now slated for April 20, a day with particular significance to CEO Elon Musk.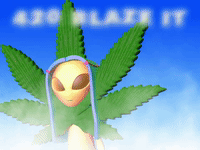 Hallowed Day
NASA Commercial Crew program manager Steve Stich quipped that Crew-4 would be a "4-4-4" mission, launching NASA's fourth SpaceX crew mission with a fourth booster in the fourth month of the year. What went unsaid is that 4/20 is probably more noteworthy, in the minds of much of the public but also that of Musk, who has long demonstrated a fondness for that particular weed-affiliated number.
There was the time he threatened to bring Tesla private at $420 per share, for instance. Or the occasion, a bit later on, when he commemorated Tesla stock hitting that particular price with a very particular choice of words. Or when it emerged that two rocket engines were positioned on a SpaceX Starship prototype in a way that just so happened to spell "420" — before, that is, Musk winkingly said the arrangement was a "total coincidence."
And now it looks like SpaceX will be sending a crew of astronauts to space on this most auspicious of days. Surely just another coincidence, though!
More on Elon Musk:
We Must Live in a Horrid Simulation, Because Joe Rogan Just Offered to Train Elon Musk to Fight Vladimir PutinCare about supporting clean energy adoption? Find out how much money (and planet!) you could save by switching to solar power at UnderstandSolar.com. By signing up through this link, Futurism.com may receive a small commission.