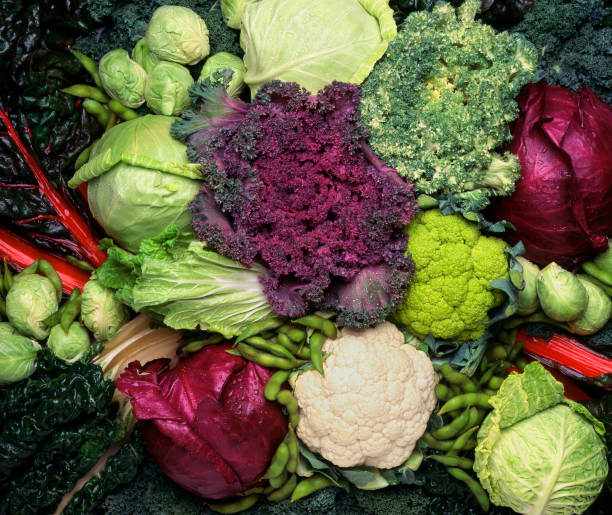 Cruciferous Plant Chemical Inhibits SARS-CoV-2 and the Common Cold
7 april 2022
Go zero fear! 
A study published (https://www.nature.com/articles/s42003-022-03189-z) 18 March 2022 shows sulforaphane, a chemical found in cruciferous vegetables, "exhibits antiviral activity against pandemic SARS-CoV-2 and seasonal HCoV-OC43 coronaviruses."
(https://medicalxpress.com/news/2022-03-chemical-leafy-greens-shown-growth.html)
"Severe Acute Respiratory Syndrome Coronavirus 2 (SARS-CoV-2), the cause of coronavirus disease 2019 (COVID-19), has incited a global health crisis. Currently, there are limited therapeutic options for the prevention and treatment of SARS-CoV-2 infections. We evaluated the antiviral activity of sulforaphane (SFN), the principal biologically active phytochemical derived from glucoraphanin, the naturally occurring precursor present in high concentrations in cruciferous vegetables. SFN inhibited in vitro replication of six strains of SARS-CoV-2, including Delta and Omicron, as well as that of the seasonal coronavirus HCoV-OC43."
The study conducted by researchers at Johns Hopkins University School of Medicine concludes "Our results suggest that SFN should be explored as a potential agent for the prevention or treatment of coronavirus infections."
"Treatment with SFN increased phagocytic activity of alveolar macrophages and reduced lung injury in animal models of acute respiratory distress syndrome (ARDS). SFN also decreased the levels of IL-6 and viral load in human subjects infected with live attenuated influenza virus. Numerous clinical trials utilizing SFN have demonstrated favorable pharmacokinetics after oral dosing and documented excellent tolerability and safety."
Sulforaphane is a compound found in abundance in cruciferous plants, such as broccoli and broccoli rabe, kale, brussels sprouts, collard greens, cabbage, mustard greens, cauliflower, turnip and rutabaga, bok choy, watercress, kohlrabi, radish, horseradish, arugula and wasabi.
 The Positive Takeaway
We previously presented research showing black cumin seeds (https://t.me/covidpositivenews/192) and foods containing shikimic acid (https://t.me/covidpositivenews/231) stop the spike protein causing damage and stop cytokine storms – which is when affected immune systems over-respond, causing more damage.
One WCH resource we posted on (https://t.me/covidpositivenews/100) is a science-based guide to "Optimize Your Natural Immune System," which emphasises the importance of healthy nutrition, sleep, rest, exercise, and routine de-stress practices to boost our health.
Terrain theory explains (https://t.me/covidpositivenews/100) that it is the quality of the terrain – or our internal environment – that determines an individual's susceptibility to disease.
When the body is functioning in homeostasis, and immunity and detoxification are operating well, there is a healthy terrain which can handle external threats.
We as free thinking people care about objective facts, so surely the most important objective facts are those that optimise our health – our mind, body and spirit (inner resources).
A new (Mar 2) study (https://t.me/covidpositivenews/276) compared the many known benefits (https://t.me/covidpositivenews/127) of spending time in nature with our perception of our environment, concluding going into nature is more healing with a positive mindset, while putting our attention on negativity-focused news increases stress, anxiety and depression.
e.g. the science says focusing on every new health concern that a Covid vaccine may cause is compromising our immunity, while developing simple habits that make us feel happy (https://t.me/covidpositivenews/42), healthy (https://t.me/covidpositivenews/100), empowered (https://t.me/covidpositivenews/154), strong (https://t.me/covidpositivenews/211) and connect us (https://t.me/covidpositivenews/351) to our our intuition make us immune to disease.
The latest science in quantum mechanics (https://t.me/covidpositivenews/191) also shows that what works individually also works collectively, and if we nurture a new positive worldview as a community, this happy, healthy post-Covid world will become a reality.
The solution to mass formation (https://t.me/covidpositivenews/337)is to be an example of how we want the world to be. Now is the time for us to act – to speak our truth, yes, but also be the example.
https://rightsfreedoms.wordpress.com/2022/04/09/cruciferous-plant-chemical-inhibits-sars-cov-2-and-the-common-cold/
Thanks to: https://rightsfreedoms.wordpress.com