Documents From 2021 International Security Exercise Showed Monkeypox Biological Attack on May 15, 2022
 By Elizabeth Stauffer, The Western Journal
Published May 22, 2022 at 5:57pm      
In March 2021, the Nuclear Threat Initiative, a global security organization "focused on reducing nuclear and biological threats imperiling humanity," joined by members of the Munich Security Conference, conducted an exercise which involved a lethal, global monkeypox pandemic.
In a November 2021 report, NTI looked at the outbreak of the monkeypox virus in the fictional country of Brinia on May 15, 2022, which was the focus of the March exercise. Under their imaginary scenario, "the initial outbreak was caused by a terrorist attack using a pathogen engineered in a laboratory with inadequate biosafety and biosecurity provisions and weak oversight."
In the table below (which can be viewed on page 10 of the report), NTI divided their discussions into three "moves."
In the first move, 1,421 cases of the virus resulting in four deaths are reported in Brinia.
By Jan. 10, 2023, seven months later, the virus has spread to 83 countries. There are 70 million cases worldwide, and 1.3 million people have died. Researchers have learned that the virus was engineered to be vaccine-resistant.
By May 10, 2023, 480 million cases have been reported, resulting in 27 million fatalities worldwide.
By December 2023, cases have reached 3.2 billion, and 271 million people have died.

Kim Dotcom
@KimDotcom
The #MonkeyPox scenario from 2021. Coincidence? Full document: https://nti.org/wp-content/uploads/2021/11/NTI_Paper_BIO-TTX_Final.pdf
The next $500 billion for Big Pharma?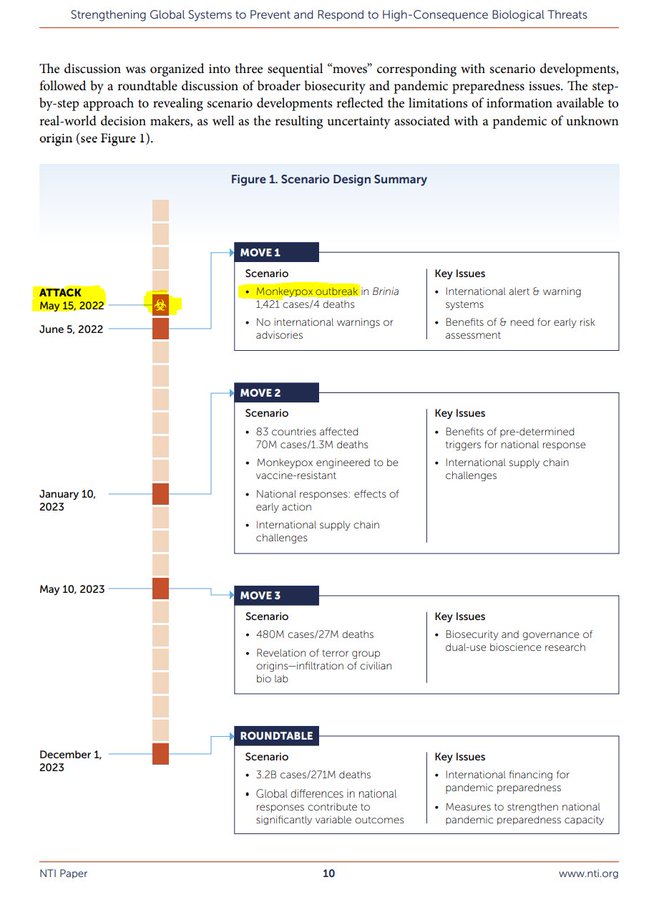 11:39 AM · May 20, 2022
MORE HERE:  https://thefederalistpapers.org/us/docs-2021-intl-security-exercise-showed-monkeypox-bio-attack-may-15-2022
Thanks to: https://thefederalistpapers.org