Boris Johnson Announces Resignation After Torrent Of Scandals
(Photo by Leon Neal / POOL / AFP)
UK Prime Minister Boris Johnson announced his resignation in a speech Thursday after enduring a slate of ministerial scandals and recent high-profile resignations among the British parliament, the BBC reported.
Sixteen members of Johnson's cabinet resigned Monday and Tuesday, including Senior Health Secretary Sajid Javid and chancellor Rishi Sunak, in a move many thought would spell Johnson's demise. The departures came in response to Johnson's alleged complicity in covering up sexual misconduct among Chris Pincher, the Conservative deputy chief who resigned on June 30, according to the Associated Press.
Johnson fought back, rejecting calls for a "dignified exit," according to Reuters, but apparently it was not enough to restore faith in his ability to lead.
"In the last few days I have tried to persuade my colleagues that it would be eccentric to change governments when we are delivering so much and when we have such a vast mandate, and when we're actually only a handful of points behind in the polls," Johnson said in his address. "I regret not to have been successful in those arguments, and of course it's painful not to be able to see through so many ideas and projects myself."
Priti Patel
@pritipatel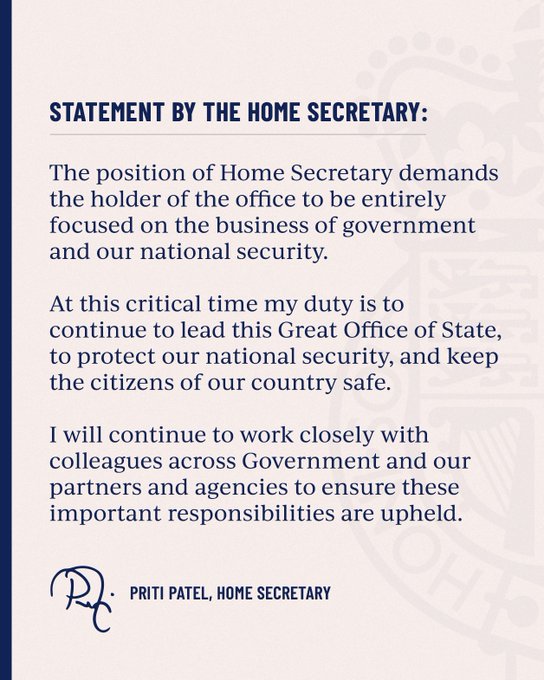 6:25 AM · Jul 7, 2022
[*]
Read More
[*]
MORE HERE: https://dailycaller.com/2022/07/07/boris-johnson-resignation-after-torrent-of-scandals/?utm_source=piano&utm_medium=email&utm_campaign=2680&pnespid=ruh3Bn0fN.NLy6SerTi3F8iIr0P.UMF3N_Pg3fIytRZm1KL.VBnFvbvAuxxuhqNIKJJgtIMKVw
[*]
Thanks to: https://dailycaller.com