76,253 Dead 6,033,218 Injured Recorded in Europe and USA Following COVID Vaccines with 4,358 Fetal Deaths in U.S.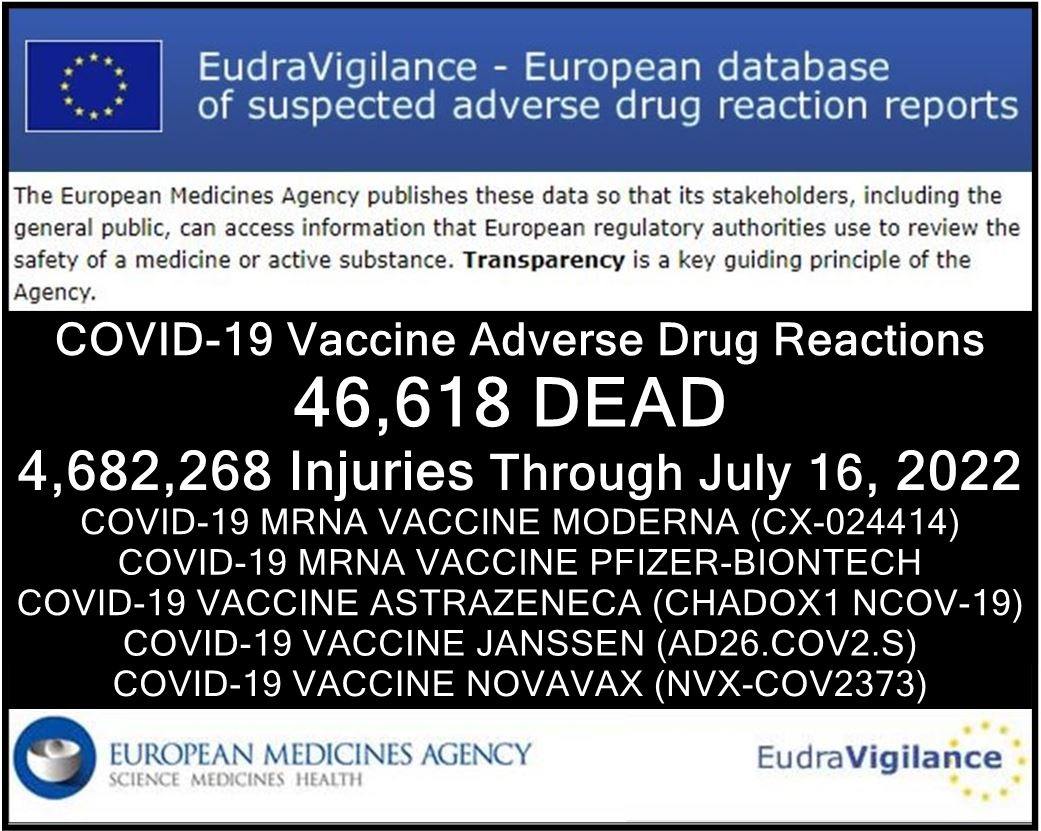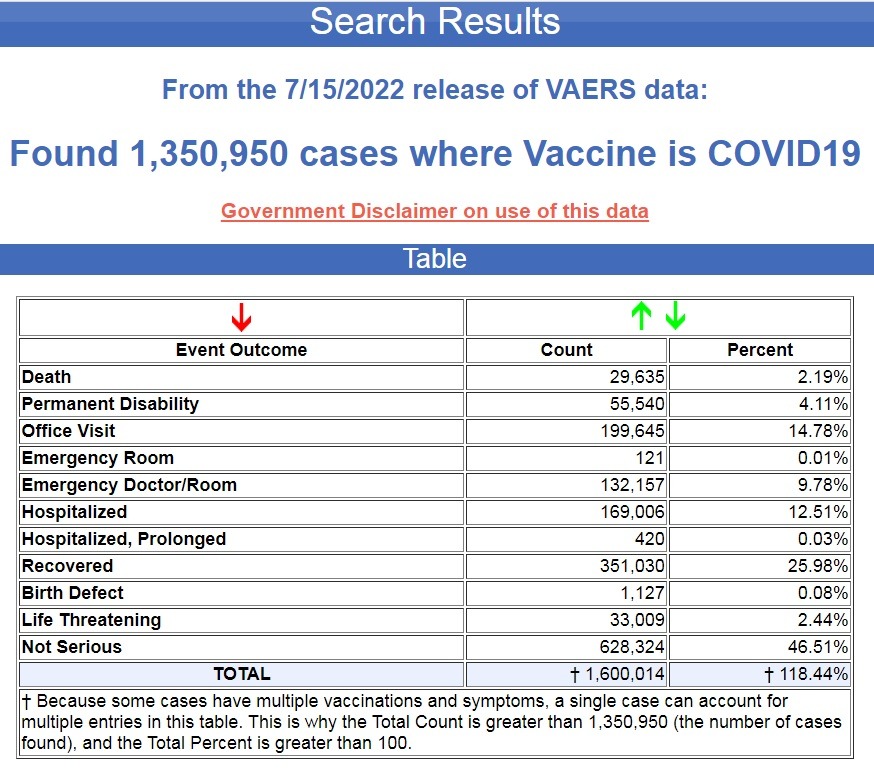 by
Brian ShilhavyEditor, Health Impact News
The European Medicines Agency (EMA) database of adverse drug reactions is now reporting 46,618 deaths and 4,682,268 injuries following COVID-19 vaccines (details below).
In the United States, the Vaccine Adverse Events Recording System (VAERS) is now reporting 29,635 deaths and 1,350,950 injuries following COVID-19 vaccines.
A 2011 report by Harvard Pilgrim Health Care, Inc. for the U.S. Department of Health and Human Services (HHS) stated that less than 1% of all adverse events following vaccines are ever reported to VAERS.
Although 25% of ambulatory patients experience an adverse drug event, less than 0.3% of all adverse drug events and 1-13% of serious events are reported to the Food and Drug Administration (FDA).
Likewise, fewer than 1% of vaccine adverse events are reported. Low reporting rates preclude or slow the identification of "problem" drugs and vaccines that endanger public health. New surveillance methods for drug and vaccine adverse effects are needed. (Source.)
There have now been more deaths and vaccine side effects reported during the past 20 months to VAERS following COVID-19 vaccines than there has been for the entire previous 30 years for all FDA-approved vaccines before the Emergency Use Authorization of the COVID-19 shots in December of 2020. (833,968 cases, 9,279 deaths
46,618 Deaths and 4,682,268 Injuries in EudraVigilance
The European (EEA and non-EEA countries) database of suspected drug reaction reports is EudraVigilance, verified by the European Medicines Agency (EMA), and they are now reporting 46,618 fatalities, and 4,682,268 injuries following injections of five experimental COVID-19 shots:
COVID-19 MRNA VACCINE MODERNA (CX-024414)

COVID-19 MRNA VACCINE PFIZER-BIONTECH

COVID-19 VACCINE ASTRAZENECA (CHADOX1 NCOV-19)

COVID-19 VACCINE JANSSEN (AD26.COV2.S)

COVID-19 VACCINE NOVAVAX (NVX-COV2373)

From the total of injuries recorded, almost half of them (2,126,925) are
serious
 injuries.
"Seriousness provides information on the suspected undesirable effect; it can be classified as 'serious' if it corresponds to a medical occurrence that results in death, is life-threatening, requires inpatient hospitalisation, results in another medically important condition, or prolongation of existing hospitalisation, results in persistent or significant disability or incapacity, or is a congenital anomaly/birth defect."
A 
Health Impact News
 subscriber in Europe ran the reports for each of the four COVID-19 shots we are including here. It is a lot of work to tabulate each reaction with injuries and fatalities, since there is no place on the EudraVigilance system we have found that tabulates all the results.
Since we have started publishing this, others from Europe have also calculated the numbers and confirmed the totals.*
Here is the summary data through July 16, 2022.
Total reactions
 for the mRNA vaccine
Tozinameran
 (code 
BNT162b2
,
Comirnaty
) from
BioNTech/ Pfizer: 21,999 deaths 
and
2,418,846
injuries to 16/07/2022
72,033   Blood and lymphatic system disorders incl. 315 deaths

84,095   Cardiac disorders incl. 3,168 deaths

759        Congenital, familial and genetic disorders incl. 68 deaths

31,119   Ear and labyrinth disorders incl. 17 deaths

3,084     Endocrine disorders incl. 12 deaths

35,120   Eye disorders incl. 56 deaths

170,853 Gastrointestinal disorders incl. 880 deaths

619,596 General disorders and administration site conditions incl. 6,032 deaths

2,753     Hepatobiliary disorders incl. 127 deaths

26,467   Immune system disorders incl. 140 deaths

163,310 Infections and infestations incl. 2,288 deaths

43,021   Injury, poisoning and procedural complications incl. 487 deaths

57,469   Investigations incl. 602 deaths

15,173   Metabolism and nutrition disorders incl. 383 deaths

271,328 Musculoskeletal and connective tissue disorders incl. 312 deaths

2,783     Neoplasms benign, malignant and unspecified (incl cysts and polyps) incl. 264 deaths

371,860 Nervous system disorders incl. 2,351 deaths

3,324     Pregnancy, puerperium and perinatal conditions incl. 85 deaths

315        Product issues incl. 4 deaths

42,110   Psychiatric disorders incl. 249 deaths

8,750     Renal and urinary disorders incl. 328 deaths

101,364 Reproductive system and breast disorders incl. 9 deaths

98,633   Respiratory, thoracic and mediastinal disorders incl. 2,341 deaths

105,888 Skin and subcutaneous tissue disorders incl. 200 deaths

6,277     Social circumstances incl. 28 deaths

26,201   Surgical and medical procedures incl. 276 deaths

55,161   Vascular disorders incl. 977 deaths

Total reactions
 for the mRNA vaccine
SPIKEVAX/mRNA-1273 (CX-024414) from
Moderna: 12,225 deaths 
and
773,142 injuries
to 16/07/2022
20,722   Blood and lymphatic system disorders incl. 139 deaths

27,025   Cardiac disorders incl. 1,344 deaths

242        Congenital, familial and genetic disorders incl. 15 deaths

9,147     Ear and labyrinth disorders incl. 8 deaths

811        Endocrine disorders incl. 6 deaths

10,332   Eye disorders incl. 41 deaths

60,652   Gastrointestinal disorders incl. 467 deaths

204,160 General disorders and administration site conditions incl. 3,925 deaths

1,029     Hepatobiliary disorders incl. 66 deaths

8,700     Immune system disorders incl. 41 deaths

34,097   Infections and infestations incl. 1,118 deaths

11,407   Injury, poisoning and procedural complications incl. 230 deaths

17,138   Investigations incl. 409 deaths

6,203     Metabolism and nutrition disorders incl. 289 deaths

96,208   Musculoskeletal and connective tissue disorders incl. 246 deaths

938        Neoplasms benign, malignant and unspecified (incl cysts and polyps) incl. 104 deaths

126,943 Nervous system disorders incl. 1,181 deaths

1,081     Pregnancy, puerperium and perinatal conditions incl. 12 deaths

126        Product issues incl. 3 deaths

12,783   Psychiatric disorders incl. 196 deaths

4,050     Renal and urinary disorders incl. 235 deaths

21,325   Reproductive system and breast disorders incl. 9 deaths

31,561   Respiratory, thoracic and mediastinal disorders incl. 1,299 deaths

40,385   Skin and subcutaneous tissue disorders incl. 110 deaths

3,099     Social circumstances incl. 45 deaths

6,897     Surgical and medical procedures incl. 224 deaths

16,081   Vascular disorders incl. 463 deaths

Total reactions
 for the
vaccine AZD1222/VAXZEVRIA (CHADOX1 NCOV-19) from Oxford/
AstraZeneca
: 
9,318 deaths 
and
1,318,927 injuries
to 16/07/2022
15,315   Blood and lymphatic system disorders incl. 333 deaths

23,652   Cardiac disorders incl. 976 deaths

277        Congenital familial and genetic disorders incl. 11 deaths

14,928   Ear and labyrinth disorders incl. 8 deaths

826        Endocrine disorders incl. 6 deaths

22,162   Eye disorders incl. 34 deaths

118,674 Gastrointestinal disorders incl. 498 deaths

354,255 General disorders and administration site conditions incl. 2,163 deaths

1,191     Hepatobiliary disorders incl. 84 deaths

6,652     Immune system disorders incl. 47 deaths

57,992   Infections and infestations incl. 782 deaths

15,097   Injury poisoning and procedural complications incl. 229 deaths

32,134   Investigations incl. 226 deaths

14,654   Metabolism and nutrition disorders incl. 150 deaths

190,069 Musculoskeletal and connective tissue disorders incl. 197 deaths

907        Neoplasms benign malignant and unspecified (incl cysts and polyps) incl. 54 deaths

261,868 Nervous system disorders incl. 1,343 deaths

711        Pregnancy puerperium and perinatal conditions incl. 23 deaths

206        Product issues incl. 1 death

23,559   Psychiatric disorders incl. 83 deaths

4,845     Renal and urinary disorders incl. 99 deaths

18,347   Reproductive system and breast disorders incl. 3 deaths

46,054   Respiratory thoracic and mediastinal disorders incl. 1,245 deaths

57,733   Skin and subcutaneous tissue disorders incl. 77 deaths

2,403     Social circumstances incl. 11 deaths

3,090     Surgical and medical procedures incl. 42 deaths

31,326   Vascular disorders incl. 593 deaths               

Total reactions
 for the
COVID-19 vaccine JANSSEN (AD26.COV2.S) from Johnson & Johnson
: 
3,076 deaths 
and
168,267 injuries
to 16/07/2022
1,678     Blood and lymphatic system disorders incl. 68 deaths

3,706     Cardiac disorders incl. 256 deaths

57           Congenital, familial and genetic disorders incl. 2 deaths

1,833     Ear and labyrinth disorders incl. 3 deaths

152        Endocrine disorders incl. 2 deaths

2,209     Eye disorders incl. 16 deaths

11,484   Gastrointestinal disorders incl. 122 deaths

46,219   General disorders and administration site conditions incl. 852 deaths

210        Hepatobiliary disorders incl. 22 deaths

785        Immune system disorders incl. 12 deaths

14,748   Infections and infestations incl. 259 deaths

1,573     Injury, poisoning and procedural complications incl. 37 deaths

7,637     Investigations incl. 162 deaths

1,053     Metabolism and nutrition disorders incl. 84 deaths

21,049   Musculoskeletal and connective tissue disorders incl. 70 deaths

145        Neoplasms benign, malignant and unspecified (incl cysts and polyps) incl. 12 deaths

28,847   Nervous system disorders incl. 296 deaths

124        Pregnancy, puerperium and perinatal conditions incl. 1 death

35           Product issues

2,465     Psychiatric disorders incl. 35 deaths

719        Renal and urinary disorders incl. 50 deaths

4,050     Reproductive system and breast disorders incl. 6 deaths

5,925     Respiratory, thoracic and mediastinal disorders incl. 388 deaths

5,137     Skin and subcutaneous tissue disorders incl. 16 deaths

680        Social circumstances incl. 7 deaths

1,190     Surgical and medical procedures incl. 101 deaths

4,557     Vascular disorders incl. 197 deaths      

Total reactions for the COVID-19 vaccine NUVAXOVID (NVX-COV2373) from Novavax: 0 deaths and 3,086 injuries to 16/07/2022
69           Blood and lymphatic system disorders

172        Cardiac disorders

40           Ear and labyrinth disorders

1             Endocrine disorders

58           Eye disorders

216        Gastrointestinal disorders

695        General disorders and administration site conditions

3             Hepatobiliary disorders

23           Immune system disorders

163        Infections and infestations

25           Injury, poisoning and procedural complications

80           Investigations

16           Metabolism and nutrition disorders

398        Musculoskeletal and connective tissue disorders

1             Neoplasms benign, malignant and unspecified (incl cysts and polyps)

555        Nervous system disorders

2             Pregnancy, puerperium and perinatal conditions

1             Product issues

48           Psychiatric disorders

18           Renal and urinary disorders

52           Reproductive system and breast disorders

154        Respiratory, thoracic and mediastinal disorders

202        Skin and subcutaneous tissue disorders

4             Social circumstances

23           Surgical and medical procedures

67           Vascular disorders


MORE HERE: https://vaccineimpact.com/2022/76253-dead-6033218-injured-recorded-in-europe-and-usa-following-covid-vaccines-with-4358-fetal-deaths-in-u-s/
Thanks to: https://vaccineimpact.com