Healthy Infant Dies Within 48 Hours Of 8 Vaccines But Death Is Ruled "SIDS" By Medical Mafia
To make it worse, after Anne's two-month old infant died, she was told it was a "coincidence" and waited four months for a "SIDS" (Sudden Infant Death Syndrome) ruling. Vaccine Coincidence Kills Baby!

Larry Cook
Jul 28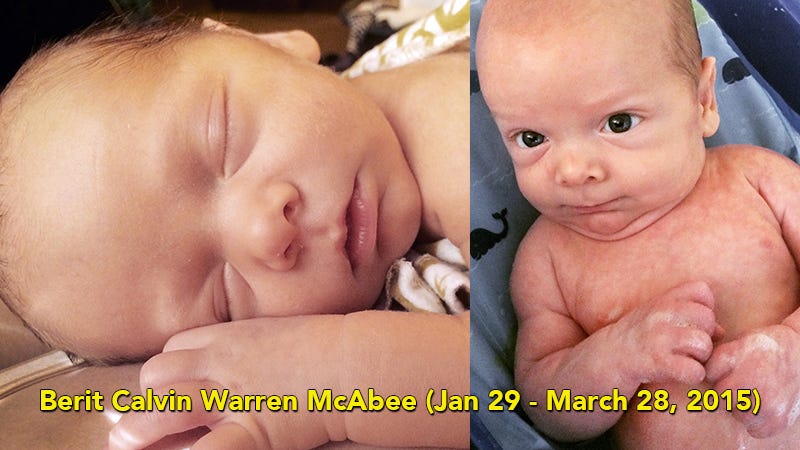 Share
Anne Bliss was not informed by her doctor of the risks, including potential for death, of the
eight vaccines at once
her healthy infant, Bear, would be injected with at two months old. Nor was she expecting her
baby would die less than 48 hours after his vaccines
. To make it worse, after Anne's infant died, she was told it was a "coincidence" and waited four months for a "SIDS" (Sudden Infant Death Syndrome) ruling. When she pressed for further answers, they had
none
.
Read in Anne's own words her heart-crushing experience about her son's death. In the Q&A to follow, Anne shares about her decision not to vaccinate her children born after her loss of Bear.
Anne Bliss: Berit "Bear" was healthy when he was born on January 29th, 2015. He was three weeks early, but
never
had any issues whatsoever. (He received his first dose of the Hepatitis B vaccine on January 30th.) Being a first time mom I was very protective, but not protective
enough
.
He had started smiling and rolling over and was really alert. Bear was a cuddle bug. He loved to be held. He was a happy baby and very laid back until he was done with that and wanted to be held. He would smile when he heard people talking, especially if they were talking to him.
The days before his 2-month checkup I started feeling like I really
didn't
want to get him vaccinated.
I expressed my concerns to the doctor which they told me "many parents feel this way before their child's shots" and assured me he would be
fine
.
Bear was vaccinated on the 26th of March. He received the DTaP,Hep. B, IPV, Hib, Pneumo Conjugate 13, and Rotavirus vaccines.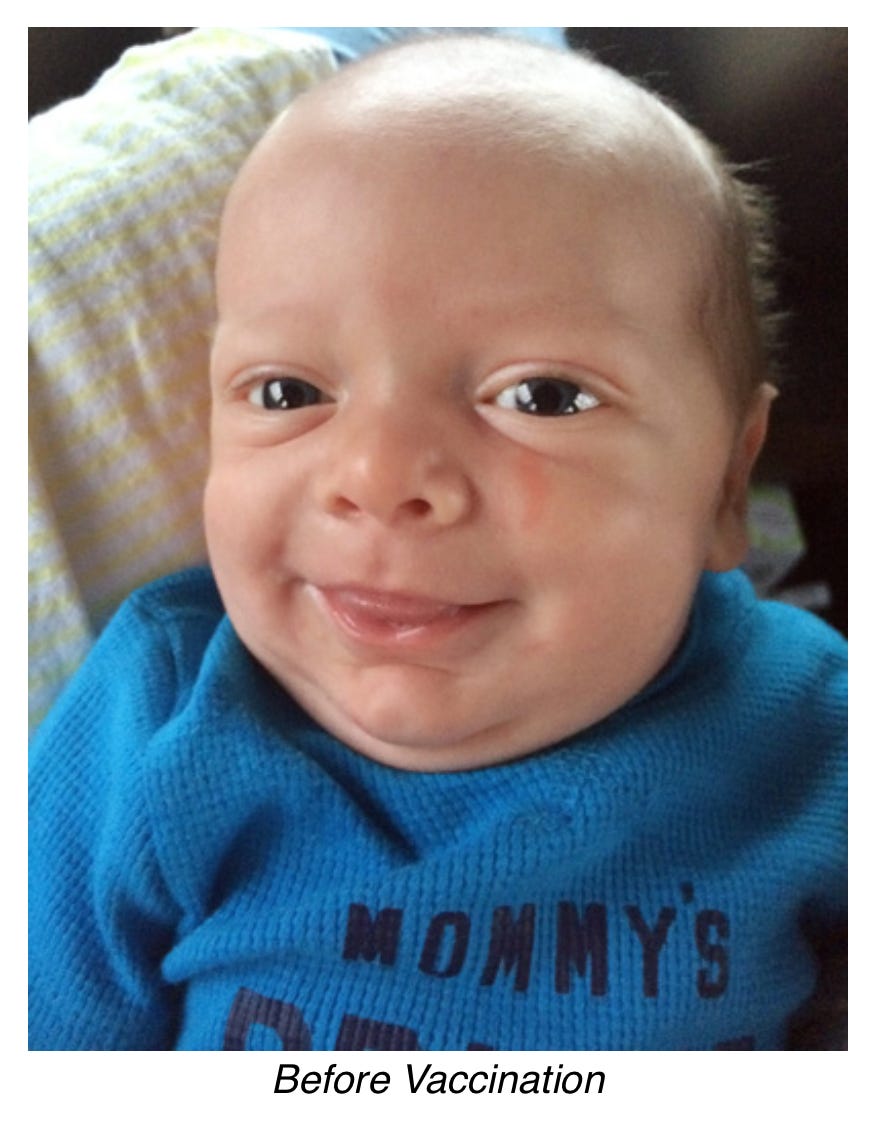 After his shots, he slept a lot.
He slept almost
all
day
. I had to wake him up to feed him – that was very unusual. He cried so much more than normal. He never ran a fever. Looking back on pictures now I can see his eyes were glazed over. He was
not
alert anymore, and he was swollen.
It was the 28th of March at 3:00 a.m., I woke up having really bad cramps (I had ovarian cysts ever since I received the HPV/Gardasil vaccine). I had Bear sleeping on my chest (he was wanting to be held more than usual), so when I got up, I had to put him down. He went right back to sleep. I put him down in bed on his back and went to take a bath.
I came back 15 minutes later and picked him up —
he was limp
.
I screamed
. Woke up my now ex-husband and he began doing CPR while I called 911. I remember I was in such a shock that I told them our old address and not our new one. I finally gave up trying to explain and told them to call the hospital in our town and tell them we were coming. We lived two minutes away.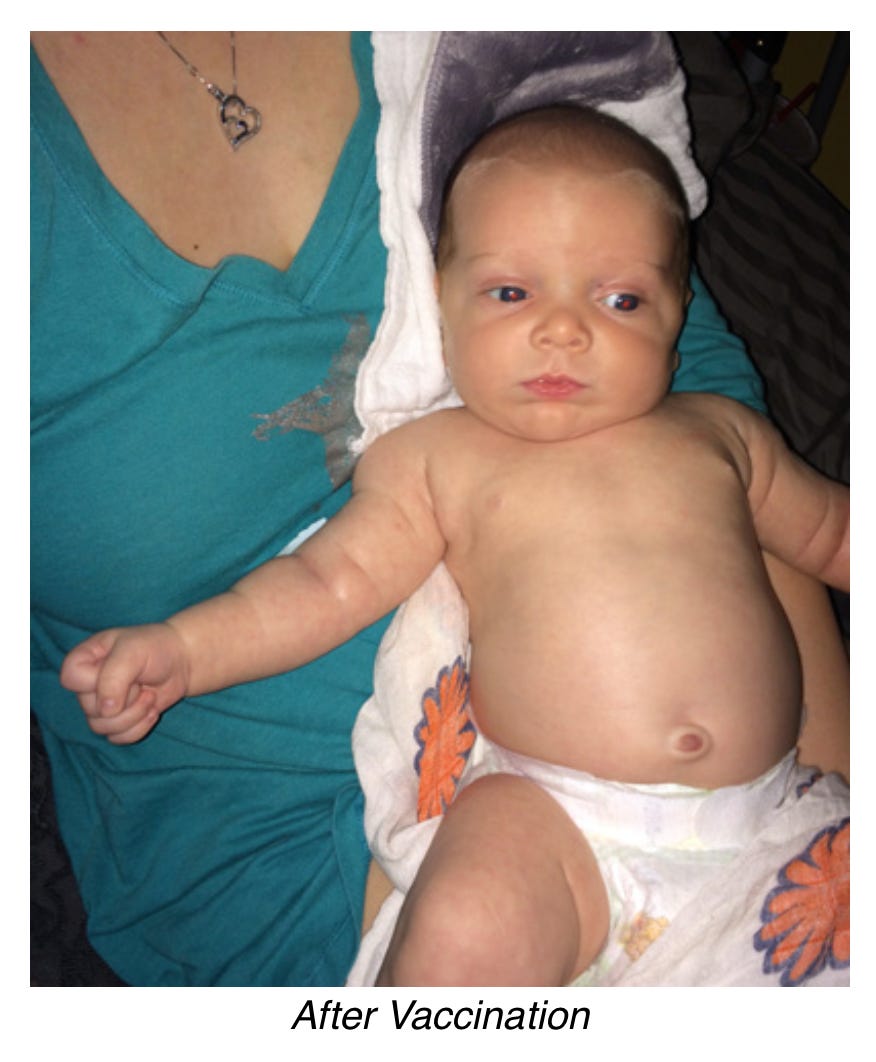 Thank you for reading Stop Mandatory Vaccination. This post is public so feel free to share it.
Share
When we got there, the doctors and nurses immediately took Bear from us and started working on him. By the time we got there, he had blood running out of his nose. They got him back and lost him several times. That beeping sound still to this day makes me feel like my heart is being ripped out of my chest. Neonatal nurses were flown in from Oklahoma University via helicopter to try to stabilize him, so we could transfer him. It wasn't happening. Even on the ventilator he was still going in and out.
Around 9:00 a.m., all family and close friends were there. The doctor pulled us back to a room by ourselves and told us Bear was without oxygen to his brain for too long and he would never be able to have a normal life. We were still losing him on and off at this point too.
We had to make the hardest decision ever. We decided to take him off of the machine and hold him while he took his last breaths.
At 10:13 a.m., he was pronounced dead.
Those months following, and still to this day, are sometimes unbearable.
Sometimes it's like you think you'll eventually wake up from this nightmare that's actually your life
.
I've had two children since then – a girl (2016) and a boy (2018). Neither are vaccinated and both are
very
healthy.
MORE HERE: https://stopmandatoryvaccination.substack.com/p/healthy-infant-dies-within-48-hours
Thanks to:  https://stopmandatoryvaccination.substack.com