CDC Quietly Removes Statement that Says "mRNA and the Spike Protein Do Not Last Long in the Body" from Their Website
Date: August 14, 2022Author: Nwo Report  
Posted BY
Jim Hoft
The US Center for Disease Control and Prevention (CDC) has taken down from its website the statement that states "mRNA and the spike protein do not last long in the body."
On July 15, the CDC quietly modified its website, removing the section that suggested mRNA and spike protein do not last in human bodies.
Under this topic, it stated that "our cells break down mRNA from these vaccines and get rid of it within a few days after vaccination."
"Scientists estimate that the spike protein, like other proteins our bodies create, may stay in the body up to a few weeks," it continued.
The CDC's decision to remove this information about mRNA and spike proteins from the public is still an open question.

Disclose.tv
@disclosetv
·
Follow
NEW - U.S. CDC appears to have deleted the statement that the "mRNA and the spike protein do not last long in the body" from their website.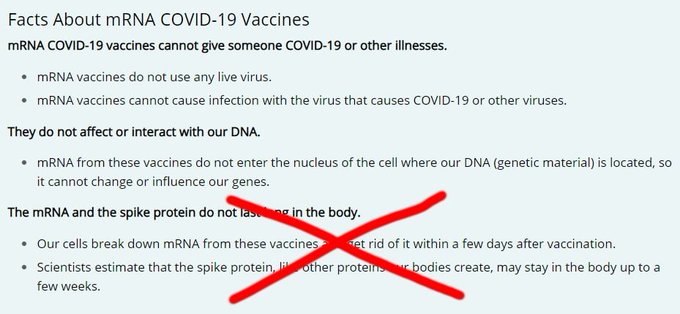 6:52 AM · Aug 13, 2022

Read the full conversation on Twitter
Read More
https://nworeport.me/2022/08/14/cdc-quietly-removes-statement-that-says-mrna-and-the-spike-protein-do-not-last-long-in-the-body-from-their-website/Thanks to: https://nworeport.me