FBI Agent Timothy Thibault's Attorneys Release Statement and You Won't Believe What They're Saying
Date: August 31, 2022Author: Nwo Report 
Posted BY:
Jim Hoft
On July 25, 2021, Senator Grassley outed dirty cops at the FBI of which there are many, if not all at this point. These crooks have been protecting their criminal handlers in the corrupt DNC while persecuting conservatives like the Jan 6ers locked up for over a year in the DC jail for protesting the stolen election.
Grassley outed out a man by the name of Timothy Thibault in his first sentence:
On May 31, 2022, I wrote to you regarding likely violations of Federal laws, regulations and Federal Bureau of Investigation ("FBI") guidelines by Assistant Special Agent in Charge ("ASAC") Timothy Thibault of the Washington Field Office ("WFO") based on a pattern of active public partisanship in his then public social media content.
Thibault left the agency on Friday – exactly one month after Senator Grassley outed him for his pattern of public partisanship and anti-Trump social media posts.
Thibault was the Assistant Special Agent in Charge ("ASAC") of the Washington Field Office.
Word broke on Monday that Thibault was escorted from the FBI on Friday.
Thibault was also accused of being involved in the Mar-a-Lago raid, the Hunter Biden computer scandal, and of padding the numbers on domestic terrorism in the US.
He fit right in at the FBI.
On Tuesday, Thibault's attorneys released a statement on their client and his career — they basically deny EVERYTHING!
-2-
-3-
Via Catherine Herridge.

Catherine Herridge
@CBS_Herridge
·
Follow
MEDIA STATEMENT ON BEHALF OF TIMOTHY R. THIBAULT For Immediate Release [Timothy R. Thibault has retained the pro bono services of Morrison & Foerster LLP.]  The following statement may be used, in whole or part, + attributed to Mr. Thibault's counsel at Morrison & Foerster LLP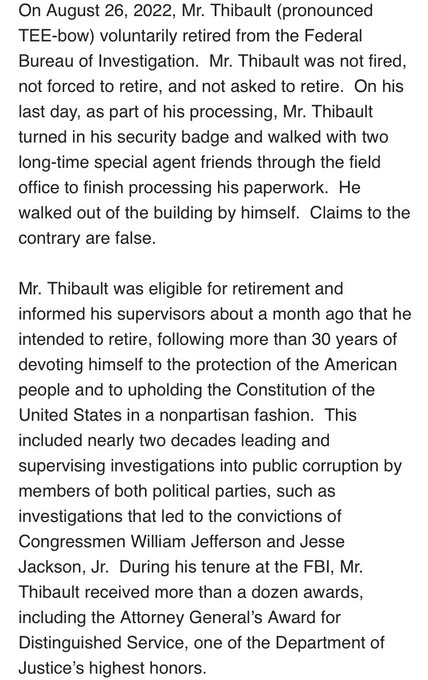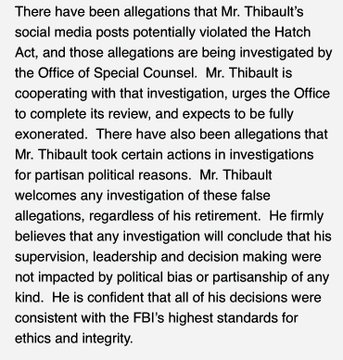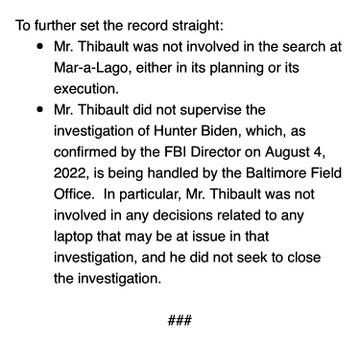 7:21 PM · Aug 30, 2022
https://nworeport.me/2022/08/31/fbi-agent-timothy-thibaults-attorneys-release-statement-and-you-wont-believe-what-theyre-saying/
Thanks to: https://nworeport.me