MyPillow CEO Mike Lindell Announces Lawsuit Against The FBI Over Phone Seizure: 'This Has To Stop'
By Rusty Weiss
September 19, 2022
MyPillow CEO Mike Lindell, an ally of former President Donald Trump, announced over the weekend that he and his legal team are planning to sue the FBI and the United States government following last week's reported phone seizure.
During an appearance on Steve Bannon's War Room podcast on Friday, Lindell announced his intentions, stating it was about multiple alleged violations of the Constitution on the part of the FBI.
At a Save America Rally in Ohio on Saturday, the highly successful entrepreneur doubled down on the threat.
"On Tuesday, we're suing the United States government and the FBI," Lindell said to a round of applause.
"We're suing them for violating our First Amendment rights, our Fourth Amendment rights, our Fifth Amendment rights, and our Sixth Amendment rights!" he added.

Jack Posobiec 
@JackPosobiec
·
Follow
BREAKING: "On Tuesday, we're suing the US government and the FBI. We're suing them for violating our 1st amendment rights, our 4th amendment rights, our 5th amendment rights, and our 6th amendment rights!" Support: http://mypillow.com/poso http://mystore.com/poso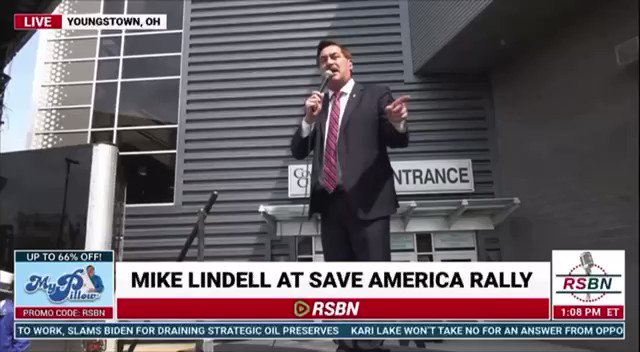 8:01 AM · Sep 19, 2022
MORE HERE; https://thepoliticalinsider.com/mypillow-ceo-mike-lindell-announces-lawsuit-against-the-fbi-over-phone-seizure-this-has-to-stop/?utm_campaign=TPI09192022PMLB&utm_source=criticalimpact&utm_medium=email&source=TPICI