SpaceX rolls rocket to pad ahead of Crew-5 astronaut launch (photos)
By Mike Wall
Crew-5 is scheduled to lift off on Wednesday (Oct. 5) at noon EDT.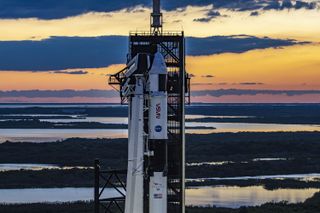 [*]The SpaceX Falcon 9 rocket and Dragon capsule that will fly the Crew-5 mission to the International Space Station stand on Launch Pad 39A at NASA's Kennedy Space Center in Florida shortly after rolling out on Oct. 1, 2022. (Image credit: SpaceX via Twitter) 
The hardware that will fly SpaceX's next astronaut mission for NASA is poised and ready for liftoff.
The
Crew-5
mission is scheduled to launch at noon EDT (1600 GMT) on Wednesday (Oct. 5) from Pad 39A at NASA's
Kennedy Space Center
(KSC) in Florida, and team members have been checking off boxes in the leadup.
On Saturday (Oct. 1), for example, the four Crew-5 astronauts — NASA's Nicole Mann and Josh Cassada, Japan's Koichi Wakata and Russian cosmonaut Anna Kikina — 
arrived at KSC
from NASA's Johnson Space Center in Houston.
[*]

MORE HERE: https://www.space.com/spacex-rolls-crew-5-rocket-launch-pad-photos?utm_campaign=58E4DE65-C57F-4CD3-9A5A-609994E2C5A9
Thanks to: https://www.space.com