DeSantis Issues State of Emergency for 34 Florida Counties Ahead of Approaching Storm
by John Symank
November 7, 2022
Gage Skidmore, flickr.com/photos/gageskidmore/51327131286
On Monday, Florida Gov. Ron DeSantis issued Executive Order (EO) 22-253, declaring a state of emergency for 34 counties as the state prepares for what is currently known as Subtropical Storm Nicole. The storm is expected to begin impacting the state on Tuesday.
This storm has the possibility of becoming a hurricane before it makes landfall along the Florida Coast. It is expected to hit the state Wednesday night into Thursday before it moves up the East Coast through the weekend, making it a possible Nor'easter.
The order is something of a precaution as it comes the day before Election Day, and DeSantis' emergency order did not say that people should refrain from going to the polls. However, a press release from the governor's office did advise that people have a disaster plan to be aware if they live in a flood or evacuation zone, to have multiple ways to receive weather alerts so they can be informed, and to keep gas tanks at least half-full with electric vehicles keeping between a 50% and 80% charge.
Bryan Griffin
@BryanDGriffin
·
Follow
Florida residents: monitor Subtropical Storm Nicole. In an abundance of caution, @GovRonDeSantis issues a State of Emergency for 34 counties for families, businesses, and communities to plan and prepare. Read more here: https://flgov.com/2022/11/07/governor-ron-desantis-cautions-residents-to-monitor-subtropical-storm-nicole/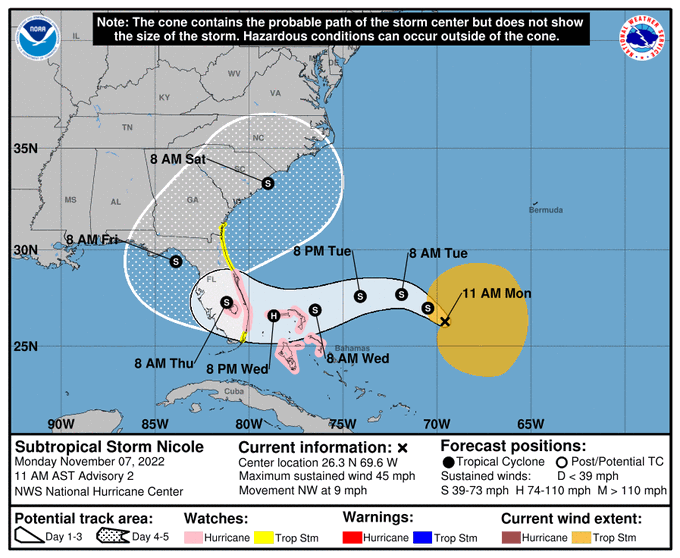 11:45 AM · Nov 7, 2022
"While this storm does not, at this time, appear that it will become much stronger, I urge all Floridians to be prepared and to listen to announcements from local emergency management officials," DeSantis said in a statement. "We will continue to monitor the trajectory and strength of this storm as it moves towards Florida."
Advertisements
As of Monday morning, Nicole was seen 555 miles east of the Bahamas. The National Hurricane Center predicts currently that it will affect the east coast of Florida, which may include areas impacted by Hurricane Ian.
Thanks to: https://resistthemainstream.org/gov-desantis-issues-state-of-emergency-for-34-counties/?utm_source=newsletter1