Judge DENIES Democrat Katie Hobbs's Motion to Dismiss! Kari Lake's Election Fraud Case to Move Forward WEDNESDAY and THURSDAY!
Date: December 20, 2022Author: Nwo Report  
Posted BY:
BIG WIN FOR FIGHTER KARI LAKE!

Kari Lake
@KariLake
·
Follow
BREAKING: Our Election Case is going to trial. Katie Hobbs attempt to have our case thrown out FAILED. She will have to take the stand & testify. Buckle up, America. This is far from over.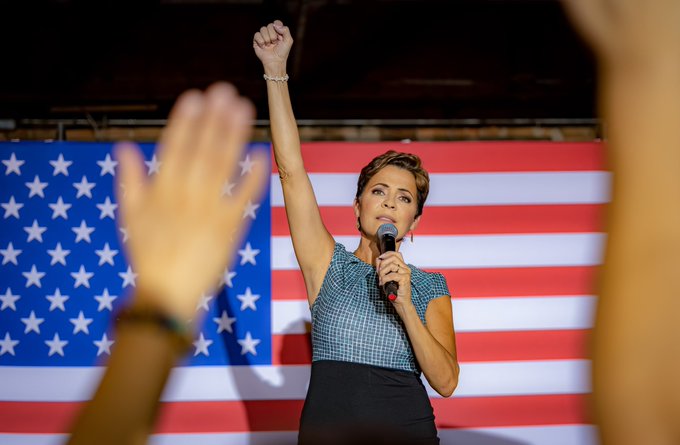 9:03 PM · Dec 19, 2022
Posted BY:
BIG WIN FOR FIGHTER KARI LAKE!Maricopa County Superior Court Judge Peter Thompson dismissed the defendants' motions to dismiss Kari Lake's historic stolen election lawsuit.
The trial will proceed with evidentiary hearings on Wednesday and Thursday this week.
The Gateway Pundit reported earlier that Kari Lake's attorneys gave an oral argument over the motions to dismiss in court this morning.
WATCH LIVE: Kari Lake's Attorneys Give Oral Argument In Stolen Election Lawsuit Hearing
Kari Lake's attorneys are back in court today for two hours of oral arguments over the Defendants' motions to dismiss her lawsuit contesting the stolen Midterm Election.  The Gateway Pundit reported on last week's hearing, where Judge Peter Thompson set the schedule for this lawsuit. Watch the full hearing from last Tuesday here. BREAKING: AZ … Continue reading WATCH LIVE: Kari Lake's Attorneys Give Oral Argument In Stolen Election Lawsuit Hearing
The Gateway Pundit
Full Story
THANKS TO: https://nworeport.me/2022/12/20/judge-denies-democrat-katie-hobbss-motion-to-dismiss-kari-lakes-election-fraud-case-to-move-forward-wednesday-and-thursday/