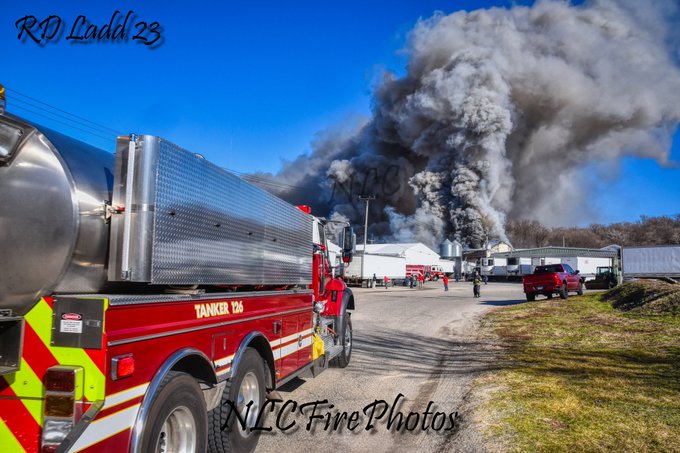 Massive Fire Sweeps Egg Farm, 16 Fire Departments Needed to Contain It
 By Ryan Ledendecker   
January 29, 2023 at 1:03pm   
A three-alarm fire at a Bozrah, Connecticut-based egg farm required more than 100 firefighters from at least 16 nearby firehouses to extinguish.
According to WTIC-TV, authorities said the fire, which plagued a 50′ x 600′ chicken coop at Hillandale Farms on Schwartz Road, took 4.5 hours to extinguish and resulted in the death of an estimated 100,000 chickens.
Fortunately, there were no injuries sustained by firefighters or farm workers.
Images of the massive egg farm blaze emerged across social media. One witness said smoke from the chicken coop fire could be seen from miles away.
#BREAKING: Multiple firefighters are battling a massive fire at a egg farm #Bozrah #Connecticut Multiple fire departments are responding to a massive three alarm fire at Hillendale Farms where thousands of chickens produce eggs with thick smoke can be seen miles away," one Twitter user wrote.
CONTINUE HERE: https://www.westernjournal.com/massive-fire-sweeps-egg-farm-16-fire-departments-needed-contain/