Conservatives Speak Out on Possible Ousting of Project Veritas Founder James O'Keefe From Organization
By Remso Martinez
February 9, 2023 at 3:08pm
Reports of Project Veritas founder James O'Keefe being placed on paid leave as the board of the organization determines his future with the journalism outlet have been confirmed, with many wondering whether the popular conservative journalist will continue to have a place in the organization which has been the bane of the Democrat and mainstream media establishment, or if his time in the arena is over.
Various allegations have spread online from unnamed individuals from within the group claiming O'Keefe ran a toxic work environment, who according to the Post Millennial, "was a brutal task-master who demanded perfection, and once even stole a staffer's sandwich."
Project Veritas released a statement last night from their official Twitter account, saying that "Despite what the Corporate Media tries to portray about our organization, know this: we have never been more motivated and dedicated to our mission than now."
"Project Veritas has achieved immense growth and impact during the last three years," the statement continues, "Like all newsrooms at this state, the Project Veritas board of directors and management are constantly evaluating what the best path forward is for the organization."
"The board and management are continuing this internal evaluation to assure our long term success. Project Veritas will never stop and we will never let our supporters down. There are 65+ employees at Project Veritas dedicated to continuing the mission to expose corruption, dishonesty, fraud, waste, and other misconduct in both public and private institutions."
"To our supporters: we hear you, we care about you, and we will never give up," the statement concluded.

Project Veritas
@Project_Veritas
·
Follow
Project Veritas' Official Response to Today's News Reports Despite what the Corporate Media tries to portray about our organization, know this: We have never been more motivated and dedicated to our mission than now.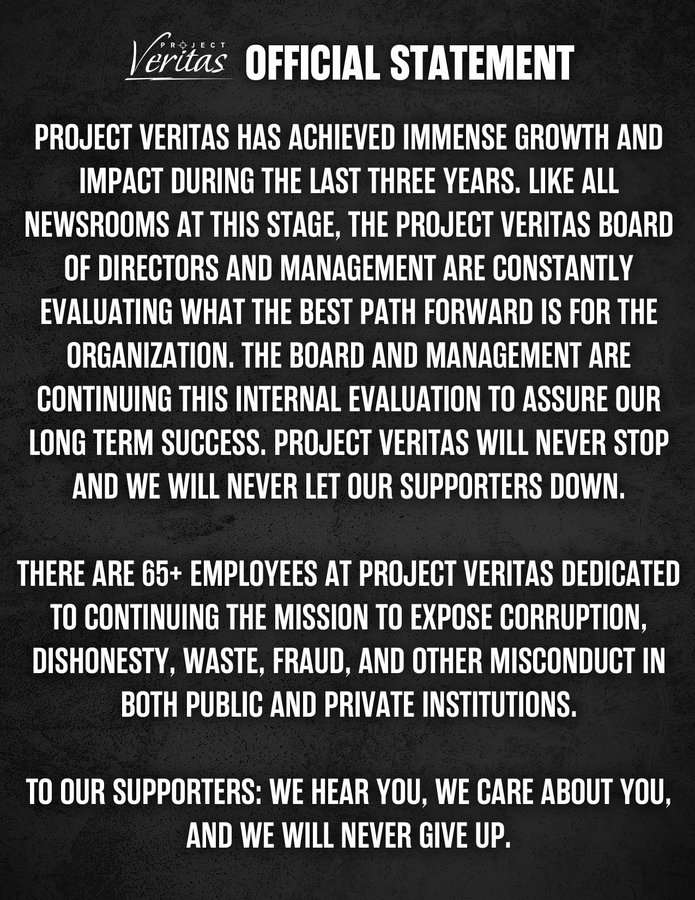 The Allegations
In an internal memo obtained by the Daily Beast, one co-worker described him as a "power hungry tyrant" who "publicly humiliated" employees. New York Magazine also jumped into the attack on O'Keefe by reporting that sources claimed that there had been intense "infighting" within the organization.
Sixteen employees signed their names to the memo which accused O'Keefe of a number of abuses, ranging from the theft of a sandwich to calling another staffer a "pussy." Others said that he was constantly paranoid that there were leakers and spies within his own organization placed by enemies from the mainstream media.
Seeing how the liberal Daily Beast was the first to obtain the salacious memo, that doesn't seem like too far of a stretch.
O'Keefe has not responded to the allegations against him and has been silent since being placed on paid leave by the board.
Conservatives Standing With O'Keefe
News of the situation revolving around O'Keefe has brought out many pundits and supporters to comment on the controversial decision to decide whether he will continue with the organization or not.
"Everyone is leaping to defend James O'Keefe but really we should wait and see WHY Project Veritas would remove him from power," said libertarian host of the Mean Age Daydream podcast, Brian McWilliams.
"He is the face, he's the fundraiser, and the driver – it makes no sense to do it whimsically. I think something big will be coming out," he concluded.
"If @project_veritas ousts @jamesokeefeIII, we must boycott the organization," tweeted conservative Rumble streamer Isabella Riley Mood. "END OF DISCUSSION."
Cliff Maloney Jr., former president of Young Americans for Liberty and current political consultant, tweeted his thoughts on what perhaps could have occurred between O'Keefe and the Project Veritas board.
"I've seen this act before," said Maloney. "A principled, work-around-the-clock activist takes a org from 0 to 100. His budget goes from peanuts to 10s of millions of dollars. His staff multiplies exponentially. What could go wrong?"
Maloney continued to list the potential factors that could account for the situation in a tweet thread, claiming that pressure from constant media attacks and slander campaigns, such as the ones Project Veritas has been hit with since their recent investigation into Pfizer and COVID-19 vaccine, could have influenced the board to sacrifice O'Keefe in order to save themselves from the media onslaught.
"I don't know the PV board members," Maloney added. "I don't know why they put James on leave. But I know this: I fully expect them to hit the EASY BUTTON. To fire James so that the pressure campaign dies down. That's what weak men do. They capitulate. They refuse to fight. They bow down."
The founder of popular apparel site Old Row, "Swig," known for his support of conservative activists and candidates, also tweeted that he had obtained information from a unnamed source inside of Project Veritas claiming that three members of the board were responsible for the attempts to push O'Keefe out of his organization.
"This is difficult for me to publish, as a STAUNCH supporter of PV for years & even a VIP at their events," he tweeted.
Swig specifically called out Project Veritas board members Matt Tyrmand, Joseph Barton, and Barry Hinckley, saying that the three conducted "a six and a half hour struggle session vs James where they subjected him to constant derision and insults."
Swig also stated he found it suspicious that this all would occur around the same time as the groundbreaking Pfizer story, saying "You boot the founder right after your biggest win of all time??? PV must explain the situation!!!"
"If @JamesOKeefeIII leaves, I will no longer support @Project_Veritas and will support whichever venture he starts instead," he continued. "My source says that the rank and file employees are STILL WITH JAMES, the board needs to realize PV will likely not survive if [they] go through with this!"
MORE HERE: https://thepoliticalinsider.com/coup-conservatives-speak-out-on-possible-ousting-of-project-veritas-founder-james-okeefe-from-organization/?utm_campaign=TPI02092023BR2IE&utm_source=criticalimpact&utm_medium=email&source=TPICI