House Oversight Committee Subpoenas Bank of America in Biden Family Business Probe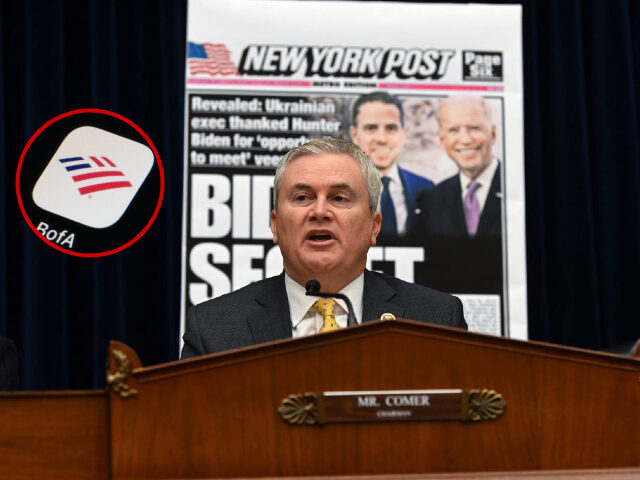 Matt McClain/The Washington Post via Getty Images, Matt Slocum/AP
Wendell Husebø
13 Mar 2023382
The House Oversight Committee has subpoenaed Bank of America for financial records of three Biden family business associates, the first known action by the committee to compel relevant information in the probe to ascertain if President Joe Biden is compromised by communist China.
The subpoena demanded "all financial records" on three Biden family business associates involved in the CEFC China Energy Co. deal, covering a period 14 years beginning in 2009, the Oversight Committee's ranking Democrat, Rep. Jamie Raskin (D-MD) leaked to the press Sunday. Bank of America has reportedly turned over "a considerable number of materials in compliance with the subpoena."
The Biden family had previously negotiated a deal with CEFC from which President Joe Biden (Big Guy) would receive a ten percent equity stake in the joint venture with Hunter's former business partner Tony Bobulinski. In 2017, Hunter earned a $1 million legal retainer from the company's chairman, Ye Jianming. Hunter also received a large diamond from Ye worth an estimated $80,000 in February 2017.
The subpoena represents the most recent effort by House Oversight Committee Chair James Comer (R-KY) to investigate the Biden family for nine violations, including money laundering and wire fraud. Comer's probe has so far met resistance from the Treasury Department, Hunter Biden, and Serbian politician Vuk Jeremić.
In February, Comer warned stonewalling tactics would warrant a subpoena as the next step. "For the subpoenas to win in court, we have to give them every opportunity to supply that information to us," Comer said.
Comer wants to create laws to stop influence peddling. "We can't fully understand the extent of what these laws need to be until we know the exact amount of money that the Biden family took in, including from the sources," Comer explained, noting the family has made at least "tens of millions of dollars" from many business deals spanning at least 12 separate nations over the years.
While his probe has met some resistance, Comer has found a few key individuals willing to comply. The Biden family's former top financial lieutenant Eric Schwerin is expected to "soon" provide requested documents to the committee. Schwerin, who shared bank accounts with Joe Biden and was dubbed the family's "moneyman," was also the president of Rosemont Seneca Partners, a fund created by Hunter Biden and several​ associates that spawned business deals in Russia, Ukraine, China, and Romania.
In addition, Joe Biden's former executive assistant Kathy Chung is scheduled on April 4 to sit for a requested transcribed interview with the committee's investigation into the Biden family business and Joe Biden's classified document scandal. Chung was hired as Joe Biden's assistant when he was vice president after a recommendation from Hunter Biden. Chung appears in numerous email threads on Hunter's "laptop from hell."
In 2018 and 2020, Breitbart Senior Contributor and Government Accountability Institute President Peter Schweizer published 
Secret Empires
 and 
Profiles in Corruption
. Each book hit #1 on the 
New York Times
 bestseller list and exposed how Hunter Biden and Joe Biden flew aboard Air Force Two in 2013 to China before Hunter's firm inked a $1.5 billion deal with a subsidiary of the Chinese government's Bank of China less than two weeks after the trip. Schweizer's work also uncovered the Biden family's other vast and lucrative foreign deals and cronyism.
Breitbart Political Editor Emma-Jo Morris's investigative work at the 
New York Post 
on the Hunter Biden "laptop from Hell" also captured international headlines when she, along with Miranda Devine, revealed that Joe Biden was intimately involved in Hunter's businesses, appearing even to have a 10 percent stake in a company the scion formed with officials at the highest levels of the Chinese Communist Party.
THANKS TO: https://www.breitbart.com/politics/2023/03/13/house-oversight-committee-subpoenas-bank-america-biden-family-business-probe/