March 13, 2023 Jaime C.
Capsule Summaries of All Twitter Files Threads to Date, with Links and a Glossary
For those who haven't been following, a compilation of one-paragraph summaries of all the Twitter Files threads by every reporter. With links and notes on key revelations
By Matt Taibbi
Global Research, March 13, 2023
Racket News 5 January 2023
Follow us on Instagram and Twitter and subscribe to our Telegram Channel. Feel free to repost and share widely Global Research articles.
***
It's January 4th, 2023, which means Twitter Files stories have been coming out for over a month. Because these are weedsy tales, and may be hard to follow if you haven't from the beginning, I've written up capsule summaries of each of the threads by all of the Twitter Files reporters, and added links to the threads and accounts of each. At the end, in response to some readers (especially foreign ones) who've found some of the alphabet-soup government agency names confusing, I've included a brief glossary of terms to help as well.
In order, the Twitter Files threads:
Twitter Files Part 1: December 2, 2022, by @mtaibbiTWITTER AND THE HUNTER BIDEN LAPTOP STORYRecounting the internal drama at Twitter surrounding the decision to block access to a New York Post exposé on Hunter Biden in October, 2020.Key revelations: Twitter blocked the story on the basis of its "hacked materials" policy, but executives internally knew the decision was problematic. "Can we truthfully claim that this is part of the policy?" is how comms official Brandon Borrman put it. Also: when a Twitter contractor polls members of Congress about the decision, they hear Democratic members want more moderation, not less, and "the First Amendment isn't absolute."1a. Twitter Files Supplemental, December 6, 2022, by @mtaibbiTHE "EXITING" OF TWITTER DEPUTY GENERAL COUNSEL JIM BAKERA second round of Twitter Files releases was delayed, as new addition Bari Weiss discovers former FBI General Counsel and Twitter Deputy General Counsel Jim Baker was reviewing the first batches of Twitter Files documents, whose delivery to reporters had slowed.

Twitter Files Part 2, by @BariWeiss, December 8, 2022TWITTER'S SECRET BLACKLISTSBari Weiss gives a long-awaited answer to the question, "Was Twitter shadow-banning people?" It did, only the company calls it "visibility filtering." Twitter also had a separate, higher council called SIP-PES that decided cases for high-visibility, controversial accounts.Key revelations: Twitter had a huge toolbox for controlling the visibility of any user, including a "Search Blacklist" (for Dan Bongino), a "Trends Blacklist" for Stanford's Dr. Jay Bhattacharya, and a "Do Not Amplify" setting for conservative activist Charlie Kirk. Weiss quotes a Twitter employee: "Think about visibility filtering as being a way for us to suppress what people see to different levels. It's a very powerful tool." With help from @abigailshrier, @shellenbergermd, @nelliebowles, and @isaacgrafstein.

Twitter Files, Part 3, by @mtaibbi, December 9, 2022THE REMOVAL OF DONALD TRUMP, October 2020 – January 6th, 2021First in a three-part series looking at how Twitter came to the decision to suspend Donald Trump. The idea behind the series is to show how all of Twitter's "visibility filtering" tools were on display and deployed after January 6th, 2021. Key Revelations: Trust and Safety chief Yoel Roth not only met regularly with the FBI and the Department of Homeland Security, but with the Office of the Director of National Intelligence (ODNI). Also, Twitter was aggressively applying "visibility filtering" tools to Trump well before the election.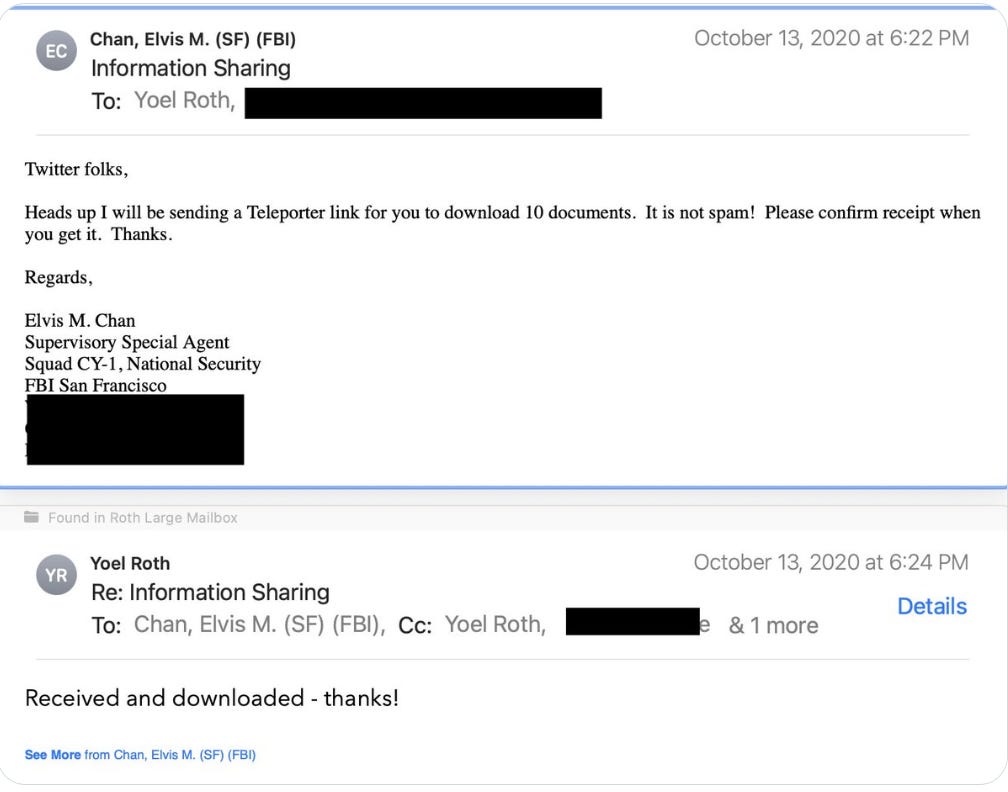 The ten teleporter documents referred to in Mike Shellenberger's FBI thread.
[list=11][*]
and
[*]Twitter Files Parts 11 and 12, by @mtaibbi, January 3, 2023
HOW TWITTER LET THE INTELLIGENCE COMMUNITY IN
and
TWITTER AND THE FBI "BELLY BUTTON"
These two threads focus respectively on the second half of 2017, and a period stretching roughly from summer of 2020 through the present. The first describes how Twitter fell under pressure from Congress and the media to produce "material" showing a conspiracy of Russian accounts on their platform, and the second shows how Twitter tried to resist fulfilling moderation requests for the State Department, but ultimately agreed to let State and other agencies send requests through the FBI, which agent Chan calls "the belly button of the USG." 
Revelations
: at the close of 2017, Twitter makes a key internal decision. Outwardly, the company would claim independence and promise that content would only be removed at "our sole discretion." The internal guidance says, in writing, that Twitter will remove accounts "identified by the U.S. intelligence community" as "identified by the U.S.. intelligence community as a state-sponsored entity conducting cyber-operations."The second thread shows how Twitter took in requests from everyone — Treasury, HHS, NSA, FBI, DHS, etc. — and also received personal requests from politicians like Democratic congressman Adam Schiff, who asked to have journalist Paul Sperry suspended.
[*]Twitter Files Part #13, by @AlexBerenson, January 9, 2023
HOW TWITTER COVERED UP COVID TRUTHS
New addition Alex Berenson details how Twitter throttled down or erased true information about COVID-19, with the help of a former Pfizer lobbyist, Scott Gottlieb.
Key Revelations: 
Twitter senior political liaison Todd O'Boyle feared that onetime acting FDA commission Brett Giroir's correct observations about the effectiveness of natural immunity were "corrosive" and might "go viral," and put a misleading label on the tweet. Gottlieb also pressured Twitter to remove Berenson himself.
[/list]
[list=14][*]Twitter Files Part #14, by @mtaibbi, January 12th, 2023
THE RUSSIAGATE LIES
One: The Fake Tale of Russian Bots and the #ReleaseTheMemo HashtagInternal communications at Twitter show that Russian bots were not in fact hyping the classified memo of Republican congressman Devin Nunes in January of 2018.
Key Revelations: 
Three key Democrats — Senators Dianne Feinstein and Richard Blumenthal, and former House Intel Committee chief Adam Schiff — cited a think tank called Hamilton 68 in denouncing a memo by Nunes as aided by "Russian influence operations." Yet all three were told by Twitter executives there were no Russians in the picture. Said former Trust and Safety chief Yoel Roth, "I just reviewed the accounts that posted the first 50 tweets with #releasethememo and… none of them show any signs of affiliation to Russia."Twitter Files Supplemental, by @mtaibbi, January 13th, 2023
MORE ADAM SCHIFF BANS, AND "DEAMPLIFICATION.
"A brief thread of 10 tweets showing that the former head of the House Intelligence Committee, Adam Schiff, sent repeated requests for bans of people critical of their office.
Key Revelation
: Schiff and the DNC both not only asked for the takedown of an obvious satire by "Peter Douche," but requested takedowns of accounts that were critical of the Steele dossier and outed the name of the supposed "whistleblower" in the Ukrainegate case, Eric Ciaramella. Schiff staffers said that while they "appreciate greatly" efforts by Twitter to deamplify certain accounts, they worried such effort s "could… impede the ability of law enforcement to search Twitter."
[*]Twitter Files #15 by @mtaibbi, January 27, 2023MOVE OVER, JAYSON BLAIR: TWITTER FILES EXPOSE NEXT GREAT MEDIA FRAUD Internal communication about Hamilton 68, a project by the Alliance for Securing Democracy purporting to track 600 account "linked" to "Russian influence activities." Reporters used Hamilton 68 as the basis for countless news stories, from CNN's "Russian bots are using #WalkAway to try to wound Dems in midterms" to "After Florida School Shooting, Russia's Bot Army Pounced."
Key Revelation: 
Twitter's Yoel Roth was suspicious of Hamilton 68's methodology and reverse-engineered their list, which he quickly discovered to be bogus, full not of Russians but "legitimate right-leaning accounts" who were being implicitly called Russian assets. "Virtually any conclusion drawn from [the dashboard]," Roth wrote, "will take conversations in conservative circles on Twitter and accuse them of being Russian." Roth urged Twitter to "call this out on the bullshit it is," but Twitter higher-ups worried about the political consequences, choosing instead to play a "longer game." Neither the actors involved, nor any of the media outlets who ran Hamilton-based stories intitally commented, though the ASD later replied, prompting a back-and-forth (and forth) with this site.
[*]Twitter Files #16, by @mtaibbi, February 18, 2023
COMIC INTERLUDE: A MEDIA EXPERIMENT
Mainstream outlets finally cover the Twitter Files with excitement, after House testimony elicited a claim that Donald Trump complained, unsuccessfully, to Twitter about a tweet by Chrissy Teigen (who in turn complained that she didn't "know how to go on" after her tweet about Trump being a "pussy ass bitch" was read to congress). Irritated that 
this 
became the big censorship story after releasing thousands of takedown requests from government agencies involving people all over the world, I decided to do an experiment.
Key Revelations: 
We released a list of 354 names Maine Senate Angus King wanted taken down for reasons like "Rand Paul visit excitement," "followed by [former Republican opponent Eric] Brakey," and my personal favorite, "mentions immigration." For balance we also released a letter from a Republican official at the State Department, Mark Lenzi, who tells Twitter about 14 real Americans "you may want to look into and delete." Surely, if the main objection to the Twitter Files is that they're "one-sided," someone will cover a Republican doing the bad thing? But no, more crickets. 
With help from @Techno_Fog
[*]Twitter Files #17: by @mtaibbi, March 2, 2023
NEW KNOWLEDGE, THE GLOBAL ENGAGEMENT CENTER, AND STATE-SPONSORED BLACKLISTS
A review of the activities of the Global Engagement Center, or GEC, what one source called "an incubator for the domestic disinformation complex."
Key Revelations
: A GEC-funded think tank, the DFRLab, sent Twitter a list of 40,000 names of people suspected of supporting "Hindu nationalism" that somehow had scads of ordinary Americans with handles like @mad_murican and @TrumpitC on the list; GEC sent Twitter a list of 5500 "Chinese accounts" that among other things had three CNN contributors on it ("Not exactly Anderson's besties, but CNN assets if you will," commented Twitter's Patrick Conlon), GEC sent another list of 499 accounts deemed Iranian disinformation, using criteria like: used Signal and Telegram to communicate and used hashtags like #IraniansDebateWithBiden. Other GEC reports deemed various actors part of foreign propaganda "ecosystems" for offenses like following more than one Chinese diplomat, retweeting an Iranian-created "FREE PALESTINE" meme, and for retweeting material that was "anti-Macron in nature."
[/list]
Glossary of "Twitter Files" Terms
Government Agencies and NGOsCISA: The Cybersecurity and Infrastructure Security Agency, an agency within the Department of Homeland Security (DHS)CENTCOM: Central Command of the Armed ForcesODNI: Office of the Director of National IntelligenceFITF: Foreign Influence Task Force, a cyber-regulatory agency comprised of members of the FBI, DHS, and ODNI"OGA": Other Government Agency, colloquially — CIAGEC: Global Engagement Center, an analytical division of the U.S. State DepartmentUSIC: United States intelligence communityHSIN: Homeland Security Information Network, a portal through which states and other official bodies can send "flagged" accountsEIP: Election Integrity Project, a cyber-laboratory based at Stanford University that sends many reports to TwitterDFR: Digital Forensic Research lab, an outlet that performs a similar function to the EIP, only is funded by the Atlantic CouncilIRA: Internet Research Agency, the infamous Russian "troll farm" headed by "Putin's chef," Yevgheny Prigozhin

Twitter or Industry-specific termsPII: Can have two meanings. "Personally identifiable information" is self-explanatory, while a "Public Interest Interstitial" is a warning placed over a tweet, so that it cannot be seen. Twitter personnel even use "interstitial" as a verb, as in, "Can we interstitial that?"JIRA: Twitter's internal ticketing system, through which complaints rise and are decidedPV2: The system used at Twitter to view the profile of any user, to check easily if it has flags like "Trends Blacklist"SIP-PES Site Integrity Policy — Policy Escalation Support. SIP-PES is like Twitter's version of a moderation Supreme Court, dealing with the most high-profile, controversial rulingsSI: Site integrity. Key term that you'll see repeately in Twitter email traffic, especially with "escalations," i.e. tweets or content that have been reported for moderation reviewCHA: Coordinated Harmful ActivitySRT: Strategic Response TeamGET: Global Escalation TeamVF: Visibility FilteringGUANO: Tool in Twitter's internal system that keeps a chronological record of all actions taken on an accountVIT: Very Important Tweeter. Really.GoV: Glorificaiton of ViolenceBOT: In the moderation content, an individualized heuristic attached to an account that moderates certain behavior automaticallyBME: Bulk Media ExploitationEP Abuse: Episodic abusePCF: Parity, commentary and fan accounts. "PCF" sometimes appears as a reason an account has escaped an automated moderation process, under a limited exceptionFLC: Forced Login Challenge. Also called a "phone challenge," it's a way Twitter attempts to verify if an account is real or automated. "Phone challenges" are seen repeatedly in discussions about verification of suspected "Russia-linked" accountsIO: Information Operations, as in The GEC's mandate for offensive IO to promote American interests.

THANKS TO: https://counterinformation.wordpress.com/2023/03/13/capsule-summaries-of-all-twitter-files-threads-to-date-with-links-and-a-glossary/