Nobody's buying the latest "U-Haul/Nazi" stunt at the White House: "This has FBI written all over it…"
Date: May 24, 2023Author: Nwo Report
Posted BY:
Teresa | NwoReport
They canceled Tucker, and now they're coming for us… but you can fight back. Cancel Fox Nation and instead click here to subscribe to Revolver. Or give the gift of Revolver—simply select the annual subscription and select "This is a gift" on the next page. If you want to give extra during this critical time, you can make a one-time or recurring monthly donation — whether it's $1 or $1,000, every bit goes towards the battle to save our great nation.
---
We deserve better false flags. It's as if the FBI isn't even trying anymore. That's the consensus from most conservatives, who are calling "BS" on the latest "Nazi" stunt that unfolded in D.C. and are calling it just another poorly-orchestrated FBI psyop.
Here's what reportedly happened at the White House according to Insider Paper:
US Secret Service officers detained the driver of a U-Haul box truck in Washington on Monday night after the vehicle crashed into a barrier near the White House, the agency said in a statement.
"There were no injuries to any Secret Service or White House personnel and the cause and manner of the crash remain under investigation," the statement said.
Secret Service spokesman Anthony Guglielmi later said in a tweet that a "preliminary investigation reveals the driver may have intentionally struck the security barriers at Lafayette Square", adding that charges would be filed over the incident.

Oh, and right on cue, a Nazi flag was pulled from the cab of the truck and perfectly laid out on the ground for everyone to see.

Insider Paper
@TheInsiderPaper
·
Follow
BREAKING: Apparently a Nazi flag has been pulled from the cab of a U Haul truck that rammed the security barrier at Lafayette Square near White House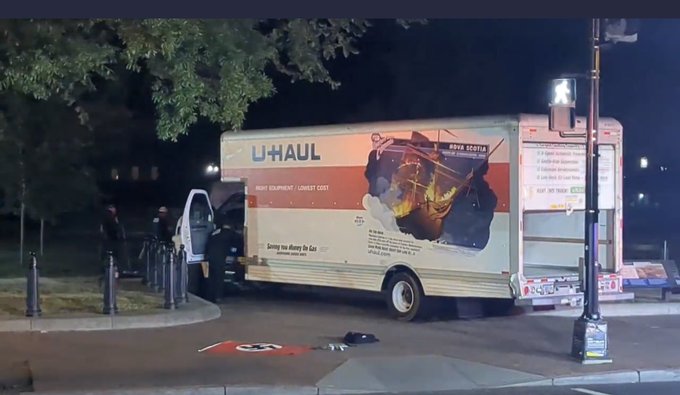 Last edited11:42 PM · May 22, 2023

Read the full conversation on Twitter
THANKS TO: https://nworeport.me/nobodys-buying-the-latest-u-haul-nazi-stunt-at-the-white-house-this-has-fbi-written-all-over-it/