'Hard Pass': Here's What's In The Debt Ceiling Deal Republicans Are About To Nuke
Date: May 29, 2023Author: Nwo Report 
At least 34 House GOP members will vote "no" on the debt ceiling deal as it currently stands.
Posted BY:
| NwoReportAfter President Biden and House Speaker Kevin McCarthy (R-CA) struck a Saturday night deal to raise the debt ceiling, several Republicans outright rejected it before it could even be codified into a bill.
Here's what's in it;
The deal raises the debt ceiling by roughly $4 trillion for two years, and is consistent with the structure of budget deals struck in 2015, 2018, and 2019 which simultaneously raised the debt limit.

According to a GOP one-pager on the deal, it includes a rollback of non-defense discretionary spending to FY2022 levels, while capping topline federal spending to 1% annual growth for six years.

After 2025 there are no budget caps, only "non-enforceable appropriations targets."

Defense spending would be in-line with what Biden requested in his 2024 budget proposal – roughly $900 billion.

The deal fully funds medical care for veterans, including the Toxic Exposure Fund through the bipartisan PACT Act.

The agreement increases the age for which food stamp recipients must seek work to be eligible, from 49 to 54, but also includes reforms to expand who is eligible.

Claws back "tens of billions" in unspent COVID-19 funds

Cuts IRS funding 'without nixing the full $80 billion' approved last year. According to the GOP, the deal will "nix the total FY23 staffing funding request for new IRS agents."

The deal includes energy permitting reform demanded by Republicans and Sen. Joe Manchin (D-WV)

No new taxes, according to McCarthy.

Here's McCarthy acting like it's not DOA:

Kevin McCarthy
@SpeakerMcCarthy
·
Follow
In the negotiations, Republicans fought for and achieved the most consequential work requirements in a generation. This is a win for taxpayers → we are no longer going to borrow money from China to pay a work-capable adult without any dependents to sit at home on their couch.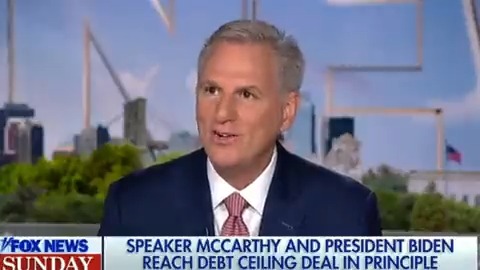 10:10 AM · May 28, 2023
Yet, 
Republicans who demanded deep cuts aren't having it.
"
A $4 trillion debt ceiling increase?
" tweeted Rep. Andrew Clyde (R-GA). "With virtually none of the key fiscally responsible policies passed in the Limit, Save, Grow Act kept intact?"
"
Hard pass. Hold the line.
"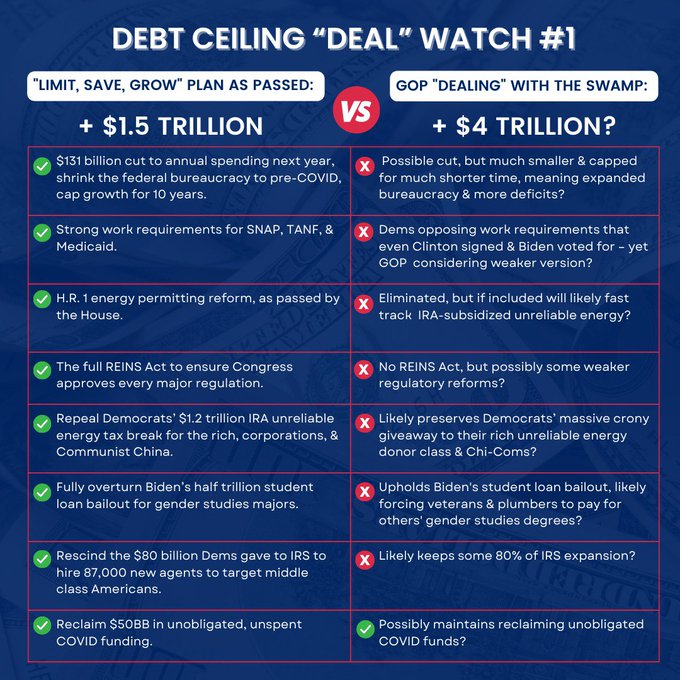 MORE HERE: https://nworeport.me/hard-pass-heres-whats-in-the-debt-ceiling-deal-republicans-are-about-to-nuke/