Wingit Call 10/26/2016 With Dinar Guru Hunters - Masters Trust Dinar RV With Richard T. Howard

Enlarge this image
Click to see fullsize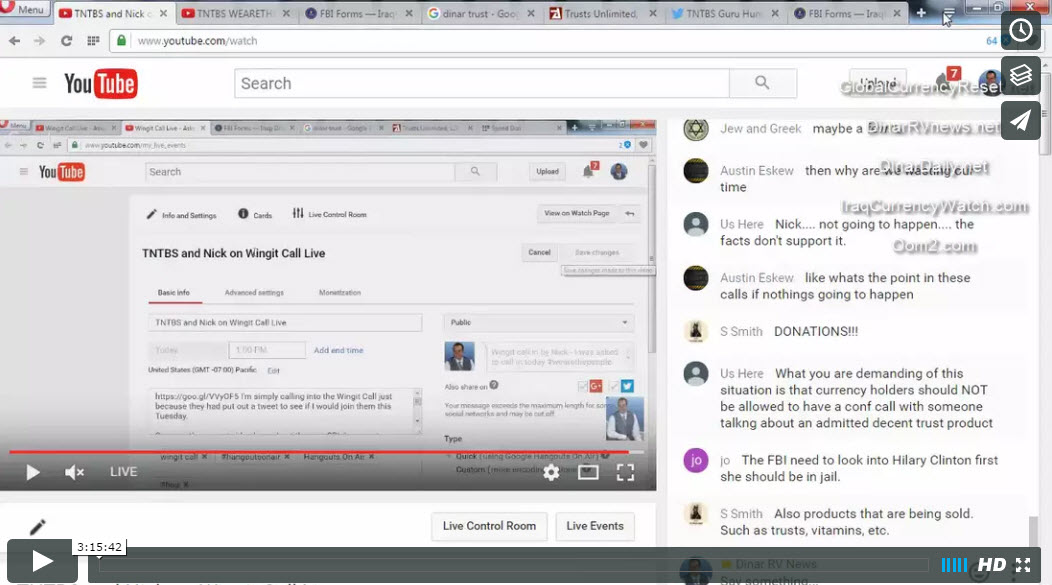 Click  the link below to go to the video page.


http://dinarrvnews.net/iqd-calls-open-mic/wingit/
Wow, what can I say?  What a great call we had!  After the Wingit Call was finished with me, I hung up and spent time with the guru hunters Nash Rambler
http://www.dinardaily.net/u27993
, TNTBS 
http://www.dinardaily.net/u27737
and Sam I Am 
http://www.dinardaily.net/u28835
.  We discovered some interesting thing about the Masters Trust.
Here we go:
Enlarge this image
Want more?  Here is the link to that newsletter I found:
http://us3.campaign-archive1.com/?u=b4cad16cec189f2a819df5d69&id=ca9e8ec99b&e=2c5fb66acc
Pretty sure this will get deleted.  You should never mention RV and Trust in the same email.
Hey, we need time-stamps for this video, I will make a few here:
10:10 Nick joins the Wingit Call
31:10 TNTBS Joins Wingit With Nick
43:58 Why is your website down Nick?  He thought Dinar Daily was MY SITE HAHA.
49:41 Cupcake Reference and Garry asking where the picture of him wearing glasses with a bib was found
51:08 End of the Wingit Call, begin Guru Hunters Call
55:50 TNTBS Made money on the APPRECIATION of the Iraqi Dinar
59:18 Finding George Wages
They thought I wrote this, which I didn't:
http://nesaranews.blogspot.com/2016/10/this-page-exposes-scams-and-provides.html
***************************
Nick Giammarino
Contact me on Twitter via 
globalresetguy
 or
dinarrvnews
 or private message (PM) me here on Dinar Daily.