Fierce windstorm leaves 300 000 customers without power, kills 3 in Ontario, Canada
Posted by TW on May 05, 2018 
Crews are dealing with hazardous conditions and significant damage including downed trees and powerlines. Public safety is our top priority. If you come across a downed wire, stay back at least 10 metres and report it immediately to 416-542-8000 or 911.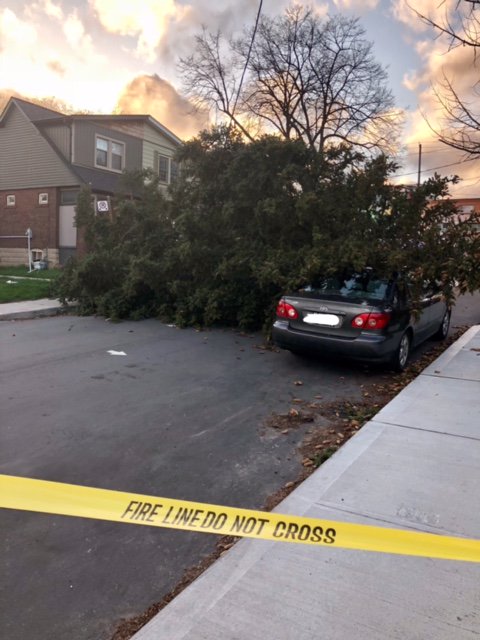 A fierce windstorm hit Canadian provinces of Ontario and Quebec on Friday, May 4, 2018, damaging numerous homes and leaving 300 000 customers without power. The same storm hit Michigan, US, leaving another 300 000 customers without electricity. At least 5 people were killed, three in Canada and two in the United States.
Environment Canada said the storm came in from the southern United States, bringing high winds and sporadic thunderstorms to southern Ontario Friday afternoon. It then moved across the province and into eastern Ontario late in the evening before heading into Quebec.
"It gave us one of the largest, widespread windstorms that we've had in many years in Southern Ontario," EC meteorologist Arnold Ashton said.
Wind gusts of 126 km/h (78 mph) were recorded in Hamilton, 122 km/h (75 mph) at Waterloo International Airport and 119 km/h (74 mph) at Toronto's Pearson International Airport.
Hundreds of thousands of people are still without power on Saturday. In southwestern, central and eastern Ontario, more than 138 000 customers and 81 000 in Quebec. In the city of Toronto (population 2.8 million), about 68 000 customers were without power at the peak of the storm. Of them, about 17 500 are still without power.
According to Hydro One spokesperson Tori Gass, more than 350 hydro poles were broken in Ontario. The utility is in 'emergency state' because damage has been 'severe,' Gass said, adding that the storm came in fast and furious. 
"There are poles that have been brought down and wires that have been brought down. There are some instances where there are risks and dangerous situations. This is a very serious and a significant event for our power system," she said, as reported by the CBC. "Unfortunately, it's scattered quite widely throughout the city. There seems to be not one area that wasn't touched by the damaging storm that happened yesterday." 
More than 400 downed wires were reported in Toronto alone and Toronto Hydro is urging residents to be mindful of their surroundings. Stay at least 10 meters away, or the length of a school bus, from any downed wires, use caution when walking or driving in the city and not to duck under yellow tape. 
The windstorm caused more damage to hydro infrastructure in Toronto than the ice storm in mid-April, when 44 000 customers lost power.
At least three people were killed in Ontario.
One person died after a tree fell on him, the second was killed after he came 'in contact with live wires' as he tried to clear wires from a roadway and the third while crossing near an intersection in Toronto while power was out in the area.
The same storm left 2 people dead in Michigan, US and another 300 000 customers without power. A 36-year-old man doing landscaping work on his employer's property in Independence Township died when part of a tree fell on his back and trapped him in a walk-behind skid steer. Another victim was hit by a falling tree while inside a car in Pontiac.
Peak wind gusts included 98 km/h (61 mph) at 17:09 UTC (13:09 local time) at Detroit Metro airport and 93 km/h (58 mph) at 16:44 UTC (12:44 local time) at Oakland County International Airport in Waterford. Bad Axe, in the Thumb, had a gust of 109 km/h (68 mph).
Featured image credit: Noah Ditkofsky

MORE HERE: https://watchers.news/2018/05/05/fierce-windstorm-leaves-300-000-customers-without-power-kills-3-in-ontario-canada/?utm_source=feedburner&utm_medium=email&utm_campaign=Feed%3A+adorraeli%2FtsEq+%28The+Watchers+-+watching+the+world+evolve+and+transform%29

Thanks to: https://watchers.news