Rare Yosemite 'firefall' stuns park visitors
Posted on Saturday, 23 February, 2019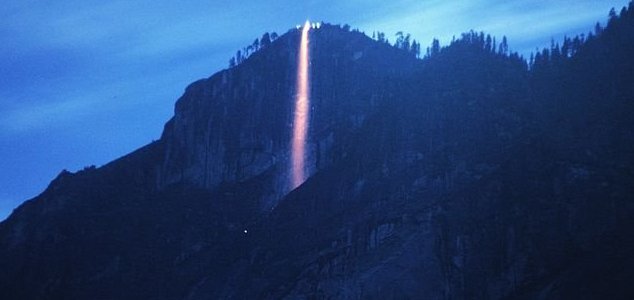 The phenomenon can be breathtaking. Image Credit: PD - Scfry
This spectacular natural phenomenon turns a waterfall of melting snow in to a fiery cascade of bright orange.
The Yosemite firefall typically occurs annually (depending on the water flow and cloud cover ) around mid-February when the snow starts to melt and the water cascades off the El Capitan rock formation.
When the sun shines on the waterfall at just the right angle, it illuminates the water but not the surrounding cliff-side, creating the illusion of a fiery torrent that looks a bit like molten lava.
The spectacle, which can last little more than ten minutes, attracts thousands of visitors to the park each year. Some have returned multiple times in the hope of capturing the perfect photograph.
A news feature with some additional shots of the phenomenon can be viewed below.
https://youtu.be/OMv84ZUhFFw
Thanks to: https://www.unexplained-mysteries.com