Government overreach: New FCC order allows private wireless companies to strip power from local authorities
by: Sara Middleton, staff writer  |  March 2, 2019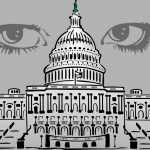 (NaturalHealth365) America has long been recognized as a world leader in technology.  But in a short-sighted attempt to stay ahead of the global race toward the latest and greatest wireless technology, 5G,
the Federal Communications Commission (FCC) is acting way beyond the scope of their power
, according to local and state authorities decrying the federal decision.
Now, officials around the country are condemning the new policy, perhaps nowhere more strongly than in Seattle, where Mayor Jenny Durkan and City Attorney Peter Holmes recently announced that they would appeal the order in federal court.
New order from the FCC is pure overreach, critics say
A recent order from the FCC streamlines the ability of private wireless companies to install technology infrastructure, including small cells (akin to mini cell phone towers), in cities in towns. The problem is, such installations fly in the face of local and state-level regulations. Tenets of the order include the following:


Ban local regulations which prohibit wireless infrastructure deployment

Standardize fees which cities can charge for assessing small cell projects

Set "modest guardrails on other municipal rules that may prohibit service"

Proponents of the FCC order state that it will 'help America' stay on the leading edge of the 5G wireless race and enjoy economic supremacy over other contenders, including the other known tech titan China.
But local and state administrators call foul.  It's an
"illegal overstep,"
according to Mayor Jenny Durkan and City Attorney Peter Holmes. In a joint statement released on October 2, 2018, Mayor Durkan and Mr. Holmes state:
Suffering with symptoms of depression, anxiety or dementia
?  Discover a wide variety of little-known natural remedies that are incredibly POWERFUL for reversing brain health issues - with zero side effects! 
Click HERE to learn more
.
"Instead of expediting the deployment of high speed internet or addressing digital inequity, the FCC's actions impede local authority and will require cities to subsidize the wireless industry's deployment for private gain, giving away public property without asking for anything in return.
"The scope of this overreach is significant. It impedes local authority to serve as trustees of public property and to fulfill cities' public health and safety responsibilities while establishing unworkable standards. This will increase costs and impose an unreasonable burden on local governments."
5G may be faster – but, is it worth it?  This technology has unpredictable consequences
Super fast, efficient, energy- and cost-saving, and highly connective – so are the so-called 'joys of 5G wireless communication,' primarily intended for urban areas.
It's troubling enough when the federal government tries to wrap their hands a little too tightly around policies which should ultimately come down to state and local legislation (not to mention the local constituents – aka American public – directly affected by such legislation).
But aside from issues with the legal way the 5G rollout is being attempted, there's also the largely unaddressed matter of how 5G wireless technology will affect the health of the American public.
You see, 5G technology boasts ultra-high frequency radiation of 24 to 100+ GHz. Compare that to current 4G LTE coverage, which uses much lower-frequency bands of 600-800 MHz.
But there's 
already
 evidence showing that exposure to cellphone radiation frequency (which currently has been predominantly lower frequency bandwidths) increases the risk of cancer, DNA damage, tissue damage, free radicals, cellular stress, gene modulation, neurological disorders, learning and memory deficits, and reproductive system changes in animals and humans.
And now we're expected to see a boon of higher power, higher frequency 5G technology and small cell towers installed all over our cities?
Consumers beware:
If you want to protect yourself and your family from the potential dangers of excessive amounts of electromagnetic radiation imposed by 5G wireless technology (in addition to the concomitant federal government overreach), speak with your local representatives and join the growing movement that's calling for more research and due diligence to be done.
Sources for this article include:
[url=https://energycommerce.house.gov/sites/democrats.energycommerce.house.gov/files/documents/FCC Ltr 1.24.19.pdf]Energycommerce.house.gov[/url]
RCRwireless.com
BBC.com
Seattle.gov
Sciencealert.com
EHtrust.org
Sciencedirect.com
https://www.naturalhealth365.com/fcc-5g-wireless-2892.html
Thanks to BLD for the forward and: https://www.naturalhealth365.com