NASA's 9-year Moon landing plan has leaked
Posted on Tuesday, 21 May, 2019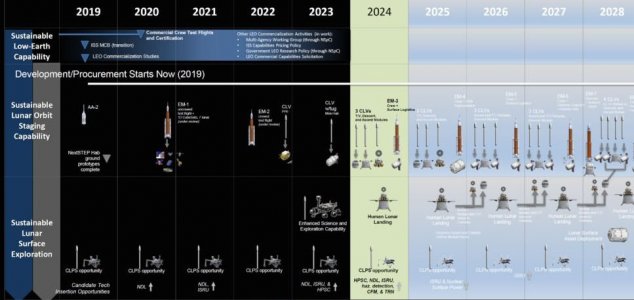 A high-resolution version of the plan can be viewed in the link below. Image Credit: NASA
An internal NASA diagram showing details of its plans for the next decade has started to circulate online.
Entitled "Integrated Exploration Manifest" and labelled "Predecisional - For NASA Internal Use Only", the plan outlines a manned landing on the lunar surface by 2024, annual landings after that and the installation of the first part of what will eventually become a permanent lunar base by 2028.
Each stage of the process is represented on the diagram with illustrations of each piece of hardware including NASA's Space Launch System, a lunar landing vehicle and a small space station that will serve as a staging area in lunar orbit for the lander to depart from and return to during each mission.
The plan will require a total of 37 launches and will involve several private companies.
While it remains unclear exactly how much this will all cost or whether it can be done in time, there is no doubt that both NASA and the US government are taking the 2024 deadline very seriously.
With other countries like China vying to send humans to the Moon as well within the next decade, we could be looking at the beginnings of a whole new space race.
A full-size version of the plan document can be viewed -
here
.
Source: Ars Technica

Thanks to: https://www.unexplained-mysteries.com