Stunning image shows ISS in front of the Sun
Posted on Friday, 19 July, 2019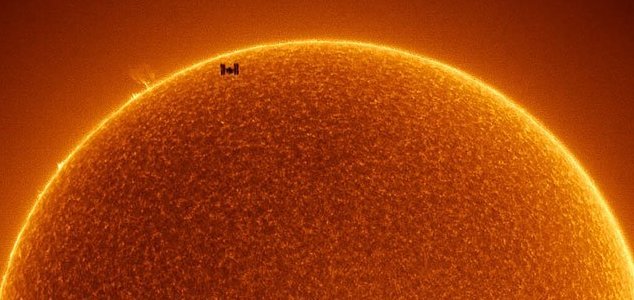 The ISS orbits the Earth once every 90 minutes. Image Credit: Rainee Colacurcio
NASA has released a breathtaking photograph showing the space station silhouetted against our solar neighbor.
The fascinating image, which was captured by Rainee Colacurcio and published as NASA's "Astronomy Picture of the Day" on July 15th, is nothing if not spectacular.
It is also quite unusual as it shows the Sun at a time when there are no sunspots.
"Transiting the Sun is not very unusual for the ISS, which orbits the Earth about every 90 minutes, but getting one's timing and equipment just right for a great image is rare," NASA wrote. "Strangely, besides that fake spot, in this recent two-image composite, the Sun lacked any real sunspots."
"The featured picture combines two images -- one capturing the space station transiting the Sun -- and another taken consecutively capturing details of the Sun's surface. Sunspots have been rare on the Sun since the dawn of the current Solar Minimum, a period of low solar activity."
"For reasons not yet fully understood, the number of sunspots occurring during both the previous and current solar minima have been unusually low."
Source: Big Think

Thanks to: https://www.unexplained-mysteries.com