Ancient temple found in 'Egyptian Atlantis'
Posted on Monday, 5 August, 2019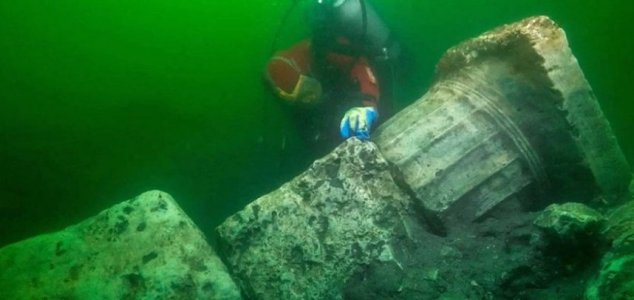 The site is an archaeological treasure trove. Image Credit: Christoph Gerigk / Franck Goddio / Hilti Foundation
Archaeologists have made multiple discoveries within the submerged ruins of the Egyptian city of Heracleion.
Located near the Canopic mouth of the Nile, the ruins of what is sometimes referred to as "Egypt's Atlantis" lie 30ft beneath Abu Qir Bay approximately 2.5 km off the coast.
Once a bustling trading port, the city's ruins now serve as a fascinating glimpse into the past.
During a recent expedition, Egyptian and European divers reported the discovery of a large underwater temple as well as the wrecks of several ships laden with ancient treasures.
The discoveries were made using a combination of geophysical data from side-scan sonar, satellite positioning, nuclear magnetic resonance magnetometers and echo sounders.
Divers exploring the ruins were also able to locate coins, jewelry, utensils and pottery.
Some of the coins were found to be from the Byzantine era, which suggests that the city must have been occupied up until at least the 4th Century BCE.
The city itself was thought to have been built during the 8th Century BCE.
The exact cause of its demise however continues to remain something of a mystery.
https://youtu.be/UXcKUxO9C90
Thanks to: https://www.unexplained-mysteries.com