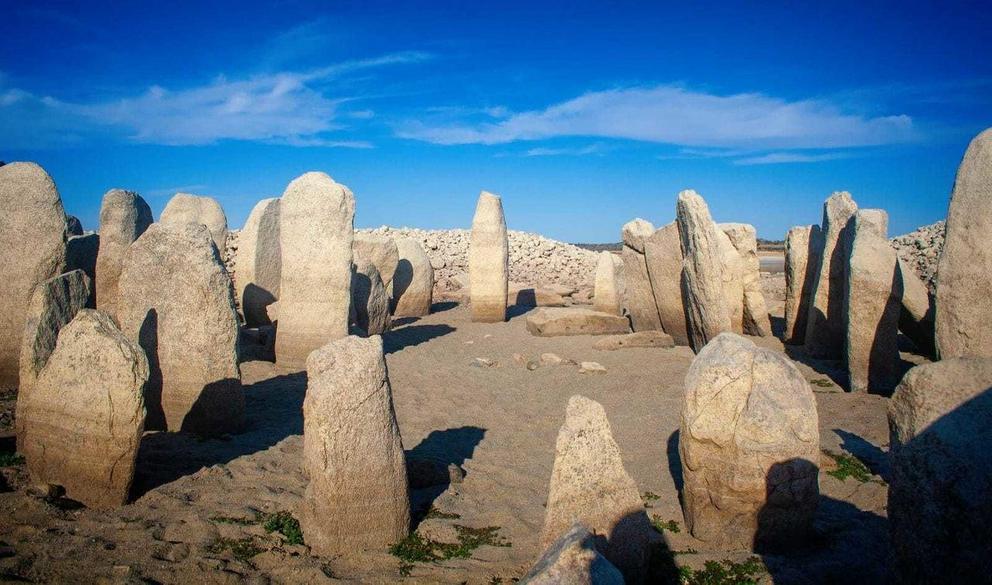 Drought Has Revealed Spain's Long-Submerged 'Stonehenge'  
Drought has revealed Spain's long-submerged 'Stonehenge'
Up close with the 7,000-year-old Dolmen of Guadalperal.
Water stains and aquatic plants attest that the dolmen was recently submerged. Ruben Ortega Martin/ Raices de Peraleda
This summer has been unusually scorching across Europe and beyond, and things have only grown more intense in the already hot and dry region of Extremadura in Spain. Months into an official drought that could be developing into a mega-drought, local farmers are facing the loss of hundreds of millions of euros. Many think this is just a sign of things to come.
Droughts, and the way that they strip the land of plant cover and drain lakes and reservoirs, for all the problems they cause, are often a boon for archaeologists. The water level of the Valdecañas Reservoir in the province of Cáceres has dropped so low that it is providing an extraordinary glimpse into the past.
"All my life, people had told me about the dolmen," says Angel Castaño, a resident of Peraleda de la Mata, a village just a couple miles from the reservoir, and president of the local cultural association. "I had seen parts of it peeking out from the water before, but this is the first time I've seen it in full. It's spectacular because you can appreciate the entire complex for the first time in decades."
The dolmen he's talking about is known as the Dolmen of Guadalperal, the remains of a 7,000-year old megalithic monument consisting of around 100 standing stones—some up to six feet tall—arranged around an oval open space. It takes hours of hiking to get to the dolmen, which is now a few dozen yards away from the edge of the tranquil blue water. Visitors today are more likely to see deer than guards. Traces of aquatic plant life in the sand show that the site is dry and accessible only temporarily.
The Dolmen de Guadalperal was excavated and studied in the 1920s, drowned in the 1960s, and dry again in 2019. 1080 Wildlife Productions
For the rest of this article please go to source link below.
https://nexusnewsfeed.com/article/ancient-mysteries/drought-has-revealed-spain-s-long-submerged-stonehenge
Thanks to: https://nexusnewsfeed.com