Record-Smashing, Historic September Snowstorm Brings 4 Feet of Snow, Blizzard Conditions to Northern Rockies
Date: October 1, 2019Author: Nwo Report 
Source: weather.com meteorologists


A snowstorm slammed the northern Rockies.

Some parts of Montana had blizzard conditions and well over a foot of snow.

Wet snow and high winds led to tree damage and power outages.

Other lower elevations in the northern Rockies and High Plains saw their first snow of the season.

Record cold and dangerous wind chill temperatures were expected.

A historic September snowstorm blasted parts of the northern Rockies with heavy, wet snow and high winds, leading to power outages and tree damage, and was accompanied by record-cold temperatures for the end of September and early October.
(LATEST NEWS: Montana Governor Declares Emergency as Snowstorm Dumps Several Feet of Snow)
Several locations in northern Montana picked up over a foot of snow. The highest snowfall total as of Sunday evening was 48 inches (4 feet) in Browning, Montana. East Glacier Park had measured 21 inches of snow.
Over 9 inches of snowfall was recorded by the National Weather Service in Great Falls, Montana, on Saturday alone, an all-time record daily snowfall in September there. Its total of 18.8 inches since Saturday was an all-time autumn two-day snowstorm record, topping the previous record of 16.1 inches from Nov. 26-27, 2005, according to NOAA's ACIS database records dating to 1937. It was already the snowiest September in Great Falls, topping September 1934's 13.2 inches of snowfall.
Tree limbs were reported down on "most, if not all, side streets" due to the weight of 14 inches of wet snow and winds in Choteau, Montana, about 45 miles northwest of Great Falls along the Rocky Mountain Front Range, according to a report relayed to NWS-Great Falls. Two- to three-foot drifts were reported in Augusta, Montana, Sunday morning.
Aaron Jayjack  @aaronjayjack
Snow drifts are really starting to pile up from this RARE Major Winter Storm here in Cut Bank, Montana. #mtwx #montana #snow @MyRadarWX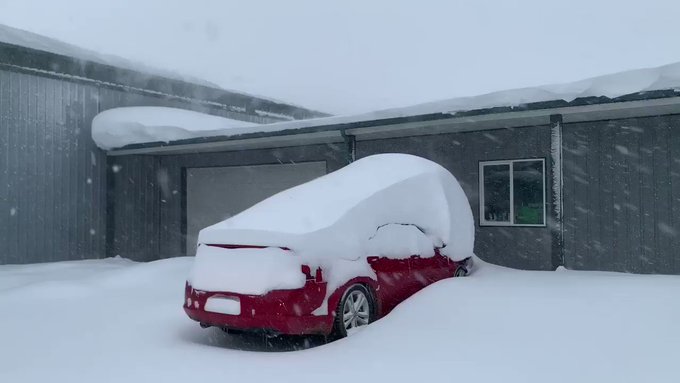 1,900
9:17 AM - Sep 29, 2019
Snow also began to accumulate Sunday in Missoula, Montana, and added up to 1.6 inches as of midday Sunday, enough to top the previous September record of 1.5 inches from 1934 in this western Montana city.
High winds downed trees Saturday around northwestern Montana's Flathead Lake, prompting a closing of State Highway 35 on the east side of the lake. Wind gusts from 40 to 60 mph were measured in Montana Saturday.
MORE HERE: https://nworeport.me/2019/10/01/record-smashing-historic-september-snowstorm-brings-4-feet-of-snow-blizzard-conditions-to-northern-rockies/
Thanks to: https://nworeport.me