https://youtu.be/9ij2VrufcPc
Woman claims to have found an 'alien artifact'
Posted on Wednesday, 23 October, 2019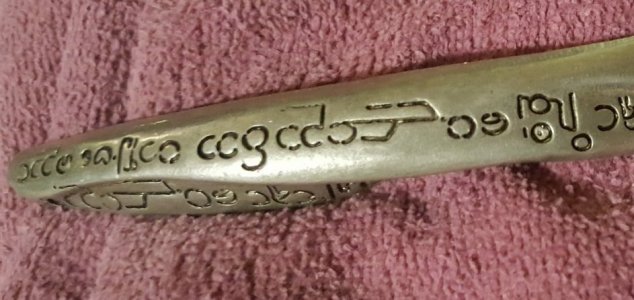 An image of what is believed to be Norton's original 1977 artifact. Image Credit: Paul Dale Roberts
The object reportedly matches a similar item that CSM James Norton allegedly found at a UFO crash site.
This story comes courtesy of paranormal investigator Paul Dale Roberts of HPI Paranormal in Sacaramento who recently received a call from a woman named Stephanie Fuller.
She claimed that her fiance - a maintenance worker at an apartment block - had discovered a very strange object while cleaning up the home of a WWII veteran who had recently died.
The man had been a compulsive hoarder and it is unclear how he had obtained the object.
After researching the artifact, Fuller came across the story of Command Sergeant Major James Norton who in 1977 had a very strange encounter with a UFO at Fort Benning, Georgia.
On September 14th of that year, a group of men had been engaged in a live fire training exercise when a number of orbs appeared in the sky followed by a large triangular-shaped craft.
Shortly afterwards, many of the soldiers became ill and reported periods of missing time.
According to the report, the object, whatever it was, had seemingly crash-landed in the vicinity and Norton was able to surreptitiously retrieve a small piece of it. 
The metal fragment was said to be adorned with strange symbols and exhibited peculiar properties.
Norton later posted a photograph online before burying the artifact on his property for safe-keeping.
It was this photograph that Fuller would later match to the object that was found in the veteran's flat.
Ultimately, it's difficult to know what to make of this story as there's no way to corroborate Norton or Fuller's claims and unless tests can be conducted on the metal, its origins cannot be proven either.
As things stand, it makes for interesting reading, but it's authenticity is open to interpretation.
You can view an article about Norton's 1977 encounter -
here
.
A larger image of the artifact he found can be viewed -
here
, and Fuller's -
here
.
Source: Jazma Online

https://www.unexplained-mysteries.com/news/331455/woman-claims-to-have-found-an-alien-artifact
Thanks to: https://www.unexplained-mysteries.com