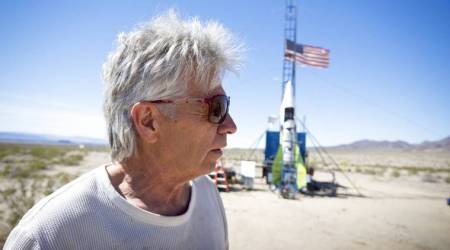 Flat-Earther Mike Hughes Dead from Rocket Mishap
February 24, 2020
Really hate to say this, but can't say this comes as a big surprise
via Unexplained-Mysteries
:
The self-taught rocket scientist and daredevil was killed during an attempt to prove that the Earth is flat.
The avid flat-Earth enthusiast, who had twice launched himself into the air aboard rockets of his own design and construction, had been attempting a third, even more ambitious launch on Saturday with the goal of reaching an altitude of 5,000ft before parachuting back down to terra firma.
The launch, which took place outside Barstow in San Bernardino County, California, started off promisingly enough but things took a turn for the worse when a parachute ripped off during flight.
With nothing to break the rocket's fall, Hughes plummeted to the ground and died on impact.
His previous launch in March 2018 had seen two parachutes slow his descent, although he had still impacted the ground with considerable force, resulting in a minor back injury.
Hughes' ultimate goal was to develop his rocket to the point where he would be able to see the curvature of the Earth (or lack thereof) using a rocket/gas-balloon-hybrid.
Each successive flight had essentially been a stepping stone towards this goal.
"Michael 'Mad Mike' Hughes tragically passed away today during an attempt to launch his homemade rocket," the Science Channel (which had been documenting his progress) wrote on Twitter.
"Our thoughts and prayers go out to his family and friends during this difficult time. It was always his dream to do this launch and Science Channel was there to chronicle his journey."
https://youtu.be/2pbnbQZcAWs
https://bendedreality.com/flat-earther-mike-hughes-dead-from-rocket-mishap/
Thanks to: https://bendedreality.com