The snow on the Italian Alps is turning pink
Posted on Monday, 6 July, 2020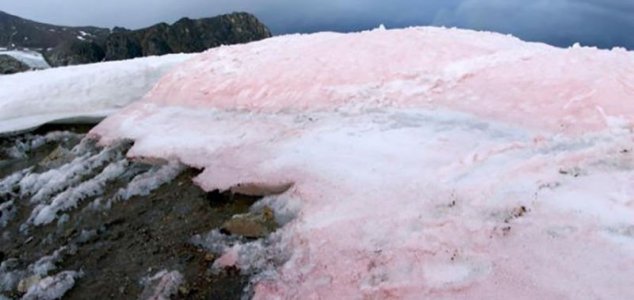 The glacier is not the only place where the algae has taken hold. Image Credit: Liane G. Benning / GFZ
Scientists have been investigating why large swathes of glacial ice have turned a peculiar pink color.
Just about the last thing anyone would expect to see in the Alps is an expanse of pristine pink, yet that's exactly the spectacle that has met anyone venturing to Italy's Presena glacier recently.
The phenomenon has prompted an investigation by scientists who have since concluded that the culprit is
Ancylonema nordenskioeldii
- a type of algae that had been previously seen in Greenland.
While the plant itself does not pose a risk to human health, its presence on the glacier could make the ice melt faster than it otherwise would and speed up the effects of global warming.
This is because, while regular ice reflects 80% of the sun's radiation, the darker, pinker shade associated with the presence of the algae makes the ice absorb significantly more heat. 
"The alga is not dangerous, it is a natural phenomenon that occurs during the spring and summer periods in the middle latitudes but also at the poles," said scientist Biagio Di Mauro of Italy's National Research Council.
"Everything that darkens the snow causes it to melt because it accelerates the absorption of radiation."
"We are trying to quantify the effect of other phenomena besides the human one on the overheating of the Earth."
@guardiannews
Algae turns Italian Alps pink, prompting concerns over melting
Algae turns Italian Alps pink, prompting concerns over melting
Pink snow observed on parts of the Presena glacier believed to be caused by plant that makes the ice darker, causing it to melt faster
theguardian.com
https://www.unexplained-mysteries.com/news/338001/the-snow-on-the-italian-alps-is-turning-pink
Thanks to: https://www.unexplained-mysteries.com