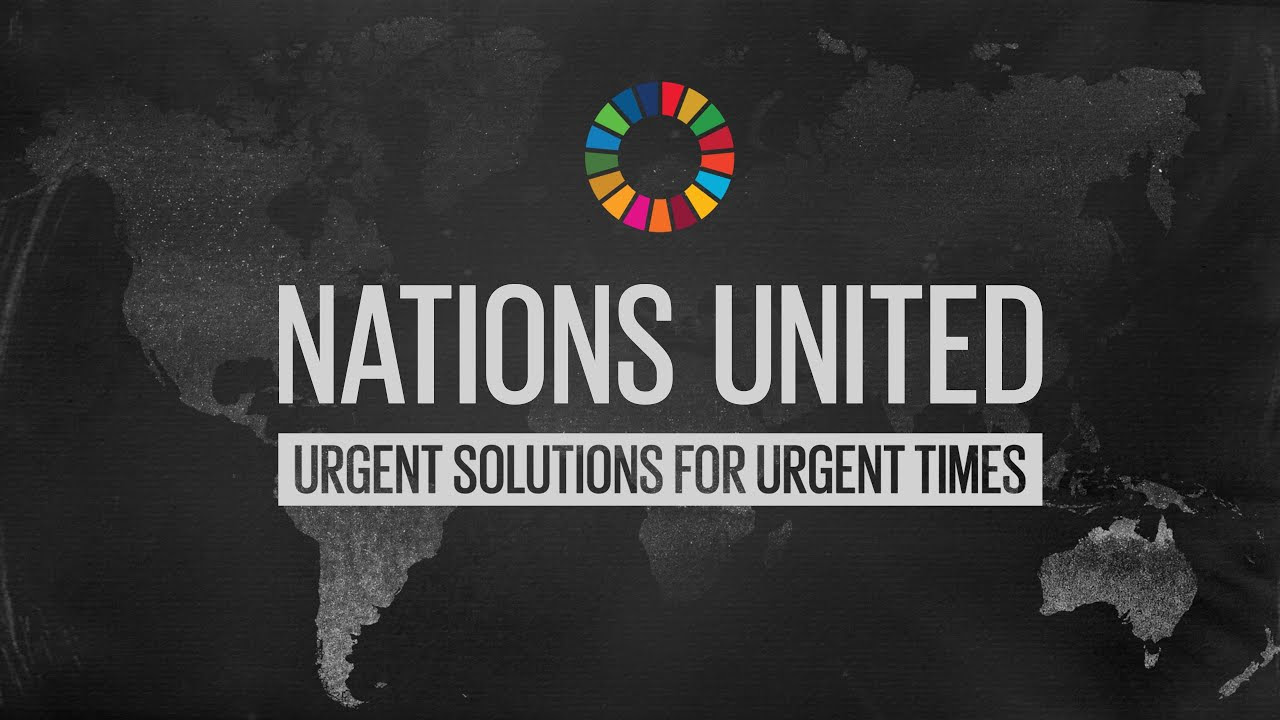 Nations United: Urgent Solutions for Urgent Times
To mark the UN's 75th Anniversary and to mark five years since the adoption of the Sustainable Development Goals (aka Agenda 2030, aka Green New Deal), the UN has released this "first of its kind" social engineering masterpiece, entitled 'Nations United'. We are in an information war, after all.
In my interpretation, this film explains how COVID-19 is a global false flag operation coordinated by the UN to assist the central bankers to radically transform our world into their new economic order. Watching this makes me mad. They think they can herd us into their New World Order, because multi-millionaire Hollywood actors tell us that COVID-19 is "a portal, a gateway between one world and the next. We could choose to walk through it, dragging the carcasses of our prejudice and hatred, our avarice, our databanks and dead ideas… or we can walk through it lightly, with little luggage, ready to imagine another world. And ready to fight for it."
I get it. They want to bankrupt us and they want to scold us about being "racist" and "avaricious" while they do it.
Hollywood Goodwill Ambassadors, like Don Cheadle suggest that BLM/Antifa can now channel their anger in a new direction: "The passion for protest can turn into a passion for changing all of our behavior to create a better, safer, just, sustainable world. The big question we have to ask ourselves now is this… As a species, are we going to be able to work together urgently to solve this? The clock is ticking."
It's peak alarmism. Everything is our fault. The UN claims that "climate change is man-made" and the film lays out their plans for the "action we need to tackle poverty, inequality, injustice and climate change," by halving carbon emissions by 2030 and with "a rapid but just transition to renewable energy", which means "no new coal plants", and "an end to the subsidizing of fossil fuels."
While it's true that fossil fuels create carcinogenic environmental toxins that I'd be happy to eliminate, as well as horrible plastic pollution, I'm of the opinion that carbon is not the enemy and that the UN's carbon policies are a form of asymmetrical warfare against petroleum economies, particularly that of the US, which under Trump has become the largest oil-producing nation in the world.Unless viable cold fusion- and other alternative energy technologies and their infrastructures are ready to roll out in 9 years, the only thing that halving carbon emissions by 2030 can achieve is mass genocide on a global scale, as never before witnessed – which would make Globalists like Bill Gates very happy.
The film tells uplifting stories about "affordable, quality healthcare for everyone", "social protection, workers' rights, living wage", "access to quality education", "Internet for everyone", "green jobs" and "an economy that works for everyone." It tells us that we're going to achieve this by circumventing tax evasion; "taxing carbon, not people" and allocating $35 billion for" tools to fight COVID."
This is happy talk that's really about doubling down on their carbon hoax and -taxing scam and stealing more billions to fight a mild bioweapon that they, themselves created for the purpose of a psyop to crash the global economy.

The UN then takes credit for lifting a billion people out of poverty over the past 30 years – but what did the UN really have to do with that? (Nothing). Where does all the money for "climate change" really go? (Into their corrupt toadies' pockets).
We see cute children in slums around the world and think how incredible it would be if they all had free Internet and grew up to be brain surgeons. But do we really need the Gnomes of Basel and the UN to make this happen?
Then, they talk about "free and fair elections", a "free independent media" and "responsible social media", but after  the vicious Globalist censorship we've seen across all platforms of everything related to COVID-19, HCQ and other inexpensive cures for the coronavirus, do we really trust these people to deliver on any of this shiny, happy Global Communist Utopia that they're trying to sell us?
No. They are the last people in the world to trust. They engineered this global flu d'état false flag to enact healthcare police powers and an asset-grab, unlike anything ever seen and to shove their nanochipped NWO down our throats.This film is Fourth Generation Warfare.Other than that and their Big Lie of anthropogenic climate change, I don't really have a problem with many of their stated goals. I just have a problem with these psychopathic liars promising to do all of this after they siphon off all of our "carbon taxes".It's important to observe the feelgood tactics of our wannabe owners, to identify them and to get good at rejecting these parasites at every turn.#DefundTheUN #AbolishTheUN
***
TRANSCRIPTTHANDIE NEWTON, WOMEN'S RIGHTS ACTIVIST:
This is a very important story. THE important story.
In the midst of COVID-19, it's an historic opportunity to look at the facts of the world as it is, and then to focus on the solutions to some of our greatest problems.
In the 75 years since the United Nations was founded, the human race has never had to face a set of challenges like we do right now. But together, we can overcome them.
FOREST WHITAKER, SDG ADVOCATE, UNESCO SPECIAL ENVOY FOR PEACE:
It's a myth that each and every one of us doesn't have the ability to change the world dramatically and quickly. There have been enormous shifts in power and behavior to the benefit of all humanity, and it can happen again.
THANDIE NEWTON:
Nelson Mandela said, "It always seems impossible until it's done." These are some of the things that must be done.
ANDREA BOCELLI (SINGING):
Amazing grace, How sweet the sound, That saved a wretch like me, I once was lost but now, I'm found, Was blind But now I see.
THANDIE NEWTON
: September 2020… the world is still in the grip of a global pandemic. There have been more than 27 million confirmed cases and more than 900,000 people have died. Billions of people have been in lockdown for months. Lives and livelihoods have been threatened and lost. But as some lockdowns are easing, people are emerging into a different, uncertain world with a new appetite for change.
ANTONIO GUITERRES, UN SECRETARY GENERAL:
Today, we feel the weight of history on our shoulders. The COVID-19 pandemic has shown how fragile the world is. A microscopic virus has put us on our knees. And that fragility should make us humble.
THANDIE NEWTON
: COVID-19 has been likened to an X-ray, exposing fractures in the skeleton of the societies we have built… a world with great inequality, which must be righted… and a world which must win the battle against climate catastrophe.
ANTONIO GUITERRES
: The whole planet is at stake, so this is a moment to recognize that the way we have been moving leads nowhere and that we need to change course.
THANDIE NEWTON
: The lockdown has also showed that our environment, itself can change. In the Punjab, for the first time in generations, the Himalayas are visible once again. Lions have reclaimed the roads in Kruger National Park. In Venice, the canals run clear once more. And across Italy, dolphins have returned.
ANTONIO GUITERRES
: If you look at the response of people to COVID-19, people dramatically changed their lives. But people have shown an enormous capacity to adapt to new circumstances and enormous capacity to change the way they live, the way they work, the way they organize themselves. So, change is possible. The problem is political will.
LARS LØKKE RASMUSSEN, PRIME MINISTER OF DENMARK:
It is so decided.
THANDIE NEWTON
: On the 25th September 2015, all United Nations member states signed up to the Sustainable Development Goals… a set of solutions for the biggest problems the world faces. We're going to look at the four key areas where we must take urgent action, starting with climate and our planet.
CHAPTER 1
CLIMATE AND PLANET
(VIDEO) NEW YEAR'S EVE, 2019, NEW SOUTH WALES, AUSTRALIA. YOUNG WOMAN'S WHOLE NEIGHBORHOOD IS ON FIRE:
Next door's on fire. Oh, my God. OK… I'm scared. (RADIO): If you're at risk, leaving now is the safest option. So leave now towards the beach and shelter in place. We're going. Clayton's just getting in his car. We're out of here, guys. The whole place is on fire. Oh, my God. My neighbor's house… OK. Come on, Clay, we need to go. Oh, my God.
[GRAPHIC: DECEMBER 2019 AUSTRALIA RECORDED TEMPERATURES ABOVE 47º (117ºF)]. This is a real nightmare. I can't believe this is real. I can't see anything. This is literally not real. This is not real. Oh, my freaking God. [GRAPHIC: NEARLY 3 BILLION ANIMALS WERE KILLED OR DISPLACED BY THESE FIRES]. All I want is my family!
(VIDEO) AERIAL FOOTAGE OF AUSTRALIA FIRES:
Pictures and stories continue to file out from Australia about the devastating fires. This one, a satellite image from NASA.
[GRAPHIC: DEC-JAN. AUSTRALIA WILDFIRES. THE LAST DECADE WAS THE HOTTEST ON RECORD]. [GRAPHIC: FEBRUARY JAKARTA FLOODS]. (VIDEO OF JAKARTA FLOODS): Rising death toll and massive evacuation in Indonesia as waters swarm through Jakarta following the heaviest downfall in more than two decades. [GRAPHIC: EXTREME WEATHER DISPLACES 20 MILLION PEOPLE A YEAR]. (VIDEO OF LOCUSTS): Worst plague of locusts to affect the region… [GRAPHIC: APRIL LOCUST SWARMS, EAST AFRICA]. The damage to pastures and crops could create severe consequences for the region…Where nearly 12 million people are… [GRAPHIC: UP TO 25 MILLION EAST AFRICANS WERE THREATENED BY FOOD SHORTAGES DUE TO SWARM]. It could be the worst the area has seen in 20 years. [GRAPHIC: CYCLONE AMPHAN]. (VIDEO): This is a double whammy. You know? We're dealing with a cyclone and with the exposure to COVID. [GRAPHIC: AUGUST CALIFORNIA WILDFIRES]. (VIDEO): Well, the fires raging in Northern California have now become some of the largest in state history. More than 12,000 firefighters are currently battling the blazes… San Francisco Bay Area smothered by some of the worst air quality on the planet. …Valley reaches an all-time high of a hundred… Delhi on Tuesday recorded the hottest day… -Temperatures… -Spiking above 100 degrees Fahrenheit… [GRAPHIC: TEMPERATURE RISE FROM 1880 TO 2020]. [GRAPHIC: CLIMATE CHANGE IS MAN MADE. THE MAIN DRIVER IS CO2 POLLUTION FROM BURNING FOSSIL FUELS]. [GRAPHIC: GLOBAL CO2 EMISSIONS FROM FOSSIL FUELS, FROM 1960-2019]. [GRAPHIC: THE CLIMATE CRISIS IS HAPPENING NOW].
YOUNG PROTESTOR IN INDIA:
I think this is the most important issue that we need to talking about.
VANESSA NAKATE, CLIMATE ACTIVIST:
Climate change is here now and it is killing people right now – the people who are looking at it right in the face.
CHRISTIANA FIGUERES, EXECUTIVE SECRETARY, UNFCCC (2010-16):
The next eight to ten years is going to determine the quality of life for the next 100 to 200 years.
DON CHEADLE, UNEP GOODWILL AMBASSADOR:
We all watched with amazement when exactly one year ago, young people from all over the world took to the streets to express their feeling that we're not doing enough about climate change… Today, we take a stand for Mother Nature. That we're not treating it like the emergency it is. It's a year later now. Have we done enough? No, we have not. And climate change is only part of this story. Our rainforests are disappearing at an extraordinary rate. One football field of rainforest is destroyed every six seconds. One million plant and animal species are on the brink of extinction. By 2050, there will be more plastic in the oceans than fish. And so, climate change and our treatment of the natural world are colliding and exacerbating each other to create a perfect storm. This cannot go on. You know it, I know it, and we know what we need to do.
[GRAPHIC: UNITED NATIONS GLOBAL SOLUTIONS].
We need to reduce global emissions by 50% by 2030.
[GRAPHIC: HALVE EMISSIONS BY 2030].
To do this, we need a rapid but just transition to renewable energy.
[GRAPHIC: INVEST IN RENEWABLE ENERGY].
That means an end to the building of new coal power stations…
[GRAPHIC: NO NEW COAL PLANTS].
…and an end to the subsidizing of fossil fuels.
[GRAPHIC: STOP SUBSIDIZING FOSSIL FUELS].
Governments should also shift the tax burden from payrolls to carbon.
[GRAPHIC: TAX CARBON, NOT PEOPLE].
Taxing carbon rather than people will increase output and employment while reducing emissions.
[GRAPHIC: GREEN JOBS].
And we need to stop deforestation in its tracks…
[GRAPHIC: STOP DEFORESTATION].
…planting trees instead of chopping them down.
[GRAPHIC: RESPECTING AND PROTECTING OUR PLANET].
We need to think about what we eat and how we produce food…
[GRAPHIC: FARM SUSTAINABLY].
…embracing healthy, nutritious diets…
[GRAPHIC: CONSUME RESPONSIBLY].
…sustainable farming methods and reducing food waste.
[GRAPHIC: WE'RE ALL PART OF THIS].
The climate crisis is an opportunity. Renewable energy is cheaper than fossil fuels. Thousands of businesses are working to go carbon neutral and the opportunity to generate clean, safe and decent jobs is enormous. The passion for protest can turn into a passion for changing all of our behavior to create a better, safer, just, sustainable world. The big question we have to ask ourselves now is this… As a species, are we going to be able to work together urgently to solve this? The clock is ticking.
CHAPTER 2
POVERTY AND INEQUALITY
MICHELLE YEOH, UNDP GOODWILL AMBASSADOR:
Poverty and inequality are universal. They undermine every society everywhere. But poverty is not natural – it is manmade. So poverty is not inevitable. It's an area where the world has made huge progress in the past few decades.
[GRAPHIC: PEOPLE LIVING IN EXTREME POVERTY].
Just 30 years ago, there were 1.9 billion people living in extreme poverty, but that number has been transformed. In 2015, it fell to 734 million people. That's over a billion people lifted out of poverty.
AMINA MOHAMMED, DEPUTY SECRETARY-GENERAL OF THE UN:
A billion people out of poverty is amazing. It was across the world we lifted people out of poverty, across the world more kids got into education, across the world maternal mortality was reduced.
Across the world today, not many people will be left without access to a mobile phone, and what that has done to empower them, to access to education, to a livelihood is huge.
MICHELLE YEOH:
But still, almost 10% of the human race is living unbelievably harsh lives. This is largely determined by their circumstances at birth and these high levels of inequality work against better opportunities for all, opportunities that could change the world.
[GRAPHIC: THE HOLE IN THE WALL EXPERIMENT]. [GRAPHIC: NEW DELHI 1999].
SUGATA MITRA, PROFESSOR OF EDUCATIONAL TECHNOLOGY:
I want to tell you a story… about 1999. I used to teach people how to write computer programs… and I had a very, you know, flash office and everything. And just outside of these offices, there was this large, sprawling urban slum… full of children. So, one day I tried an experiment. I made an opening in the boundary wall that separated my offices from the slum, and then I fixed a computer so that from the other side of the wall, you could see the computer and a touch pad.
On the first day, we saw this eight-year-old boy… teaching a six-year-old girl how to surf. How on earth did he figure that out? How did he know what the computer was doing? Three months after I had first put that computer in the wall, the children said they wanted a faster processor and a better mouse.
I asked them, "How on earth do you know these words? Where did you learn this from?" And they said… "Well, you have left a machine here that speaks only in English, so we had no option but to learn the language." Easy, isn't it?
I repeated the hole-in-the-wall experiment for five years across the length and breadth of India. In a village 300 miles away from Delhi, one girl is explaining to the other girl what a neuron is. They are just 12 years old. Wow. We have hope. We have an enormous potential of what children can achieve together… if we let them.
[GRAPHIC: UNITED NATIONS GLOBAL SOLUTIONS].
MICHELLE YEOH:
There is potential everywhere… we just have to unlock it. A huge amount depends on where public money is spent.
[GRAPHIC: HEALTH FOR EVERYONE. AFFORDABLE QUALITY HEALTHCARE. $35 BILLION FOR TOOLS TO FIGHT COVID].
More of it must urgently go into health…
[GRAPHIC: A SAFETY NET AND A BETER DEAL FOR WORKERS].
…into giving everyone a safety net.
[GRAPHIC: SOCIAL PROTECTION. WORKERS' RIGHTS. LIVING WAGE].
There is a revolution that is happening in education.
[GRAPHIC: QUALITY ACCESS FOR ALL].
Connecting every school, every person to the Internet…
[GRAPHIC: INTERNET FOR EVERYONE].
This can be done.
[GRAPHIC: FIX THE FINANCIAL SYSTEM].
The recovery from COVID must lead to an economy that works for everyone. Let's start with tax.
[GRAPHIC: TAX CONCESSIONS. TAX AVOIDANCE. TAX EVASION].
We have widespread tax concessions, tax avoidance and tax evasion, which means that there's so much less money for all the crucial things.
[GRAPHIC: TO PAY FOR HEALTH, EDUCATION, PROTECTION, GREEN JOBS].
Many developing countries are weighed down by historical debts…
[GRAPHIC: FIX THE DEBT PROBLEM].
…spending more money on debt repayments than they are spending on healthcare.
[GRAPHIC: MARCH 2020. UN SECRETARY-GENERAL CALLS FOR A GLOBAL CEASEFIRE "THE FURY OF THE VIRUS ILLUSTRATES THE FOLLY OF WAR."]
And then, there's the importance of global investment in peace. The peace dividend for the world is immeasurable, and we must break the vicious cycle of corruption…
[GRAPHIC: FREE AND FAIR ELECTIONS].
…and increase the power of the people to keep check on the people in power. A free independent media and…
[GRAPHIC: RESPONSIBLE SOCIAL MEDIA].
…responsible social media platforms that encourage healthy debate. Equality unleashes the potential of everyone to improve their own lives and contribute to the lives of everyone else.
[GRAPHIC: EXCERPT FROM 'THE PANDMIC IS A PORTAL' BY ARUNDATI ROY, READ BY FOREST WHITAKER]
FOREST WHITAKER:
Whatever it is… coronavirus has made the mighty kneel and brought the world to a halt like nothing else could. Our minds are still racing back and forth longing for a return to 'normality,' trying to stitch our future to our past and refusing to acknowledge the rupture. But the rupture exists. And in the midst of this terrible despair, it offers us a chance to rethink the doomsday machine we have built for ourselves. Nothing could be worse than a return to normality. Historically, pandemics have forced humans to break with the past and imagine their world anew. This one is no different. It's a portal, a gateway between one world and the next. We could choose to walk through it, dragging the carcasses of our prejudice and hatred, our avarice, our databanks and dead ideas… or we can walk through it lightly, with little luggage, ready to imagine another world. And ready to fight for it.
After the genocide and destruction of the Second World War, the United Nations was founded. Enshrined in its charter was the fact that all people are equal and entitled to the same respect, justice and human rights. This remains a simple truth, and yet, across the globe, the struggle is still being fought.
AMINA MOHAMMED, DEPUTY SECRETARY-GENERAL OF THE UN:
There is a certain outrage for injustice right now. I think that that is happening in every sphere. I think we're at a moment where COVID perhaps has helped us realize that there is an inter-generational transition and that young people now are waking up to the cause that we've had from my generation which have said, "Look, this is the opportunity you've got to make things change." They are rising up and we are bringing young people to the table now – not as a token, but to help us shape and to take that baton, to take up the gauntlet and to move forward. People fighting for justice, but fighting for your justice, not just mine, and to see that without your justice, mine won't be fulfilled either.
CHAPTER 3
JUSTICE AND HUMAN RIGHTS
PHILONISE FLOYD:
The world knows him as George… but I called him Perry. Yesterday, we laid him to rest. It was the hardest thing I ever had to do. I'm the big brother now, so it's my job to comfort my brothers and my sisters, Perry's kids, and everyone who loved him, and that's a lot of people.
I couldn't take care of George that day he was killed, but I can make sure that his death will not be in vain… to make sure that he is more than another face on a T-shirt, more than another name on a list that won't stop growing.
George called for help and he was ignored. Please listen to the calls ringing out in the streets across the world. People of all backgrounds, genders and races have come together to demand change. The people marching in the streets are telling you, "Enough is enough."
(VIDEO) PROTESTORS SHOUTING:
Black lives matter! Black lives matter! Black lives matter! Black lives matter! Black lives matter! Black lives matter!
PHILONISE FLOYD:
To the leaders: the people elected you to speak for them, to make positive change. You have the opportunity to make your names mean something too. If his death ends up changing the world for the better, and I think it will… then he died as he lived. It is on you to make sure his death is not in vain.
Perry, look up at what you did. Big brother, you changed the world. I hope you can rest in peace with power.
MUSICAL PERFORMANCE BY BURNA BOY:
I remember when I couldn't level up I was trying but I couldn't level up It was rough, you see Start feeling like I had enough Then I contemplate giving up, ay If you're feeling like you can't level up Omo make you no stop at all Because right when you start feeling Like you can't level up That's when you haffi shut the devil up.
[GRAPHIC: INJUSTICE, BECAUSE OF RACE, SEX, RELIGIONS, OPINIONS, DISABILITY AND OTHER DIFFERENCES – IS EVERYWHERE. AND IT IS INTOLERABLE WHEREVER IT OCCURS].
I remember when I couldn't level up No, my money couldn't level up Doing what I must Seems like there's always another level up That's why you always found me looking up But sometimes inna mi life You know me haffi rebel up Might hear about my fights in the club Every day me try level up So me striking dem hard Me go hard until I get to God Niafer Ko, Djek Djekal ko You can do it, woah, woah Never, never, never, never Never, never, never stop Gueumeul sa bop way Niafer Ko, Djek Djekal ko You can do it, woah, woah Never, never, never, never Never, never, never stop Gueumeul sa bop way Sometimes you're in a situation Where you have no choice -Yeah -Oh -You have to fight -Yeah Fight, my people -Yeah Thank you.
CHAPTER 4
GENDER EQUALITY
THANDIE NEWTON
: Inequality for women is one of the world's great injustices and it is an injustice that must be and will be swept away.
[GRAPHIC: PARLIAMENT: 75% – MANAGERS: 73% – "CLIMATE NEGOTIATORS": 68% – PEACE TABLE: 87%
Seventy-five percent of parliamentarians are men. Seventy-three percent of managerial decision-makers are men. Sixty-seven percent of climate negotiators are men. And eighty-seven percent of the people at the peace table are men, even though we know that when peace settlements include women, the negotiations and outcomes are more durable.
Globally, almost one in five women has experienced violence in the past 12 months at the hands of a man they know. Women and girls do three times as much unpaid care and domestic work as men. The global gender pay gap is stuck at 16%. Every year, 12 million girls are married before 18. All of this has to change.
It's time to stop trying to change women and start changing the systems that prevent them from achieving their potential, and this is the battle that women in this century will not lose. They are too strong and their voices will not be silenced.
MALALA YOUSAFZAI:
I was named after a girl… an Afghani folk hero who was killed in a battle. Just after I was born, my father got our family tree. It went back 300 years… but not a single girl or woman's name appeared on it. He decided to make me the first. He wrote, "Malala." That's me.
THANDIE NEWTON
: When her father's school was closed down by the Taliban, Malala Yousafzai began to campaign for the right of young girls across the country to go to school.
ARCHIVE FOOTAGE OF MALALA YOUSAFZAI:
I have rights. I have the right of education, I have the right to play, I have the right to sing, I have the right to talk, I have the right to go to market, I have the right to speak up. They shot her in the head. She is still in critical condition. She was airlifted to a military hospital in Peshawar where she had surgery… As surgeons battled to save her life… vigils took place throughout the world. In this first photo, released today, Malala's eyes are open and she appears… We have some really good news to report tonight. Malala Yousafzai walked out of a London hospital today. Today… it is an honor for me… to be speaking again after a long time. They thought that the bullet would silence us… but they failed.
[GRAPHIC: IN 2014 AT THE AGE OF 17 MALALA BECAME THE YUNGEST PERSON TO RECEIVE A NOBEL PEACE PRIZE].
MALALA YOUSAFZAI:
My message right now is to young people. We are living in a world where things are not the way we want. We are getting a system, we are getting a world which is unequal, which is sexist, which is racist. We have systems that are discriminating against people. Our climate, our environment is at risk. And there's so much that needs to be done. But I hope that young people, they stand up, they raise their voices, they start their activism right now. Let your age not stop you. Often time we're told that you have to be 40 and 50 to change the world. I do not believe in that. I think you can be a change-maker right now if you are 11, if you are 16, if you are, you know, 30, 40. Change is possible anytime and I want you to believe in yourself and make this world a fairer, a more equal and a better place for each and every one.
[GRAPHIC: UNITED NATIONS GLOBAL SOLUTIONS]
THANDIE NEWTON
: And once again, there are positive solutions that can turn things around fast.
[GRAPHIC: EQUAL REPRESENTATION]
We need more women in positions of power, at every level of government. The time has come for quotas that make sure women are equally represented in every country.
[GRAPHIC: END LAWS THAT DISCRIMINATE]
It's time to make our laws equal so that every woman is entitled to a job and a national identification card and to own property.
[GRAPHIC: THIS IS A MINIMUM]
Women must be able to live free from violence…
[GRAPHIC: AN END TO VIOLENCE]
…and have the right to make decisions over their bodies and lives, especially in choosing if and when they marry.
[GRAPHIC: FULL SEXUAL AND REPRODUCTIVE HEALTH AND REPRODUCTIVE RIGHTS].
We must guarantee full access to sexual and reproductive health services and rights.
[GRAPHIC: INVEST IN FEMALE EDUCATION].
We must provide the money to close the gap in girls' education.
[GRAPHIC: ECONOMIC EMPOWERMENT].
And there are important changes needed to achieve economic empowerment for women – from equal access to finance…
[GRAPHIC: END THE PAY GAP].
…to ending the gender pay gap…
[GRAPHIC: END THE DIGITAL DIVIDE].
…to equal access to the digital world, from mobile bank accounts to digital payment systems and digital education. It just doesn't make sense. Women are half of the population, but society does not treat them as equals. This is a legacy that needs to change here and now. By changing our behaviors, but also by changing laws and common practices across the world, we must all make that happen now.
EPILOGUE
IT CAN BE DONE
FOREST WHITAKER:
Everyone can do their part to make it happen. We can create and enjoy green jobs, live heathier lives with cleaner air and better diets. And in more equal societies, all of us, men and women, can enjoy safer and more productive lives. There is power in every decision we make. We can shape society and the future of our planet and people in every choice we make.
ANTONIO GUTERRES:
My final message is let's be humble. Let's recognize our fragilities and let's understand that only in unity and solidarity we will be able to address them. It's true in each one of our countries, it's true at the global level. Let's take profit of the 75th anniversary of the United Nations to think together how better we can organize the international community to address climate change, inequality, pandemics like the COVID-19, and so many other aspects that can only be solved if we join together and if we are able to have one common strategy, one common project and one common determination in favor of peace, of development, and human rights in the world.
[GRAPHIC: UN GENERAL ASSEMBLY AUGUST 2012].
BEYONCE KNOWLES PERFORMS ONSTAGE AT THE UN:
I wanna leave my footprints On the sands of time Know there was something That meant something That I left behind When I leave this world I'll leave no regrets Leave something to remember So they won't forget I was here I lived, I loved I was here I did, I've done Everything that I wanted And it was more than I thought it would be I will leave my mark so everyone will know I was here I lived, I loved I was here I did, I've done Everything that I wanted And it was more than I thought it would be I will leave my mark so everyone will know I was here I just want them to know That I gave my all, did my best Brought someone some happiness Left this world a little better Just because I was here -I did, I've done -I did I was here -I lived, I loved -I lived I was here -I did, I've done -I did I was here.
[GRAPHIC: WE KNOW THE FACTS. WE HAVE THE SOLUTIONS. WITH NATIONS UNITED, POWER CAN BE GIVEN TO ALL. AND THAT POWER USED FOR JUSTICE AND EQUALITY, FOR PEOPLE AND PLANET. USE YOUR POWER. FIND OUT HOW. WWW.UN.ORG.SUSTAINABLEDEVELOPMENT/NATIONS-UNITED]
https://youtu.be/xVWHuJOmaEk
https://forbiddenknowledgetv.net/nations-united-urgent-solutions-for-urgent-times/
Thanks to: https://forbiddenknowledgetv.net