There Is A Whole Lot Going On Right Now
Posted on January 17, 2021
Let's start with this that I am copy pasting from The Liberty Ledger,
More Global Chaos
Posted on4 Hours Ago by MWitt
There is some major chaos going on Globally right now. Where is the MSM? Not 1 major news network is even reporting any of this! They are ignoring the massive military occupation of our country and focusing on a man that doesn't even know his name. I can't wait for him to be taken down publicly. SO here is what's new.

The Dutch government has resigned. The press gives 3 different reasons. This has to do with Trump cleaning up the swamp and getting rid of the Deep State.
Estonia's Prime Minister resigns amid a corruption "scandal". Which of course he denies.
Germany's Angela Merkel steps down. This amount of resignation, going around globally NEVER happens at the same time. This definitely coincides with what is going on right now.
The entire Russian Government has [url=https://www.bbc.com/news/world-europe-51120166#:~:text=Russia%27s government has resigned%2C hours after President Vladimir,fourth term of office comes to an end.]resigned[/url]. They state it is due to Putin's changes. We know that Putin is an ally of ours, and so I am sure he is working alongside Trump to get rid of the corruption.

Due to all the arrests in Italy, the government is in complete collapse! This is getting real and all in the last week! Anyone who is still in disbelief about what is going on, this pretty much clinches it. Never has there ever been this much chaos globally or domestically. Why in the hell would there be over 20k troops in DC for a virtual inauguration? Why would there be troops being deployed in most of the country? This is escalating and it is escalating rapidly. I hope you have your popcorn, this is getting good.
Share this:
Just those items alone should be front page news.
Angela Merkel stepping down is HUGE news alone.
She is NWO/Deep State through and through.
Then of course we have the 25,000+ National Guard troops who have locked down Washington D.C. tighter than a tick on a coon dog's ass.
National Guard deployed around Sacramento in preparation for potential unrest
Armed soldiers and armored Humvees were stationed around the California state Capitol, and at the federal courthouse and state Superior Court building.
By LOUIS SAHAGÚNSTAFF WRITER JAN. 16, 20215:47 PM
Amid growing security concerns, California National Guard troops were deployed throughout downtown Sacramento early Saturday to protect property and maintain safety during potentially violent protests expected through Inauguration Day on Wednesday.
Oregon National Guard deployed to state Capitol ahead of potential mass unrest
(The Center Square) — National Guard members have been activated to defend the Oregon state Capitol in Salem in anticipation of mass unrest following the second impeachment of President Donald Trump. 
The development was announced by Oregon State Police (OSP) on Wednesday after Gov. Kate Brown granted a request by OSP Superintendent Terri Davie to deploy the Guard to the state Capitol.

Davie said on Wednesday that the OSP will continue to take a "neutral role" in patrolling protests at the Capitol building and protecting the right to free speech.
WSP troopers, National Guard members deployed outside of State Capitol ahead of legislative session
OLYMPIA, Wash. — Washington State Patrol troopers and National Guard members have been deployed to the Washington Capitol ahead of the opening of the legislative session on Monday.
Last week's attack on the U.S. Capitol and storming of Governor Inslee's property in Olympia did not deter Washington lawmakers from planning to convene on Monday.
The troopers are stationed at the Capitol in anticipation of protest from pro-Trump supporters. According to the Associated Press, a right-wing militia has encouraged members to occupy the Capitol when the Legislature meets.
NIGHTLY NEWS
National Guard deployed to state Capitols ahead of Inauguration Day
Capitol buildings across the nation are barricaded out of concern over violent protests this week. The TSA ramped up the number of federal marshals on flights and agents are performing more random gate screenings.
Anyone else seeing a pattern here?
The scumbags who have been yanking our chains for almost an entire year are
SCARED SHITLESS
that maybe We The People may just decide to go pay them a visit in large numbers.
The censorship by Big Tech went full afterburner last week.
They want us silenced , divided and kept in the dark.
Everywhere I look I see signs of a full on panic by these Commie enablers.
That should tell you something.
Of course right on cue, a bunch of idiots are showing up to justify all these precautions.
Armed Protesters Begin To Arrive At State Capitols Around The Nation
BY TYLER DURDENSUNDAY, JAN 17, 2021 – 15:20
Armed protesters have arrived at multiple state capitol complexes across the country Sunday morning. This follows a special bulletin from the FBI last week that warned: "armed protests" were being planned at 50 state capitols and the US Capitol in Washington, DC, ahead of President-elect Joe Biden's inauguration on Jan. 20.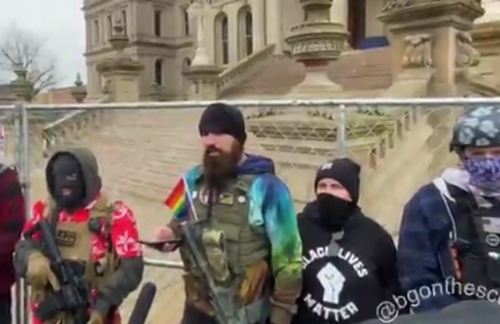 While the protesters are being identified across various platforms as members of a so-called "boogaloo" movement, they largely appear to be generic anti-government anarchists – some of whom call themselves "liberty boys," and others who oppose the conservative Proud Boys. Their sudden emergence surrounding the inauguration is curious to say the least.
Make no mistake, these "Boogaloo Boys" are no friends of mine or yours.
https://bustednuckles.com/2021/01/17/there-is-a-whole-lot-going-on-right-now/
Thanks to: https://bustednuckles.com