California's Newsom Blames "Anti-Mask Extremists" for Pending Recall Election
Date: March 17, 2021Author: Nwo Report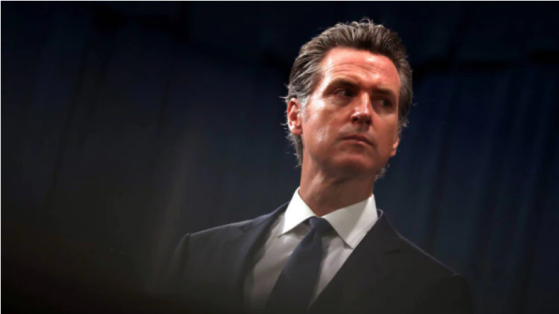 Source: Richard Moorhead
California Governor Gavin Newsom is blaming Republicans and supposed "anti-mask extremists" for the state's upcoming recall election. More than two million Californians have signed a petition to set up the recall election, which could result in Newsom's removal from office.
"
And let's just call it what it is: it's a partisan, Republican recall – backed by the RNC, anti-mask and anti-vax extremists, and pro-Trump forces that want to overturn the last election and have opposed much of what we have done to fight the pandemic,
" said Newsom in a campaign blast email.
Newsom has presided over a historic decline for the once-prestigious state and one of the worst coronavirus outbreaks in the country. 135,000 Californians have fled the state in 2020, many of them of an upper-middle class demographic that largely pays the state's taxes. The once-dynamic state will lose a seat in Congress from its population stagnation, with many of the state's cities now resembling Venezuela-style homeless encampments.
As Newsom accuses Californians who support his recall of being "anti-mask extremists," he's reeling from a controversy in which the elite Democrat was caught at a maskless party in a Bay Area luxury restaurant. Newsom's COVID policies have largely failed to deter a serious outbreak of the virus in the blue state.
The California Republican Party assailed Newsom's economic track record in response to his dismissal of the recall, pointing out that the elite Democrat's governance had in part turned California into a third-world country.
San Diego Mayor Kevin Faulconer is a likely Republican nominee for an upcoming recall election, with former Trump administration official Ric Grenell also a potential candidate.
https://nworeport.me/2021/03/17/californias-newsom-blames-anti-mask-extremists-for-pending-recall-election/
Thanks to: https://nworeport.me