Egypt's lost 'Golden City' unearthed at Luxor
Posted on Sunday, 11 April, 2021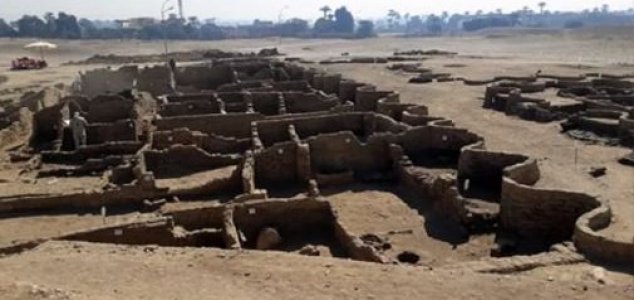 Image Credit: Egyptian Ministry of Tourism and Antiquities
Archaeologists have announced the discovery of a 3000-year-old city situated beneath the ancient capital.
Hailed by some as the second most important discovery in Egypt since the tomb of Tutankhamun, the city, which is also known as 'The Rise of Aten', was founded by King Tut's grandfather Amenhotep III.
It was a place well documented in ancient Egyptian texts and would have been a sight to behold with its three royal palaces and bustling streets. Despite this however, its location had remained stubbornly elusive - at least, that is, until it was unearthed during an excavation that started last year.
The team had hoped to find King Tut's mortuary temple, however they were surprised to find mud bricks everywhere they dug. It soon became apparent that what they had found was an entire city.
"Many foreign missions searched for this city and never found it," said former antiquities minister Zahi Hawass, who described finding streets flanked by houses, some up to 10ft high.
Inside the ruined buildings, archaeologists found a wealth of tools and knickknacks.
"The discovery of the Lost City not only will give us a rare glimpse into the life of the ancient Egyptians at the time where the empire was at [its] wealthiest, but will help us shed light on one of history's greatest [mysteries]: Why did Akhenaten and [Queen] Nefertiti decide to move to Amarna?" said Professor Betsy Brian of John Hopkins University.
Suffice to say, there will be a great deal to find at the site over the coming months.
https://youtu.be/yiUZjOIm-WU
https://www.unexplained-mysteries.com/news/345692/egypts-lost-golden-city-unearthed-at-luxor
Thanks to: https://www.unexplained-mysteries.com