Restored 1899 footage is like a time machine
Posted on Monday, 21 June, 2021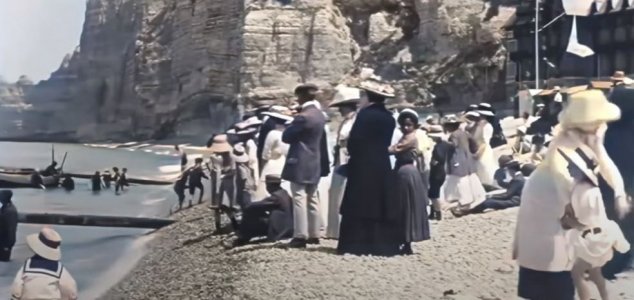 A glimpse back in time. Image Credit: YouTube / glamourdaze
Incredible film footage that's over 120 years old shows holidaymakers enjoying the seaside in France.
In recent years we've seen some truly impressive restoration footage thanks to AI enhancement techniques capable of restoring old films, not only in 4K and color, but also in a higher frame rate.
This latest example, which was uploaded this week, was filmed in Normandy, France (possibly by director Georges Melies) sometime around the year 1899.
It begins by showing crowds of people waiting at the station for the train (a steam locomotive) to take them to the seaside before switching to show them all enjoying the sea and sand.
What's incredible about videos like this is how the enhancements give them the appearance of something that was filmed recently, yet the footage itself shows a time long forgotten - an era of human history that we can now otherwise only read about in books.
The styles and sensibilities of this time period are clear to see, with men opting for three-piece suits and women decked out in elaborate dresses that wouldn't look out of place at a wedding.
It's certainly a far cry from today's skimpy beachwear.
When you consider that every single person in this footage died many years ago, it further emphasizes just how far back in history we are seeing and how different things once were to our world today.
https://youtu.be/9Mi9YNITDjs
https://www.unexplained-mysteries.com/news/348039/restored-1899-footage-is-like-a-time-machine
Thanks to: https://www.unexplained-mysteries.com