Leaked clip shows Canadian cop's UFO encounter
October 30, 2021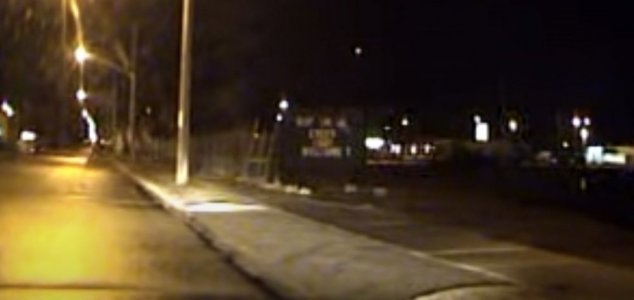 The object can be seen at the top right (see video below). Image Credit: YouTube / Motherboard
An intriguing report details the case of a police officer who encountered something unusual in the sky over Canada.
According to a report filed with the Civil Aviation Daily Occurrence Reporting System (CADORS), the incident occurred on April 24th, 2011 in the vicinity of Selkirk, Manitoba.
The witness was a Royal Canadian Mounted Police (RCMP) officer who had been driving in his cruiser when he spotted something moving across the night sky just up ahead.
"Selkirk RCMP reported an unidentified bright yellow and orange light travelling west to east just north of Selkirk Manitoba on April 24th at 2:15 am local," the report states.
"They also advised that they have a video recording of the object."
"A Nav Canada review of radar data indicates a Perimeter Metro aircraft crossed approximately 8 miles northwest at the time of the report, climbing to 17,000 feet." 
"RCMP advised they are familiar with the Metro aircraft and stated this was not an aircraft. A CIRVIS report was filed with NORAD."
The video footage, which was acquired at the time by Canadian ufologist Chris Rutkowski, has since been obtained by
Motherboard
and has been posted on YouTube.
It shows a bright light moving across the sky from left to right across the frame in the early hours of the morning.
You can check out the clip for yourself below.
The CADORS report can be viewed -
here.

https://youtu.be/0zZSAr6sopE
https://www.unexplained-mysteries.com/news/352038/leaked-clip-shows-canadian-cops-ufo-encounter
Thanks to: https://www.unexplained-mysteries.com