'Dog's Most Wanted' Co-Star David Robinson Dies Suddenly at 50
Date: December 3, 2022Author: Nwo Report 
Posted BY:
Jim Hoft
The "right-hand man" of Dog the Bounty Hunter on "Dog's Most Wanted," David Robinson, passed away on Wednesday. He was 50.
On Thursday, his wife, Brooke Robinson, confirmed the news of his passing.
"My husband, David John Robinson, passed away suddenly at our home on November 30, 2022," Brooke wrote on her Facebook account.
According to Brooke, David suddenly collapsed during a call.
"David was very healthy and was on a work call in our dining room when he collapsed," she added.
"Life-saving maneuvers were attempted and paramedics were called. David died in my arms. We asked for time to process and heal before letting the world know. That was taken from us with a Facebook post. We ask again for time and space to grieve for the husband, father, brother and friend that was lost," she continued.
"Service details will be forthcoming."
Brooke said that the rumors about his death were not true. "The rumors of a heart attack and stroke have already been ruled out," she wrote.
David's ex-wife and co-star, Rainy Robinson, posted on her Instagram account a photo of David with a caption,"11/2/72 – 11/30/22 #Fast156."
Source: New York Post
"I'm shocked and saddened by the sudden loss of David Robinson, my right-hand man of many years," Dog Chapman told TMZ. "Until we meet again, brother."
Duane Dog Chapman
@DogBountyHunter
·
Follow
I'm shocked and saddened by the sudden loss of my right hand man David Robinson. Rest in peace.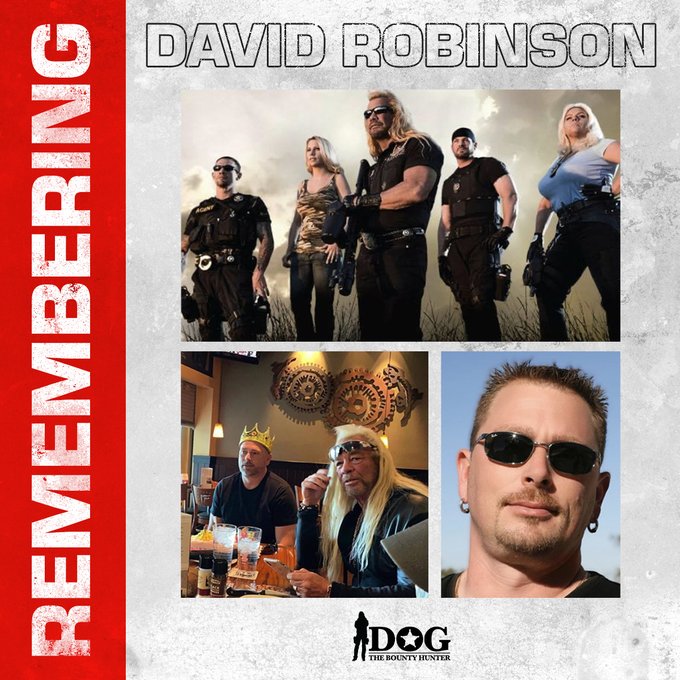 6:12 PM · Dec 1, 2022
MORE HERE: https://nworeport.me/2022/12/03/dogs-most-wanted-co-star-david-robinson-dies-suddenly-at-50/