Algerian Football Player Drops Dead During the 'African Nations Championship' Match (VIDEO)
Date: January 28, 2023Author: Nwo Report
Posted BY: Kara | NwoReportAn Algerian football player tragically died suddenly during a match at the African Nations Championship (CHAN) on Tuesday, January 24, 2023.
Algeria football community is mourning as it hosts this year's African Nations Championship (CHAN), a biennial African national association football tournament organized by the Confederation of African Football.
Ben Idir Mehenni suddenly collapsed on the pitch a few minutes before the end of the match against MC Rouiba. The incident occurred at the Reghaia stadium.
According to local media, Mehenni was rushed to the Reghaia hospital, where he was later pronounced dead.
MORE HERE: https://nworeport.me/2023/01/28/algerian-football-player-drops-dead-during-the-african-nations-championship-match-video/
36 year old Lindsey Lanoux has #DiedSuddenly from sudden cardiac arrest. She bragged on Facebook about getting her last booster and and dismissed safety concerns: "F*ck the haters" She even changed her cover photo to trust the "science" How many more need to die?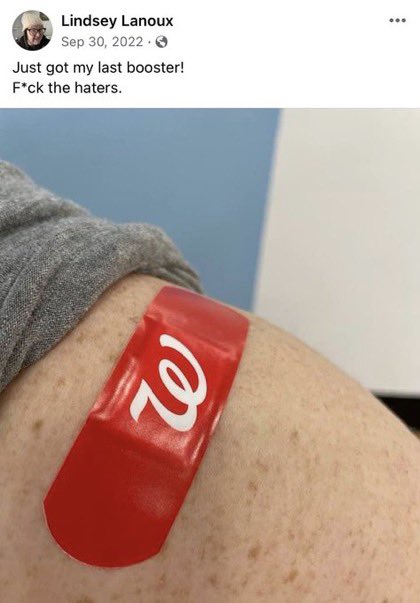 Rising Female Soccer Star Dies Suddenly at 14
Date: January 28, 2023Author: Nwo Report
Posted BY: Kara | NwoReport
A rising female soccer star has tragically died suddenly at just 14 years old.
Tributes have poured in from around the world following the unexpected death of Spanish under-15s star Estrella Martin.
Sporting Club de Huelva, from Andalusia, announced the death of the academy youngster.
Martin died suddenly in her hometown of Ayamonte, in southern Spain, on Wednesday, according to the club.
According to the report from local media, Estrella had a routine Tuesday training session before being found unresponsive in her home by her parents on Wednesday.
"The Sporting Club de Huelva deeply regrets to announce the death this morning of our player Estrella Martín Rasco in her native Ayamonte," the club said in a statement.
"Belonging to our lower echelons, the soccer player, in the cadet category, and a regular in the calls for the provincial women's under-15 team, has left us today in her hometown of Ayamonte, leaving a deep sorrow for her family, friends, and all the club."
"Once this sad news was known, the club has suspended this week's training sessions for the youth academy and the one that the first team was supposed to complete today," the club continued.
"The matches of the lower ranks this week have also been postponed and the postponement of tomorrow's League F game in Seville has also been requested."
MORE HERE: https://nworeport.me/2023/01/28/rising-female-soccer-star-dies-suddenly-at-14/
Brother found his sister dead at her home. Died suddenly due to a hemorrhagic stroke. "Looking for a fully vaccinated person to clean my house 1 x week.Actual living wage paid." Suzanne Cornell

42-year-old former journalist and recent Spanish government director of health communications, Sandra Carmona has #diedsuddenly from a heart attack. She was fully vaccinated, and strongly advocated for others to be vaccinated as well.