"Shocking Aerial Footage" - 3,000 Dead So Far In Turkey-Syria Quake, 1,000s Of Buildings Collapsed
by Tyler Durden
Monday, Feb 06, 2023
Update (1506ET):
The death toll across Turkey and Syria has surpassed 3,000 people and could spark a humanitarian crisis in that area of the world, according to NYTimes. 
About 10,000 rescuers had been dispersed across southeast Turkey by late Monday. The Turkish health minister said as many as 3,000 buildings have collapsed. 
CNN reported the total number injured in Turkey and Syria has climbed to 13,600. That number will likely rise.
NYT detailed on a map where all the large quakes struck earlier.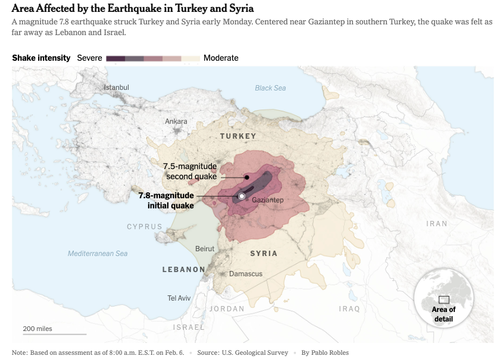 Here are more stunning views of the earthquake's aftermath.
Abdullah Bozkurt
@abdbozkurt
·
Follow
Aerial view, Iskenderun, #Turkey #TurkeyEarthquake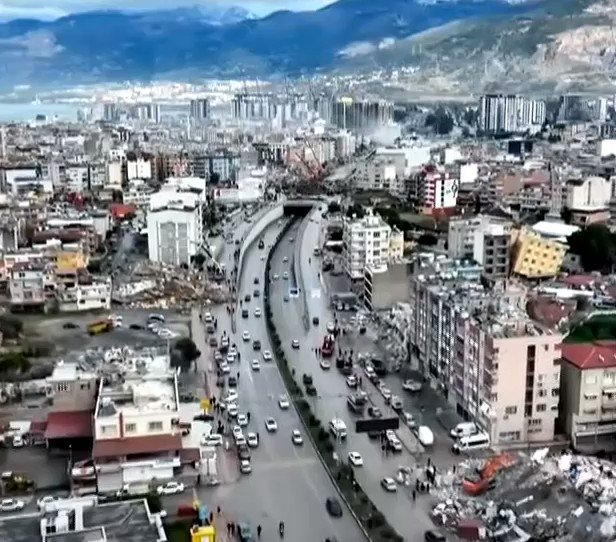 1:15 PM · Feb 6, 2023
CLICK FOR MORE FOOTAGE
https://twitter.com/i/status/1622678561722179586
https://twitter.com/i/status/1622640716445896704
https://twitter.com/i/status/1622647429265752085
https://twitter.com/i/status/1622673468352339993
https://twitter.com/i/status/1622607670250274817
https://twitter.com/i/status/1622584445201969152
https://twitter.com/i/status/1622600552302477314
https://twitter.com/i/status/1622602223887974401
https://twitter.com/i/status/1622552471754141697
https://twitter.com/i/status/1622552451982446594
Okan Tuysuz, a professor of geology at Istanbul Technical University, told Bloomberg that the quake was the "strongest earthquake in Turkey since 1939." He said one of the world's most active seismic zones runs through the country. 
The devastation is so bad that the North Atlantic Treaty Organization (NATO), the European Union, and 45 countries offer assistance to Turkey. 
Turkish President Recep Tayyip Erdogan announced on state television that nearly 3,000 buildings were destroyed. 
"We hope that we will overcome this disaster together as soon as possible," Erdogan said.
So far, reports in the southern part of the country show the port of Iskenderun was damaged. Cracks were found in airport runways in that part of the country. 
Turkish state-run pipeline operator Botas said no leaks were detected in crude oil pipelines in Turkey's south. These critical pipelines connect Turkey with vast oil fields in Iraq and Azerbaijan. 
In financial markets, Turkish stocks plunged. The country's stock exchange banned short selling. Here's a Bloomberg market update: 
The Borsa Istanbul 100 Index dropped as much as 4.6% in morning trading, with state-run insurance company Turkiye Sigorta AS and fertilizer producer Gubre Fabrikalari TAS leading declines. The lira held steady. Turkish stock exchange Borsa Istanbul suspended short selling on the country's stocks on Monday for an indefinite time, while imposing a depository rule for selling shares as part of its efforts to limit a wider market fallout. Borsa Istanbul has also halted trading in eight companies until they make a statement on how their operations were affected by the earthquake.  
As rescue efforts are underway, the United States Geological Survey warned the powerful quake could result in as many as 10,000 deaths.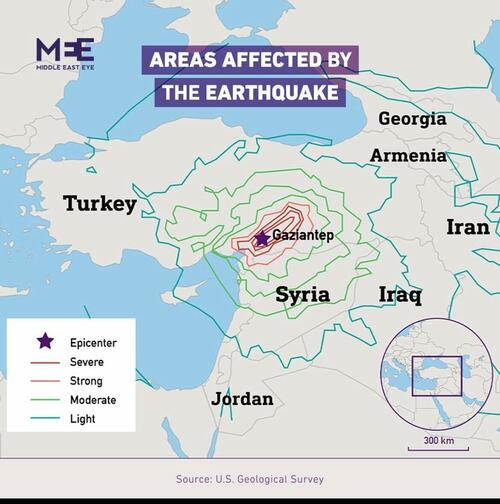 VIEW HERE AND MUCH MORE: https://www.zerohedge.com/weather/widespread-devastation-powerful-quakes-hit-turkey-thousands-dead-usgs-warns-death-toll?utm_source=&utm_medium=email&utm_campaign=1229