Trump Says "Never Thought It Could Happen In America" After Historic "Fake Case" Arraignment
by Tyler Durden
Wednesday, Apr 05, 2023 - 05:15 AM
(Update 1900ET):
Following his Tuesday arraignment in New York in front of a "Trump-hating judge," former President Donald Trump went hard against his enemies in front of a crowd at Mar-a-Lago.
"
This fake case was brought only to interfere with the upcoming 2024 presidential election and it should be dropped immediately
," said Trump. "I never thought anything like this could happen in America."
Mythinformed
@MythinformedMKE
·
Follow
"It's an insult to our country as the world is already laughing at us" Donald Trump LIVE after the indictment charges.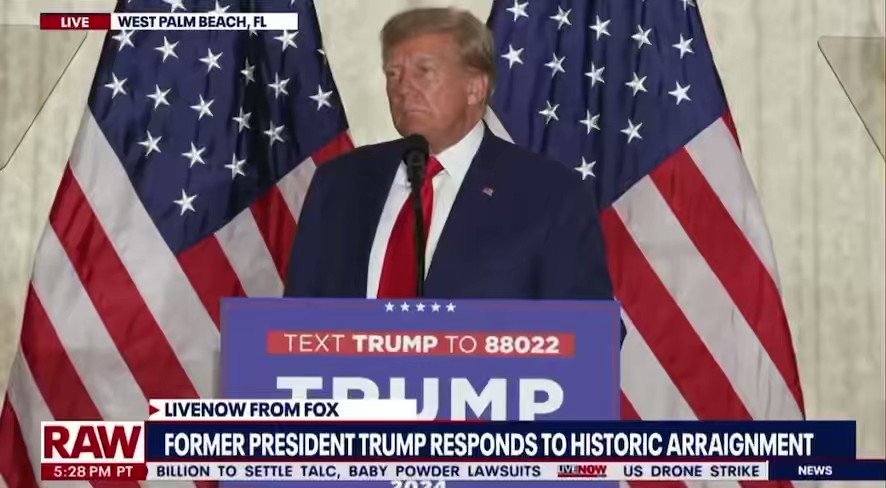 7:35 PM · Apr 4, 2023
"The only crime that I've committed is to fearlessly defend our nation from those who seek to destroy it," said Trump, before going off on Manhattan DA Alan Bragg.
"The criminal is [Alvin Bragg] … he should be prosecuted, or at a minimum, he should resign,
" he continued.
And in perhaps the best line of the night; "I have a Trump hating judge with a Trump hating wife and family, whose daughter worked for Kamala Harris and now receives money from the Biden/Harris campaign...
It's right out of the old Soviet Union. That's where we are!
"
Watch Trump's entire remarks below.
*  *  *
(Update 1900ET):
As announced earlier on Tuesday, former President Trump is giving a press conference from his Mar-a-Lago home in Florida following his indictment over hush money allegedly paid to former porn star Stormy Daniels in the runup to the 2016 US election.
Watch live:
CONTINUE HERE: https://www.zerohedge.com/political/watch-live-trump-arraigned-porn-star-payoff-case?utm_source=&utm_medium=email&utm_campaign=1383