After urging Irish to "LICK the world" and telling some whoppers, Dementia Joe gets LOST in the labyrinth of – an unobstructed stage
Date: April 15, 2023Author: Nwo Report
Posted BY:
| NwoReport
Joe Biden has been making quite a spectacle of himself on his big tour of Ireland. While ignoring insanely urgent problems facing America and the world, old Joe has been telling meandering stories about his grandparents, lying about his life, and promoting Marxist leftist culture warfare to the tune of that Benny Hill music and generally making a giant embarrassment of himself and us at various locations in Ireland.
For example, to cap off his speech at Dublin Castle, ol' Joe issued a pretty unappetizing invitation. "Let's go lick the world," he said.
RT
@RT_com
·
Follow

Russia state-affiliated media
US President Joe Biden concluded his speech at Dublin Castle with an unusual (and really weird) suggestion by telling the banquet attendees to 'lick the world'… What do you think he meant?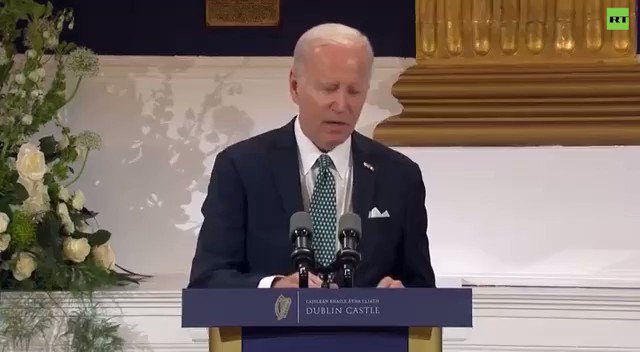 4:20 AM · Apr 14, 2023
Full Story
THANKS TO: https://nworeport.me/after-urging-irish-to-lick-the-world-and-telling-some-whoppers-dementia-joe-gets-lost-in-the-labyrinth-of-an-unobstructed-stage/