UK Police Detain Journalist Over Political Views
Posted on June 1, 2023
Tales from the Conspiratum
You cannot be a journalist in the West anymore. Look at what they do to those who question the state propaganda.
"The Cradle contributor was questioned for five hours by counter-terrorism police over his journalistic work and political opinions
UK counter-terrorism police detained journalist Kit Klarenberg upon his arrival in his home country from Belgrade, Serbia, on 17 May, subjecting him to an extended interrogation over his "political views" and his reporting.
Klarenberg has written extensively for 
The Cradle
, exposing London's many covert operations in West Asia.
According to 
The Grayzone
, six plainclothes police were waiting for him outside his plane, promptly moving him to a back room and informing him of his detention under Schedule Three, Section Four of the 2019 Counter-Terrorism and Border Act.
Klarenberg was questioned for over five hours about his journalistic work, including "his personal opinion on everything from the current British political leadership to Russia's invasion of Ukraine."
The counter-terrorism police seized his electronic devices and SD cards, took DNA swabs, fingerprinted him, and photographed him multiple times. He was threatened with arrest if he failed to comply.
Klarenberg's most recent investigation for 
The Cradle
 exposed how UK government-affiliated contractors have been training Palestinian Authority (PA) security forces using US funding.
He made waves in recent months by exposing London's use of Yemeni NGOs to covertly undermine the Ansarallah-led government in Sanaa as well as Jordan's use of UK intel techniques known as "digital media exploitation … used to monitor, manipulate, and disrupt dissent in the kingdom."
Klarenberg has also ruffled feathers in London with his reporting for 
The Grayzone
, exposing "major British and US intelligence intrigues," including a report on how at least two of the hijackers who carried out the 11 September attacks in New York had been recruited into a joint CIA-Saudi intelligence operation.
Another of his major exposés was a report revealing that journalist Paul Mason worked as a UK security state collaborator tasked with discrediting alternative media outlets, academics, and peace activists critical of NATO's role in the Ukraine war…"

The Cradle
@TheCradleMedia
·
Follow
UK police detain journalist Kit Klarenberg over 'political views' The Cradle contributor was questioned for five hours by counter-terrorism police over his journalistic work and political opinions MORE http://bit.ly/3oH8Rw4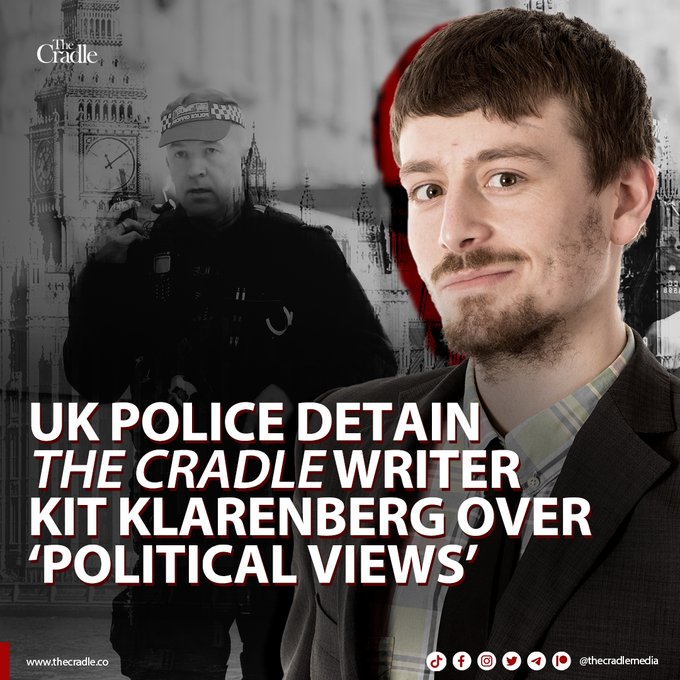 8:23 AM · May 31, 2023
THANKS TO: https://stuartbramhall.wordpress.com/2023/06/01/uk-police-detain-journalist-over-political-views/