Forty Hours Left: Billionaire Explorer, Pakistani Businessman Aboard Missing Titanic Sub
by Tyler Durden
Tuesday, Jun 20, 2023
A billionaire and centimillionaire are aboard the OceanGate Expeditions Titan submarine that vanished on Sunday in the North Atlantic while on an expedition to visit the wreckage of the RMS Titanic.
Titan had five people onboard when it lost communications with a research ship at the dive site about 435 miles south of St. John's, Newfoundland. The vessel was halfway into a two-and-a-half-hour dive when radio contact was lost. There's enough oxygen in the vessel for 96 hours.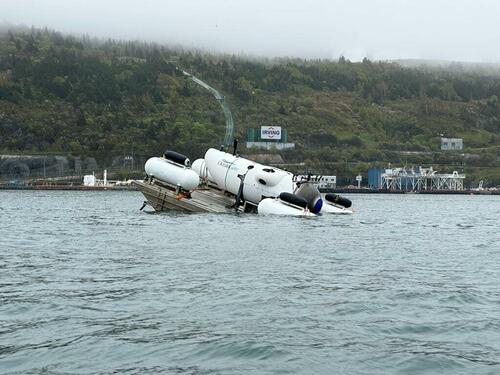 On Tuesday, Rear Adm. John Mauger of the US Coast Guard said search operations are underway in an area "about the size of Connecticut" about 900 miles off the coast of Cape Cod at a depth of 13,000 feet. 
"It is a challenge to conduct a search in that remote area.
"But we are deploying all available assets to ensure that we can locate the craft and rescue the people on board," Mauger said at a press conference. 

US and Canadian authorities are conducting a joint search and rescue mission with aircraft and surface vessels equipped with sonar buoys. It's a race against time to save the five people.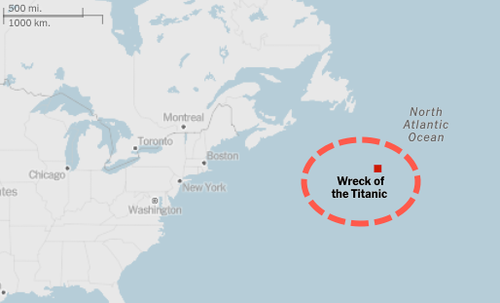 Two of the five crew of the Titan have been identified. One is Shahzada Dawood, 48, one of Pakistan's wealthiest men (net worth around $340 million). The other is Sulaiman Dawood, 19, his son. 
The Dawood family wrote in a statement:
"We are very grateful for the concern being shown by our colleagues and friends and would like to request everyone to pray for their safety while granting the family privacy at this time.
"The family is well looked after and are praying to Allah for the safe return of their family members."

Shahzada Dawood is Vice Chairman of Engro Corporation, one of the largest conglomerates in Pakistan and headquartered in Karachi. The company released this statement:
Engro Corporation
@EngroCorp
·
Follow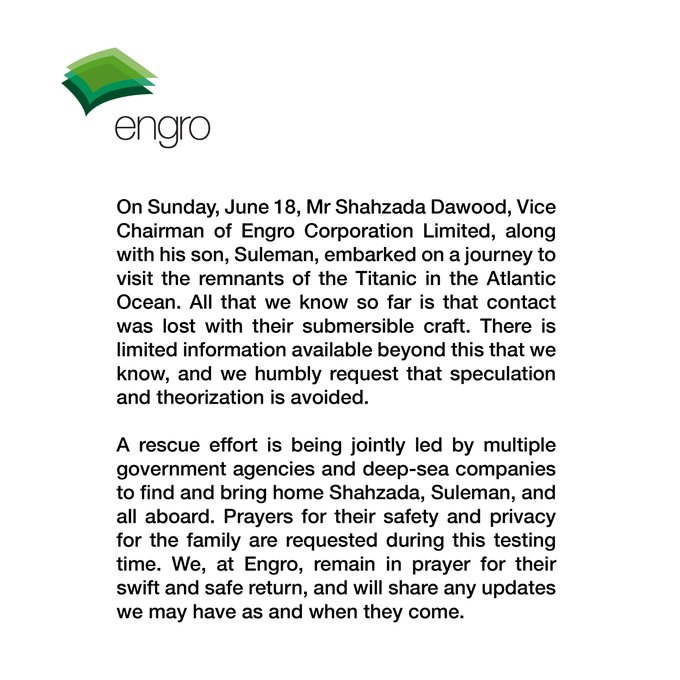 1:59 AM · Jun 20, 2023
British businessman Hamish Harding is another passenger aboard the submersible. Harding is a billionaire and world explorer, according to multiple news outlets. He is chairman of Action Aviation, an aircraft brokerage in the United Arab Emirates. Also, French diver Paul-Henri Nargeolet and the captain are the others on the vessel.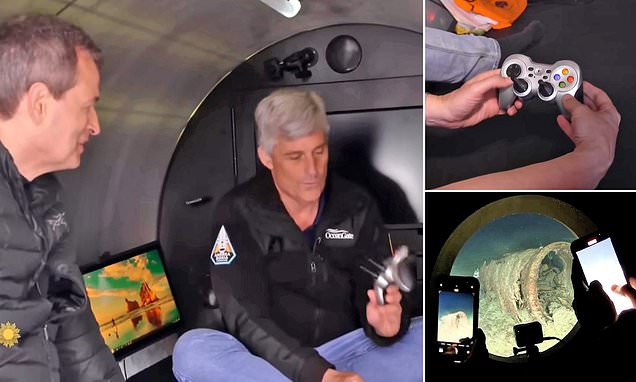 The Coast Guard said about 40 to 41 hours of oxygen are left on Titan. A French research vessel equipped with a robot will arrive in Canada on Wednesday before heading to the site.
Time is running for those onboard the submersible.
MORE HERE: https://www.zerohedge.com/markets/billionaire-explorer-pakistani-businessman-aboard-missing-titanic-sub?utm_source=&utm_medium=email&utm_campaign=1589