From Merck To Microsoft: These Companies BlackRock 'Controls' The Most Of
Posted on June 28, 2023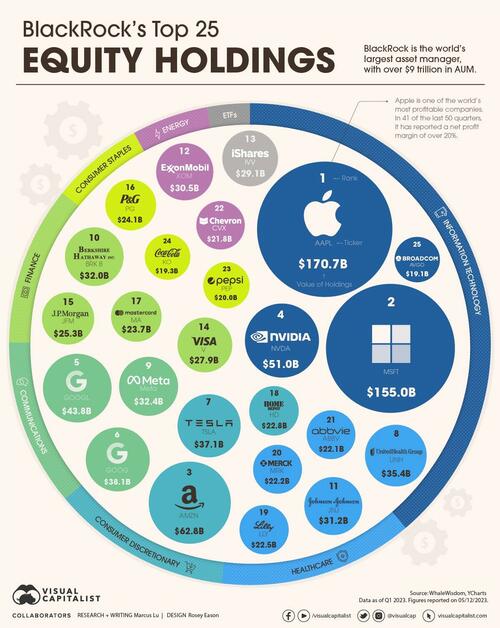 Zero Hedge
A week after an employee of the world's largest asset management company, BlackRock, described how the company attempts to stay out of the media spotlight while buying politicians and profiting off of war (according to undercover footage obtained by the O'Keefe Media Group), we thought it worth a look at just what companies does the 34-year-old company have the most control of.
As a reminder, in footage secretly recorded by undercover journalists in New York, a BlackRock recruiter named Serge Varlay explains how the investment company is able to "run the world."
"They [BlackRock] don't want to be in the news. They don't want people to talk about them. They don't want to be anywhere on the radar," Varlay said.
Varlay told a OMG journalist in the footage that BlackRock manages $20 trillion worldwide (it's actually around $9 trillion).
"It's incomprehensible numbers,"
he said.
"You can take this big f***ton of money and buy people, I work for a company called Black Rock… It's not who is the president it's who is controlling the wallet of the president.

You could buy your candidates. First, there is the senators these guys are f***in cheap. Got 10 grand you can buy a senator. I'll give you 500k right now. It doesn't matter who wins, they're in my pocket."

– Serge Varlay
James O'Keefe
@JamesOKeefeIII
·
Follow
BREAKING: @BlackRock Recruiter Who "Decides People's Fate" Spills Info on Company's World Impact "It's not who the president is- it's who's controlling the wallet of the president" "You got $10K? You can buy a senator" "War is real f***ing good for business" #BlackRockExposed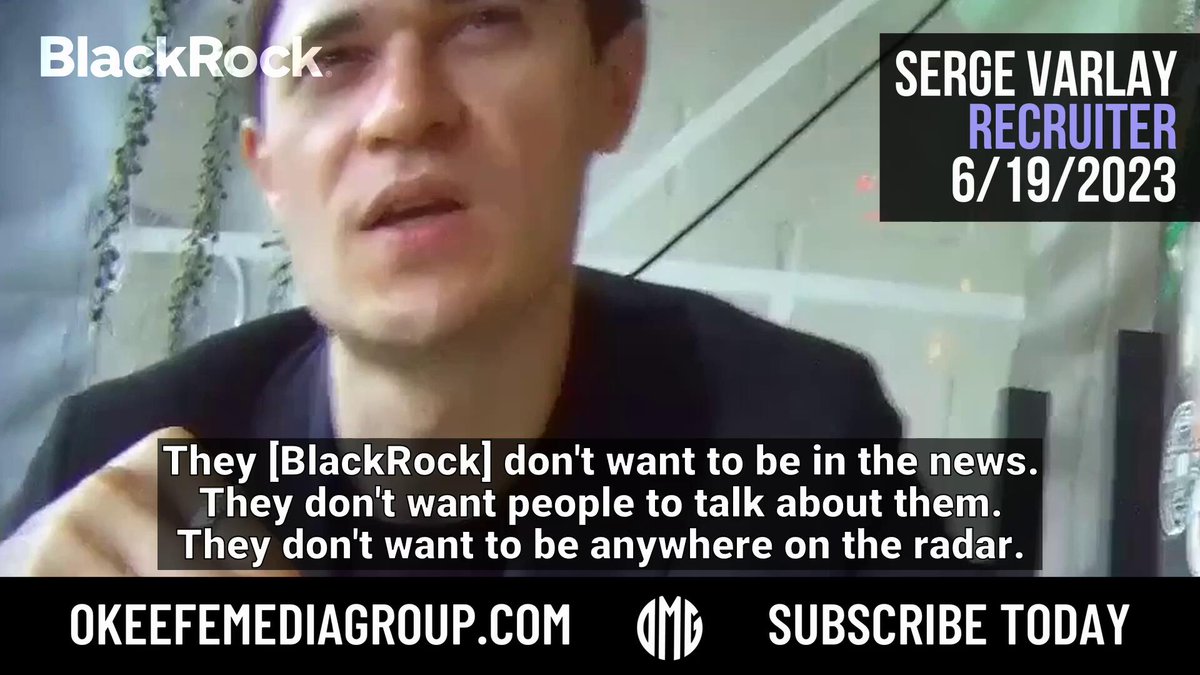 4:02 PM · Jun 20, 2023
Top 25 Data
The following table shows the data we used to create the above infographic. These figures come from BlackRock's latest 13F filing, which was released on May 12.
The 13F is a mandatory, quarterly report that is filed by institutional investment managers with over $100 million in AUM
[th]Rank[/th][th]Name[/th][th]Sector[/th][th]Value of Holdings (USD billions)[/th]
1
Apple
Information Technology
$171
2
Microsoft
Information Technology
$155
3
Amazon
Consumer Discretionary
$63
4
Nvidia
Information Technology
$51
5
Google (Class A)
Communications
$44
6
Google (Class C)
Communications
$38
7
Tesla
Consumer Discretionary
$37
8
UnitedHealth Group
Health Care
$35
9
Meta
Communications
$32
10
Berkshire Hathaway (Class B)
Finance
$32
11
Johnson & Johnson
Health Care
$31
12
Exxon Mobil
Energy
$30
13
iShares Core S&P 500 ETF
ETF
$29
14
Visa
Finance
$28
15
JPMorgan Chase & Co
Finance
$25
16
Procter & Gamble Co
Consumer Staples
$24
17
Mastercard
Finance
$24
18
Home Depot
Consumer Discretionary
$23
19
Eli Lilly And Co
Health Care
$23
20
Merck & Co
Health Care
$22
21
AbbVie
Health Care
$22
22
Chevron
Energy
$22
23
PepsiCo
Consumer Staples
$20
24
Coca-Cola Co
Consumer Staples
$19
25
Broadcom
Information Technology
$19
As expected, BlackRock's top equity holdings include America's most established tech companies: 
Apple
, 
Microsoft
, 
Amazon
, and 
Google
.
BlackRock also has large positions in 
Nvidia
 and 
Broadcom
, which happen to be America's two largest semiconductor companies. Given Nvidia's incredible YTD performance (198% as of June 19th), this position has likely grown even bigger.
Altogether, tech stocks make up 39% of this top 25 list. The next biggest sector would be healthcare, at 13% of the total value.
Ownership Stakes
How much of a controlling stake does BlackRock have in these companies? We answer this question in the following table, which again uses Q1 2023 data.
[th]Name[/th][th]% Ownership[/th][th]Quarter 1st Owned[/th]
Merck & Co
8.24%
Q3 2007
UnitedHealth Group
8.02%
Q4 2008
Berkshire Hathaway (Class B)
7.98%
Q3 2007
PepsiCo
7.96%
Q3 2007
AbbVie
7.86%
Q1 2013
Home Depot
7.60%
Q3 2007
Nvidia
7.44%
Q3 2007
Microsoft
7.22%
Q3 2007
Coca-Cola Co
7.20%
Q3 2007
Broadcom
7.16%
Q3 2009
Google (Class A)
7.09%
Q3 2007
Chevron
7.02%
Q3 2007
Eli Lilly And Co
6.90%
Q3 2007
Mastercard
6.89%
Q3 2007
Procter & Gamble Co
6.86%
Q3 2007
Exxon Mobil
6.83%
Q3 2007
JPMorgan Chase & Co
6.59%
Q3 2007
Visa
6.55%
Q2 2008
Apple
6.54%
Q3 2007
Johnson & Johnson
6.46%
Q3 2007
Google (Class C)
6.13%
Q2 2014
Amazon
5.93%
Q4 2008
Tesla
5.70%
Q3 2010
Meta
5.69%
Q2 2012
[…]
Via https://www.zerohedge.com/markets/merck-microsoft-these-are-companies-blackrock-controls-most
THANKS TO: https://stuartbramhall.wordpress.com/2023/06/28/from-merck-to-microsoft-these-companies-blackrock-controls-the-most-of/