Secret Service Investigating How Cocaine Got In The White House
by Tyler Durden
Wednesday, Jul 05, 2023
The Secret Service on Tuesday confirmed rumors from the day earlier that it was investigating an "unknown item" found inside the White House library on Sunday, which was described in radio traffic as a cocaine-like substance.
"On Sunday evening, the White House complex went into a precautionary closure as officers from the Secret Service uniformed division investigated an unknown item found inside a work area," Secret Service spokesperson Anthony Guglielmi said in a statement, adding that the D.C. fire department determined the substance did not present a threat... although it certainly could present Hunter Biden with hours of brand new video material for his infamous notebook.
In a dispatch with an 8:49 p.m. timestamp, a firefighter with the D.C. department's hazardous materials team radioed the results of a test:
"We have a yellow bar saying cocaine hydrochloride."
The brief broadcast was logged on a website called openmhz.com, which allows people to listen to live and archived radio transmission from police and fire departments. One of the officials familiar with the investigation, speaking on the condition of anonymity to discuss an open case, said the 8:49 transmission was from the White House call Sunday night. The official described the amount of the substance as small, which likely means that most of it had already been consumed.
The discovery came two days after recovering crack cocaine addict Hunter Biden was last seen at the White House; yet even so there appears to be some "mystery" as to how the cocaine got there.
[url=https://www.zerohedge.com/s3/files/inline-images/hunter biden]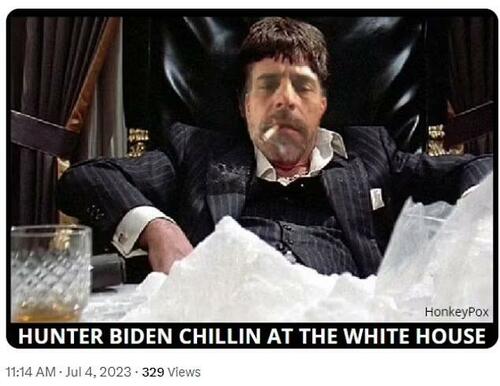 [/url]
The Biden family arrived back at the White House for Independence Day celebrations as the Secret Service continues to investigate the finding.
Secret Service spokesman Gulielmi said that President Joe Biden was not in the executive mansion when the substance was discovered.
"The DC fire department was called to evaluate and quickly determined the item to be non-hazardous. The item was sent for further evaluation and an investigation into the cause and manner of how it entered the White House is pending," he said, laughably hinting that there was some "confusion" as to how crack got inside the
Blowden
Biden family's DC estate as it is in the process of being auctioned off to Beijing. Here's a thought: since Hunter has a habit of recording his every close encounter with crack cocaine, just check his cell phone's latest video recordings.
In its report, ABC notes that "Cocaine hydrochloride can be used as an anesthetic or to control bleeding, but it is also considered to have effects
similar to crack cocaine,
according to the study National Library of Medicine National Center for Biotechnology Information", which suggests that the type of cocaine found was of a particular variety especially near and dear to Hunter's heart.
"The physiological and psychoactive effects of cocaine are similar regardless of whether it is in the form of cocaine hydrochloride or crack cocaine (cocaine base),"
the study says. You do learn something new every day.
The "item" was sent to a Secret Service lab for further testing, the sources said.
The White House on Tuesday referred reporter questions about the matter to the Secret Service, because what else could they say:
"to pay for Hunter's crack addition, Joe had to sell even the Resolute Desk to Beijing."
Of course, that's a silly joke: after all, just imagine what America's international allies - and enemies - would think if any of this Jerry Springer Special, live from the White House, turned out to be even remotely true...
[url=https://www.zerohedge.com/s3/files/inline-images/cocaine in white]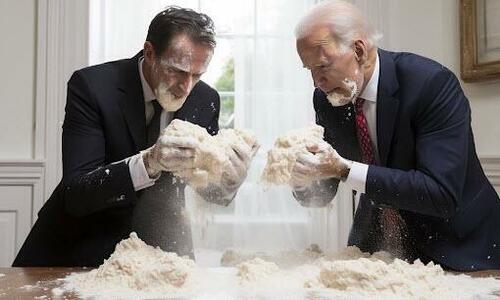 [/url]
The Biden's cocaine antics take place just days after the younger Biden reached a plea deal with Justice Department prosecutors to avoid jail time after lying on a federal form to purchase a firearm. He checked a box claiming that he did not use and was not addicted to illegal substances – a fact that would disqualify him from buying the gun. The form contradicting the timelines and claims made in Hunter Biden's own memoir.
Biden critics and conservative decried Hunter's plea deal, claiming that anyone other than the president's son would receive jail time for the same offense. The deal also saw Hunter plead guilty to two tax misdemeanors which would have been a felony - and meant prison time - for anyone else but the president's crack and whore-addicted son.
Come to think of it, there was plenty of reasons for Hunter to be celebrating in the aptly named China White house.
THANKS TO: https://www.zerohedge.com/markets/secret-service-investigating-how-cocaine-got-white-house?utm_source=&utm_medium=email&utm_campaign=1625