French military say they are prepared to arrest Macron for treason
July 7, 2023
* The Dutch government has collapsed  
* French police are engaged in what appears to be a losing battle with Muslims  
* WEF's Klaus Schwab has ordered world leaders to accept China as the new super-power in the world  
* 80 billionaires "DIED" since 2020 [Have they moved into their underground bunkers?] 

Top military officials in France have warned that French President Emmanuel Macron faces arrest unless order is restored to the country imminently.According to several senior officers, the French army are prepared to temporarily seize control of the government and detain the Young Global Leader over his deliberate failure to maintain law and order in France.A letter from the 20 senior officers, which contained the warning, has been circulating in Britain and France.Naturalnews.com reports: The fatal shooting of 17-year-old Nahel M. in Paris by French police on June 27 during a traffic stop has sparked the massive unrest that has had the city and its surrounding suburbs' law enforcement struggling to maintain law and order for several days now.Former Parliamentary candidate with the Brexit Party Barnsley Jim Ferguson posted on Twitter that the said warning is allegedly from the former chief of the Armed Forces of France, highly respected and decorated General Pierre de Villiers, who fell out with Macron over his globalist policies and whom he had publicly humiliated during a row over defense spending cuts.

Jim Ferguson
@JimFergusonUK
·
Follow
There are unconfirmed reports that certain senior and serving French Military commanders have delivered an ultimatum to #Macron. Restore order within 48 hours or they will. The picture is of retired and highly respected Général Pierre de Villiers a French Aristocrat. A… Show more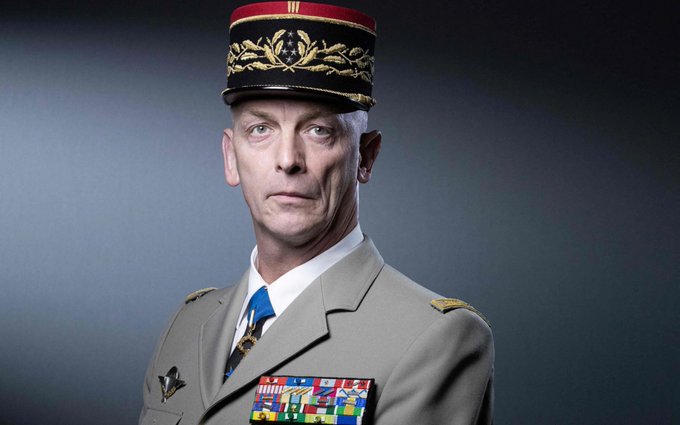 According to Ferguson, the De Villiers and the senior serving military officials issued the alert that they will intervene next week if riots remain unquelled.It would be no surprise if the General leads the team that issued the warning as De Villiers has publicly criticized the ongoing conflict and European policy on Ukraine. He emphasizes that the Russian-Ukraine war is "not in the interest" of European nation-states and that its continuation just serves the vested interests of the United States government. Paris-based Le Figaro reported that the ex-Armed Forces chief argued that European countries ought to be working towards de-escalating the war in Ukraine instead of following America's "high-risk, escalators policies."Reports, meanwhile, claim that the general pointed out "rioters in France have armed themselves with automatic weapons, according to further reports in another deeply disturbing and troubling turn of events as Macron continues to lose control of the situation."There are no other updates available at this time. Nothing yet confirms if the ultimatum is real or propaganda.
France under Macron is constantly battling crises
Right now, France continues to explode in violence as its citizens are terrorized and their cities burn. Many French citizens and 'gilets jaunes' are again joining the protests and calling for Macron to either resign or be removed. And this is not the first-time he has faced difficult situations such as the recent turmoil due to his policies.Back in March, riots also sparked due to a deep political crisis when he raised the retirement age from 62 to 64 by asking French Prime Minister Elisabeth Borne to invoke Article 49.3 of the French Constitution, which gives the executive branch the power to override a legislative vote.He said it was necessary to keep the French economy competitive and to prevent the pension program from going into a deficit. The president told cabinet ministers that "the financial risks were too great" had National Assembly members rejected the proposal.Moreover, even during his first term his path has been rocky, as he faced Yellow Jackets protests, the Wuhan coronavirus COVID-19 pandemic and the ever-present threat of terrorism in France. "It's as if France was a pressure cooker, each crisis reveals tensions, a conflict in society, tensions over the respect owed to our institutions … Our country is constantly invoking Republican values, but it appears entire segments of the population don't feel these matter to them," Bruno Cautres, a politics researcher with the Sciences Po institute, said.As per Jordan Bardella, ex-National Rally President Marine Le Pen's successor, the recent unrest had exposed frailties that could encourage a populist discourse. "Our political response must be a reasonable one, that addresses the reality and daily lives of the French," he added.His party predecessor Le Pen, who came second to Macron in the 2022 elections, has held back from fueling a backlash against rioters, sticking to her strategy of embracing mainstream politics.
LINK

THANKS TO: https://iamamalaysian.wordpress.com/2023/07/07/french-military-say-they-are-prepared-to-arrest-macron-for-treason/