Hunter Biden's Plea Deal Falls Apart After Lawyers Accused of Lying to Suppress Whistleblower Info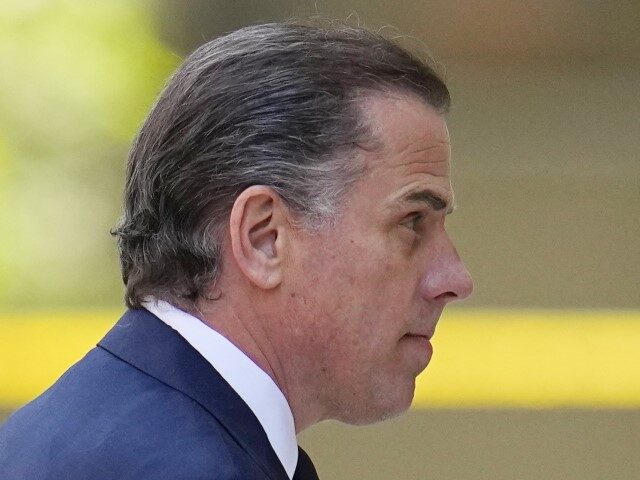 AP Photo/Julio Cortez
Breitbart News
26 Jul 20231
WILMINGTON, Del. (AP) — President Joe Biden's son Hunter's plea deal on two tax charges fell apart on Wednesday after the federal judge hearing his case expressed concern over a related agreement on a more serious gun possession charge.
The outcome leaves open, at least temporarily, the yearslong investigation into Hunter Biden's business dealings. He had been charged with two misdemeanor tax crimes of failure to pay more than $100,000 in taxes from over $1.5 million in income in both 2017 and 2018, and he made an agreement with prosecutors, who were planning to recommend two years of probation.
Last month, Biden was charged with possession of a firearm by a person who is a known drug user, a felony. He had a Colt Cobra .38 Special for 11 days in October 2018. He agreed to enter into a diversion agreement, which means that he would not technically plead guilty to the crime. As long as he adhered to the terms of his agreement, the case would be wiped from his record. If not, the deal would be withdrawn. The charge carries a maximum sentence of 10 years in prison.
U.S. District Court Judge Maryellen Noreika, who was appointed by President Donald Trump, said she was concerned about the language in the diversion agreement and suggested the lawyers get back together and discuss it.
"I think having you guys talk more makes sense," she said.
Republicans had argued Biden was getting a sweetheart deal.
The deal, announced last month, came after a yearslong Justice Department investigation into the taxes and foreign business dealings of the Democratic president's second son, who has acknowledged struggling with addiction following the 2015 death of his brother, Beau Biden.
While it legally would have cleared the air for Hunter Biden and avert a trial that would have generated weeks or months of distracting headlines, the politics remain as messy as ever, with Republicans insisting he got a sweetheart deal and the Justice Department pressing ahead on investigations into Trump, the GOP's 2024 presidential primary front-runner.
Trump is already facing a state criminal case in New York and a federal indictment in Florida. But last week, a target letter was sent to Trump from special counsel Jack Smith that suggests the former president may soon be indicted on new federal charges, this time involving his struggle to cling to power after his 2020 election loss to Joe Biden.
Republicans claimed a double standard, in which the president's son was getting off easy while the president's rival has been unfairly castigated. Congressional Republicans are pursuing their own investigations into nearly every facet of Hunter Biden's dealings, including foreign payments.
On Tuesday, a dustup arose after Republicans on the House Ways and Means Committee filed court documents urging Noreika to consider testimony from IRS whistleblowers who alleged Justice Department interference in the investigation.
Shortly after their motion was filed, a court clerk received a call requesting that "sensitive grand jury, taxpayer and Social Security information" be kept under seal, according to an oral order from the judge. The clerk said the lawyer gave her name and said she worked with an attorney from the Ways and Means Committee but was in fact a lawyer with the defense team.
Noreika demanded the defense team show why she should not consider sanctioning them for "misrepresentations to the court." Defense attorneys responded that their lawyer had represented herself truthfully from the start and called the matter a misunderstanding.
President Biden, meanwhile, has said very little publicly, except to note, "I'm very proud of my son."
THANKS TO: https://www.breitbart.com/politics/2023/07/26/hunter-bidens-plea-deal-falls-apart-after-lawyers-accused-of-lying-to-suppress-whistleblower-info/