DOJ Denies Trying To Jail Hunter Biden Witness Before Tomorrow's Testimony
by Tyler Durden
Monday, Jul 31, 2023
Update (2030ET):
The DOJ has responded to allegations that they want Hunter Biden witness Devon Archer arrested before tomorrow's testimony, saying in a statement:
"To be clear,
the Government does not request (and has never requested) that the defendant surrender
before his Congressional testimony," reads a Sunday night filing
. "For the avoidance of all doubt,
the Government requests that any surrender date, should the Court order one, be scheduled to occur after the defendant's Congressional testimony is completed."

Jack Poso 
@JackPosobiec
·
Follow
BREAKING: BIDEN DOJ BLINKS - FILES NEW LETTER ALLOWING DEVON ARCHER TO TESTIFY TOMORROW They felt the pressure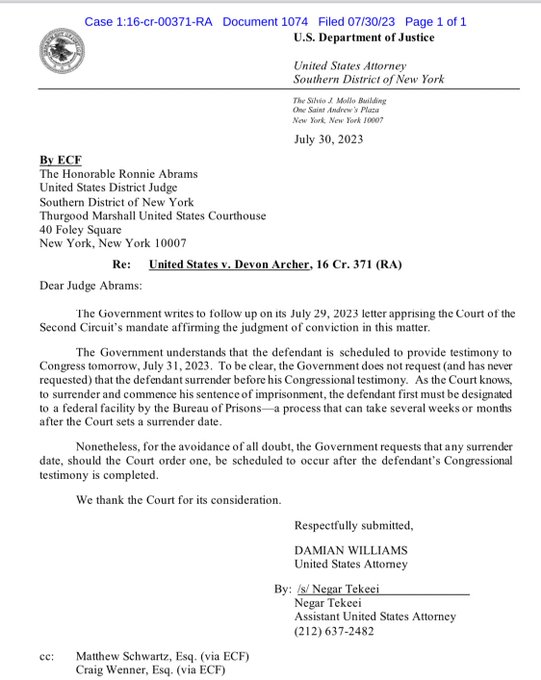 7:54 PM · Jul 30, 2023
The Department of Justice is pushing a federal judge to jail former Hunter Biden witness Devon Archer
just days ahead of his hotly anticipated congressional testimony,
court documents reveal.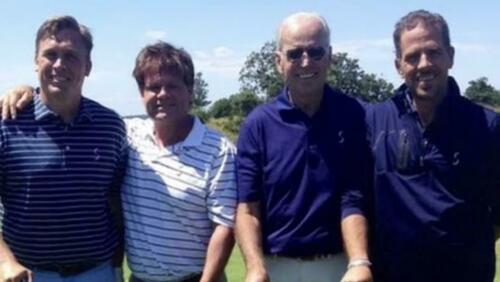 On Saturday, Manhattan federal prosecutors filed a letter asking a judge to set a date for Archer to begin his one-year sentence in a fraud case which is unrelated to Hunter's various scandals. The request came less than a week after the Second Court of Appeals upheld Archer's 2018 conviction on two felony charges for his role in a conspiracy to defraud a Native American tribe.
Archer is scheduled to testify on Monday in front of the House Oversight Committee.
CONTINUE HERE: https://www.zerohedge.com/political/doj-trying-jail-star-witness-against-hunter-biden-eve-congressional-testimony?utm_source=&utm_medium=email&utm_campaign=1701